English-Acadian dinner-theatre in Abram-Village to feature « Major Manor Mayhem »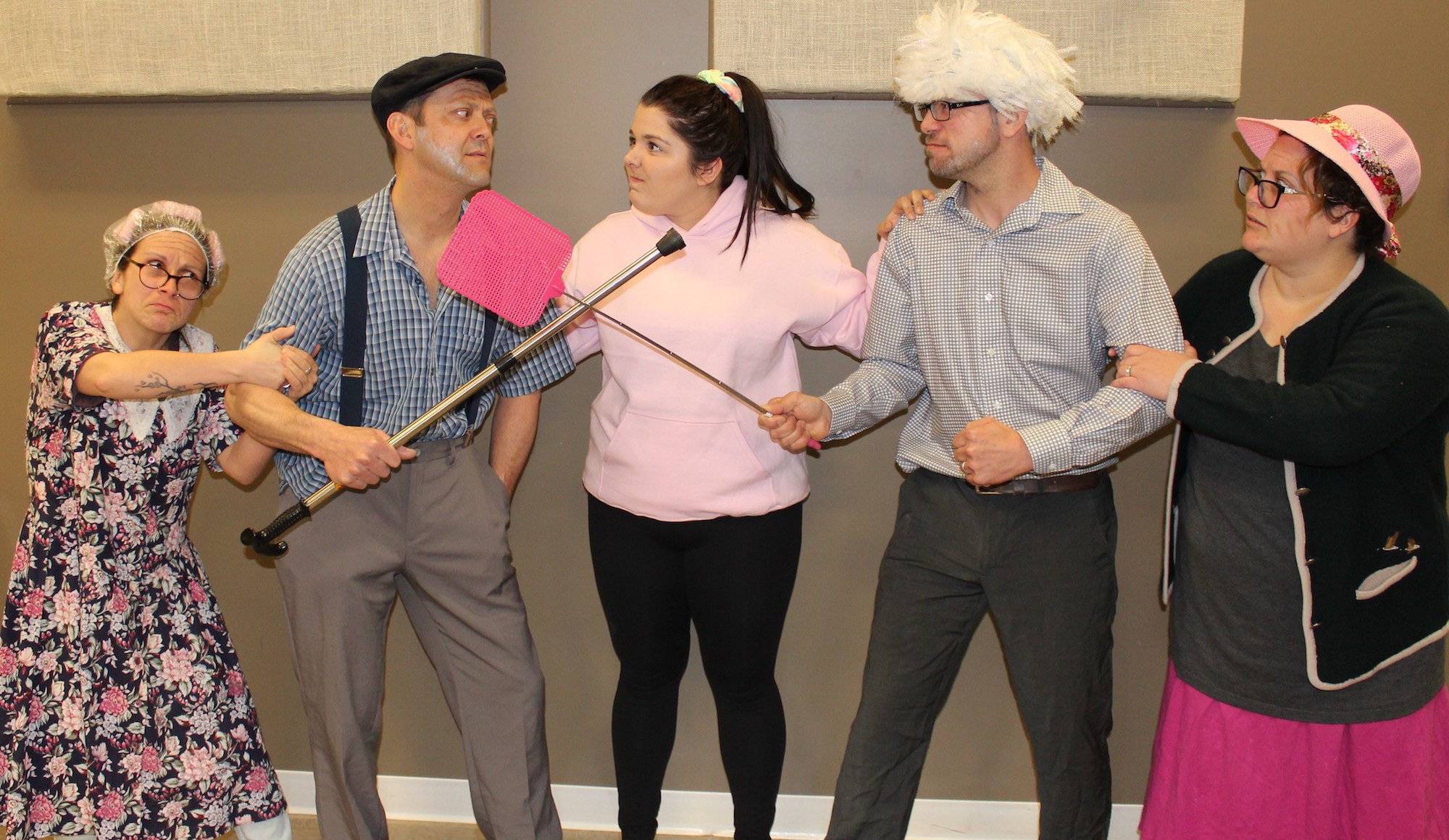 ABRAM-VILLAGE – May 31, 2018 – What happens when a semi-retired psychiatrist temporarily moves into a seniors' care facility to anonymously evaluate the mental status of its residents and when one of the residents mistakenly assumes the new guy is a vicious, psychotic killer? You get some « Major Manor Mayhem ».
At least that's when happens when this situation is the storyline of the brand-new « V'nez veiller » dinner-theatre production at the Acadian Musical Village in Abram-Village this summer. This production is actually the English version of last year's hit French production, « Retour au fou-foyer ».
Well-known playwright-director Raymond J. Arsenault is back at the helm of this year's show, serving up his usual brand of crazy comedy. « I'll readily admit that I was a huge fan of the TV show Three's Company so you can expect to see some of that type of comedy in my new play, » he explains. « You'll see cases of mistaken identity, people overhearing parts of conversations and assuming the worse plus some Jack Tripper-type physical comedy. »
Arsenault has reassembled last year's cast of popular veteran musicians and actors to once again perform the show, which again includes a musical portion as the residents of the seniors' facility are putting on a concert for friends and family.
The hilarious Gerald Arsenault is back in a lead role as the handsome and entertaining widower Manuel who charms all the ladies (namely Hortense, the uppity old girl played by Janine Gallant, and Julienne, the sarcastic old biddy played by Julie Arsenault). When the also-charming psychiatrist Dr. Philippe Thibodeau (West Prince dinner-theatre performer Michael Richard) moves in, Manuel becomes extremely jealous and sets out to discredit the newcomer and hopefully get him booted out.
Thankfully, the home's new, ditzy recreation director Suzanne (played by returning dancer-singer-musician-actress Kaylee Arsenault) is there to try to prevent an all-out war from breaking out. But she unwittingly just fans the flame.
One thing is for certain. The audiences will have ample opportunity to laugh throughout the whole evening, especially when they're not clapping along and stomping their feet to some lively Acadian and Canadian music, some in French and some in English. They'll also get to enjoy a delicious four-course meal served by the actors.
The show plays every Tuesday night at 6:30 p.m. from July 3 to Aug. 28. Tickets, at a price of $34.70 plus tax for adults and $15.55 plus tax for children aged 12 years and under, must be reserved in advance by calling 902-854-3300.
-30-
CUTLINE: The cast members of the English dinner-theatre show « V'nez veiller » at the Acadian Musical Village in Abram-Village are busily rehearsing their parts for this year's production, « Major Manor Mayhem », written and directed by Raymond J. Arsenault. From left are Julie Arsenault, Gerald Arsenault, Kaylee Arsenault, Michael Richard and Janine Gallant.
For more information:
Raymond J. Arsenault
Playwright-director
(902) 960-1285
raymondja@eastlink.ca