Large number of prizes won and traded during "Let's Make a Co-op Deal" game show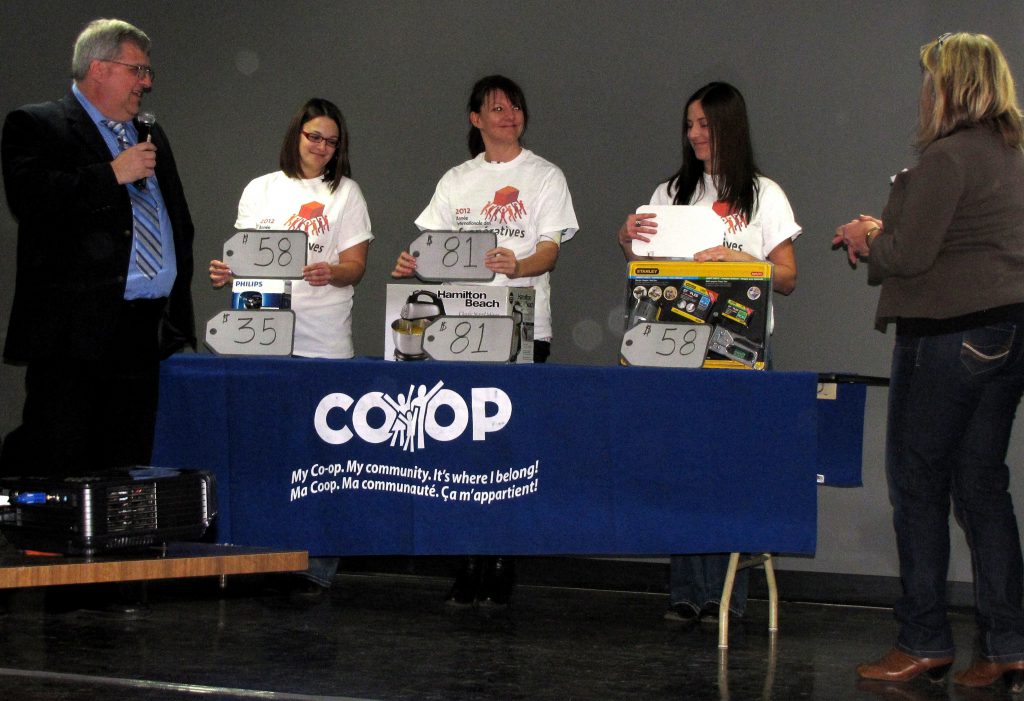 WELLINGTON, PEI – Dec. 5, 2012 – About 170 people had a blast laughing and encouraging participants in the various games of the "Let's Make A Co-op Deal" game show Friday, Nov. 30, in Wellington.
Organized by the Conseil de développement coopératif de l'Î.-P.-É. (CDC) as a closing event for the International Year of Co-ops, the bilingual evening made a lot of people happy since more than $4,250 worth of merchandise, cash and gift certificates were given out.
"Our event was a huge success that well surpassed our expectations," said Velma Robichaud, the CDC's co-op development officer. "I found that the crowd immediately got right into the party atmosphere we were hoping to generate. And they maintained their high level of enthusiasm throughout the entire three hours of the show!"
About 30 people, drawn at random, began by answering trivia questions about the local co-op movement and then played a variety of entertaining games conceived by wheeling-and-dealing host Raymond J. Arsenault (who was inspired by games seen on TV on Let's Make a Deal and The Price Is Right).
The featured games bore names such as Switcheroo, Bigger & Better, Match The Price, Read My Mind, Right Or Wrong, Plinko, The Grocery Game, the Human Shell Game and Balloon Musical Chairs.
And, as the basic concept of the game dictates, participants often had the chance to trade the items they had just won for mystery prizes, sometimes of higher value and sometimes not.
WINNERS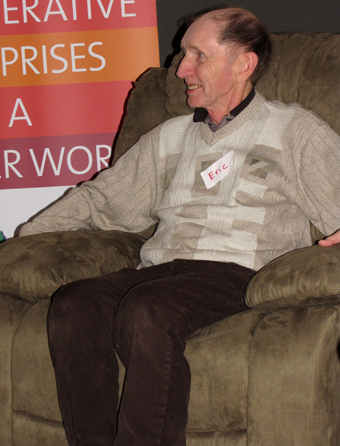 The biggest winner of the evening was Zelma Arsenault of Abram-Village, who participated in the first game of the night, called All-Nighter. She was given a mystery gift at the start of the evening. After each game, the host would bring her back onstage to try to convince her to trade her prize for un-won merchandise and/or various sums of money. She succeeded in resisting temptation right until the end of the night. That's when it was announced that she had won the $330 cash – the toonies that had been collected at the door as an admission price.
Unlike the first player, Eric Gallant from Summerside did not hesitate to trade in the cartful of groceries that he had just won for a large, covered-up prize that was hidden behind promotional banners. He made the right choice since the hidden prize was a $300 recliner.
Bertha Praught of Summerside won $250 in cash. Billy Gallant of Abram's Village won a 10-piece cookware set worth $230. Paula Gallant of St. Raphael was the very happy winner of an infrared heater costing $210.
As well, another 20 or so people received door prizes while others received consolation prizes. Four men in the audience who had grown a moustache for the Movember campaign, to raise funds to fight prostate cancer, were each presented with a gift to thank them for their efforts.
Announcer Roger "Co-op" Arsenault had a great time drawing names of players and announcing prizes that were being won along with their value.  Several volunteers, clad in International Year of Co-ops T-shirts, had the honor of displaying the prizes that were up for grabs, including appliances, work tools, Christmas ornaments and gifts of all kinds.
The evening was made possible thanks to a series of sponsorships from various partners mostly from the co-op sector. Among these were the CDC, the Co-operative Development Initiative's fund for International Year of Co-ops, RDÉE Prince Edward Island, Evangeline-Central Credit Union, Wellington Co-op, The Co-operators and Co-op Atlantic.
-30-
CUTLINE 1: Let's Make a Co-op Deal host Raymond J. Arsenault had asked game player Marcia Enman, right, to match the right price tag with each of these items. The hostesses, from left, Amy Richard, Bonnie Gallant and Jeannine Arsenault reveal the correct prices. (Photo by La Voix Acadienne)
CUTLINE 2: Eric Gallant of Summerside was one of the big winners of the Let's Make a Co-op Deal game show when he traded his cartful of groceries for a mystery prize – this beautiful recliner. (Photo by La Voix Acadienne)
For more information:
Velma Robichaud
Co-op development officer
Conseil de développement coopératif de l'Î.-P.-É.
(902) 854-3658