RDÉE Canada returns as sponsor of the 2016 Acadian Entrepreneurs' Gala
Tickets now on sale at three locations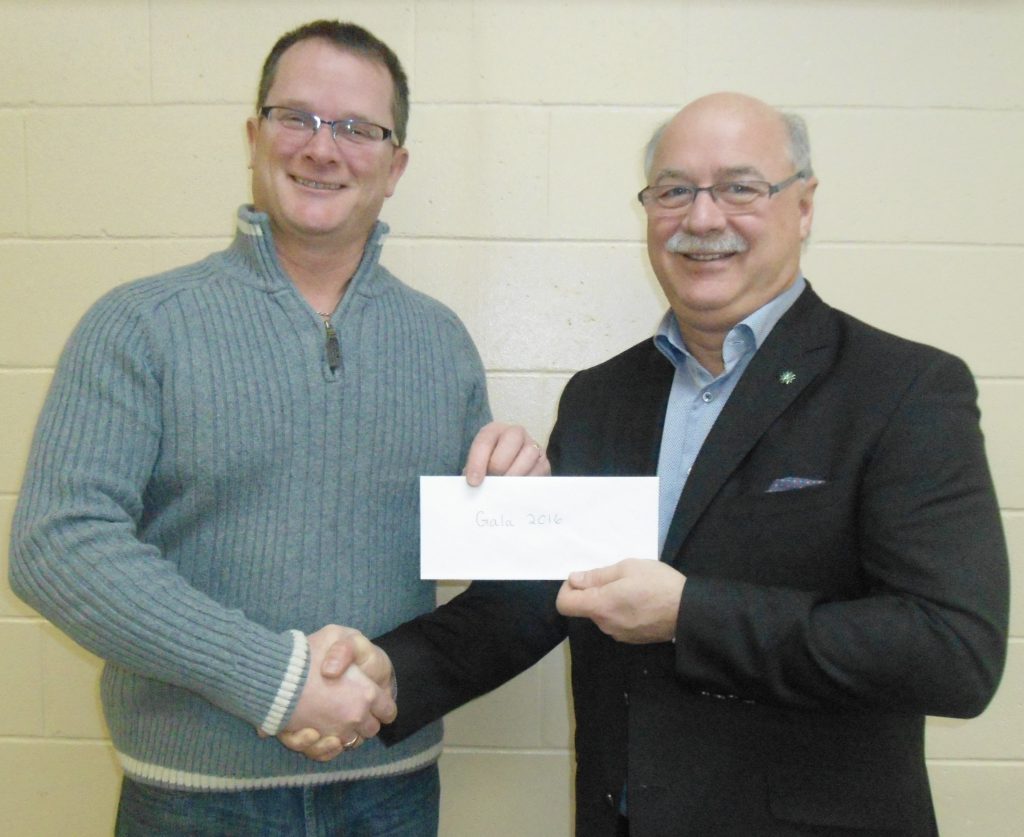 SUMMERSIDE – Feb. 4, 2015 – For a second year in a row, RDÉE Canada, the national francophone economic development network, will sponsor the Acadian Entrepreneur's Gala, organized by the Acadian and Francophone Chamber of Commerce of PEI (CCAFLIPE).
"We will have the honour of welcoming RDÉE Canada president Gilles Lanteigne to the 15th edition of our Gala, Saturday, March 12, at 6 p.m. at the Centre Belle-Alliance in Summerside," announces CCAFLIPE spokesman Martin Marcoux (who is also a board member of RDÉE Canada).
"Again this year, our national network is sponsoring the presentation of the 2015 Young Millionaires Award, so Mr. Lanteigne will have the opportunity to present the trophy to a youth who has stood out through his accomplishments as he participated in the francophone edition of the Young Millionaires Program last summer. The winner's name will remain a secret until the presentation of the award."
During a recent trip to PEI, Lanteigne presented the $1,000 sponsorship cheque to Marcoux.
"We truly appreciate the financial support of our generous sponsors since they help us greatly in covering the many costs associated with hosting a gala evening of this calibre," adds Marcoux.
TICKETS ON SALE
Gala tickets are now on sale until March 4 at the Wellington Rural Action Centre, at the reception desk of the Centre Belle-Alliance in Summerside and at the RDÉE PEI offices at the Carrefour in Charlottetown. They are available at a cost of $30 plus HST ($34.30) for CCAFLIPE members and of $35 plus HST ($39.90) for non-members.
The banquet will include three sumptuous courses: a fancy salad, a classy chicken-based main dish and a lovely dessert. Everyone will receive little gifts donated by sponsors and organizers. A number of door prizes will also be distributed.
SPECIAL BONUS
This year, rather than having a little reception before the banquet, the Chamber has partnered with RDÉE PEI to cohost the final competition of its Dragons' Contest from 5-6 p.m. in the gymnasium of the Centre Belle-Alliance. The three finalists will each present their entrepreneurial project in front of the audience as well as before a professional panel of judges – all business people, including Gilles Lanteigne. In addition to chairing the national network, he is also general manager of the Shippagan Credit Union in New Brunswick.
Then, at the end of the Gala, the name of the Dragons' Contest winner will be announced and he or she will receive a $10,000 cheque and other prizes.
Admission to the contest part of the evening is free. "We encourage everyone who attends our Gala to arrive no later than 5 p.m. to watch this great contest," adds Marcoux.
-30-
CUTLINE: Martin Marcoux, left, spokesman for the Acadian and Francophone Chamber of Commerce of PEI, thanks Gilles Lanteigne, president of RDÉE Canada, for sponsoring the Acadian Entrepreneurs' Gala for a second year in a row.
For more information:
Raymond J. Arsenault
Coordinator
Acadian and Francophone Chamber of Commerce of PEI
(902) 854-3439, Ext. 231
Raymond@rdeeipe.org