And a return to "Pop's Little Shop" for English show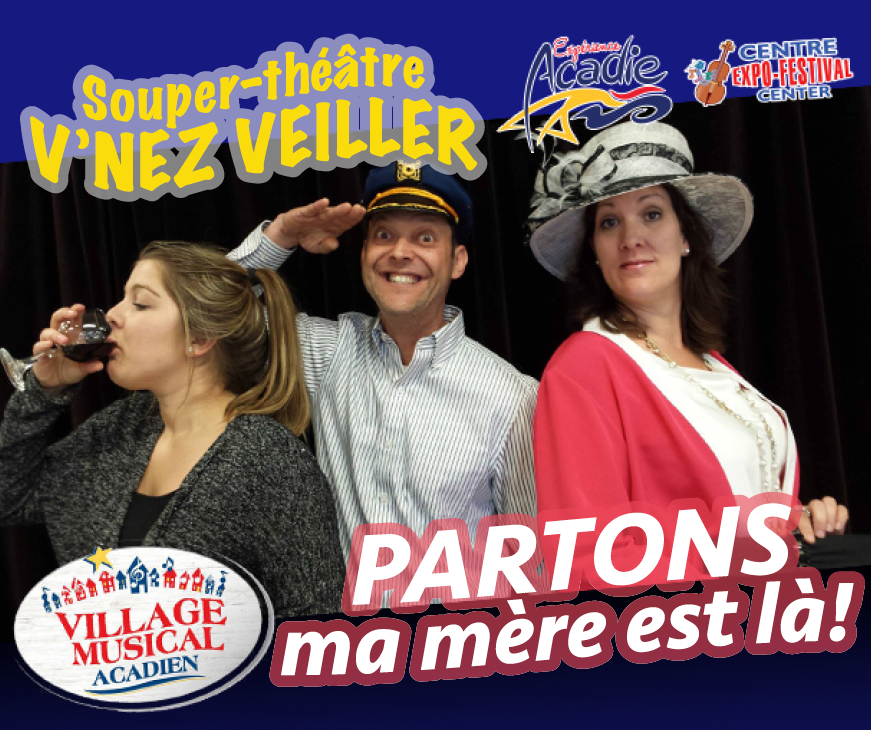 ABRAM-VILLAGE – July 15, 2015 – Those who attend this summer's "V'nez veiller" dinner-theatre will embark on a series of adventures and deceptions on the high seas as the Acadian Musical Village in Abram-Village presents the play "Partons, ma mère est là" (Let's leave, my mother's here.) But in this year's English play, titled "Pop's Little Shop", the focus will be more on rock 'n' roll jealousy – and again on deception.
Whichever play people pick, they are guaranteed to laugh and smile all night long since it's the one and only Wayne Robichaud who once again wrote and directed the plays, notes the board of directors of the Acadian Musical Village.
Robichaud explains that the French play, performed every Wednesday and Thursday night, tells the story of young lovers Éric and Mélodie (Zakk Cormier and Kaylee Arsenault) who decide to partake of the inaugural sail of a new cruise line to celebrate their fifth anniversary as a couple. Looking to save a few pennies, Éric buys the tickets from his uncle Euclide (Ryan Arsenault), who has a chance to win his cruise for free if he can sell enough tickets.
Éric's mother, Doris (Debbie Rousselle Montgomery), finds the tickets and mistakenly assumes that her son is offering her a mother-son trip. Unable to disappoint his mother, Éric purchases a third ticket. What complicates the situation is that Doris doesn't like Mélodie; and Mélodie certainly wouldn't go on a cruise if she knew Doris was going as well. It is going to be quite a challenge for Éric to keep the two women apart.
Meanwhile, the Captain (Gerald Arsenault) thinks he has everything under control on the new cruise ship, even though he really doesn't have a clue what he's doing. Luckily, the cruise director (Julie Arsenault) is always there to ensure things are running smoothly and that the ship will be able to sail safely around PEI. But then the well-meaning Captain, who doesn't know what's happening with his passengers, invites Éric, Mélodie and Doris to dinner at the Captain's Table, all at the same time. War could start any minute now!
ROCK 'N' ROLL AND JEALOUSY
In regards to the English play, performed every Tuesday night, Robichaud notes that "Pop's Little Shop" tells the story of a sometimes-wise, sometimes-senile grandfather (Tom DesRoches), who owns a little family diner back in the 50s. His granddaughters, the super-sexy Sue and the extremely unpopular Agnes (Christina Gallant MacLean), are his waitresses while Carol (Julie Arsenault) is the manager. With their friend, school chess champion Bertram (Dale Gaudet), they form a rock 'n' roll band called "Sue and the Shindingalings", to Pop's great consternation. Bertram has such a huge crush on Sue that he follows her around like a puppy dog; she never hesitates to take advantage of his affections for her own gain.
But then, when the leather-clad, electric-guitar toting Fabian (Zakk Cormier) rolls into town, Sue immediately concentrates all of her amorous attentions on him and makes him the lead guitar player of her band. Enraged, Bertram quits the band – but at the worst possible moment since the group is supposed to audition for its biggest gig yet, the school's sock-hop. Another war on the horizon?
It should be noted that the English play is a translated version of last year's French play.
Both three-act plays, as always, end with a musical set, offering a selection of Acadian songs and lively instrumentals. As well, each evening will be accompanied by a delicious four-course meal (salad, mussels, choice of three main courses and dessert). The season runs until Sept. 2.
Tickets are available for $32.50 plus tax for adults and $12.95 plus tax for children aged 12 years or younger. Tickets must be reserved in advance by calling 902-854-3300.
-30-
CUTLINE: The cruise Captain (Gerald Arsenault) warmly welcomes all passengers on board his ship during the play "Partons, ma mère est là", being performed at the Acadian Musical Village in Abram-Village Wednesdays and Thursdays this summer. But he has no idea that Mélodie (Kaylee Arsenault, left) and Doris (Debbie Rousselle Montgomery) just can't stand each other.
For more information:
Raymond Bernard
Manager
Acadian Musical Village
(902) 854-3300
info@villagemusical.com