Misunderstandings, scoldings, romance and laughs galore featured in « Pi la mère marmotte » Acadian dinner-theatre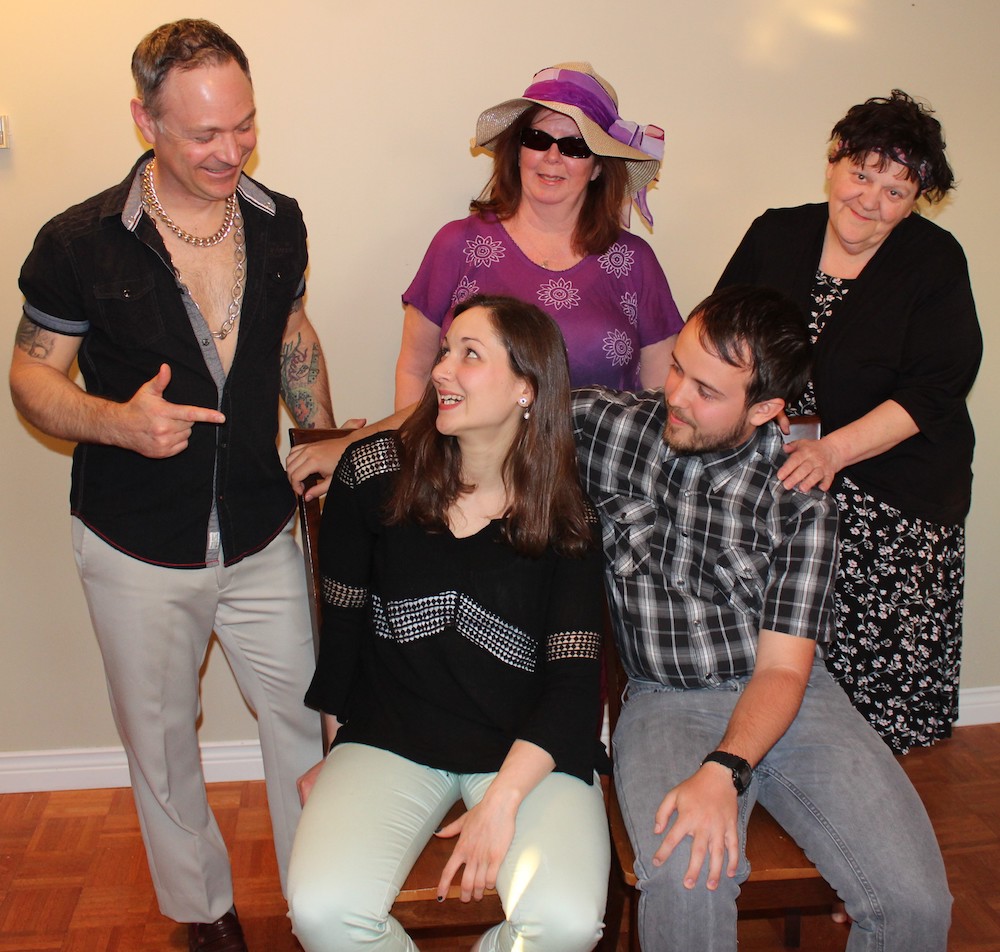 ABRAM-VILLAGE – May 30, 2018 – This summer's version of the « V'nez veiller » Acadian dinner-theatre in Abram-Village will overflow with misunderstandings, scoldings, dead-end and budding romances, along with tonnes of laughs, lots of music and a delicious four-course meal.
Local playwright-director Raymond J. Arsenault is once again serving up his usual in-your-face brand of comedy in the year's French-language play, « Pi la mère marmotte » (And the mother scolds). He's assembled a talented cast of Island musicians and actors that will definitely get the crowd going – and keep them roaring throughout the night.
« In today's modern circumstances, relationships are never easy – especially when both partners don't necessarily want the same thing. And of course, relationships are particularly difficult and disastrous but hilarious when they're featured in dinner-theatre shows such as this one, which plays at the Acadian Musical Village in Abram-Village every Wednesday and Thursday night at 6:30 p.m. from July 4 to Aug. 29 (minus July 5 and Aug. 15), » notes the director.
FANTASTIC CAST
The overprotective and overbearing mother, Agnès (hilarious comedienne Nicole Richard of Wellington, making her triumphant return to dinner-theatre), is turning 70 but she still dotes on her extremely nerdy and spineless 30-year-old son Melvin (Charlottetown musician-singer Ryan Rix, son of singer Angèle Haché-Rix), who is still living in her basement. If it was up to her, he'd live there for the rest of his life to take care of her in her golden years.
He however has a girlfriend, named Stéphanie (Charlottetown actress-singer Anne-Marie Poulin, daughter of artist Lucie Bernadette Bellemare) whom Agnès despises with a passion. Their two-year relationship is stagnant and they never do anything fun. Stéphanie wants to get married and start a family since her biological clock is ticking. But Melvin freaks out at the very mention of marriage and children.
Stéphanie's ex-boyfriend Brad (renowned jazz musician Stéphane Bouchard of Summerside), who's now a super-cool, charming and handsome actor, pops up seemingly out of the blue. He promises her everything that Melvin can hardly even talk about. She can't stop drooling at his amazing transformation (now that he's lost 60 pounds and has gotten lots of plastic surgery, fancy clothes and a new Ferrari) and forgets all about the way he dumped her and broke her heart several years ago.
Stéphanie's tai chi-loving, tree-hugging, hippy-dippy friend Soleil (well-known comedienne-musician Paula Arsenault of Abram-Village), just back from a trip to Mexico, drops in with gifts and an extremely risky plan to help Stéphanie pick the right man since she's utterly torn between the two men.
The old snooping Agnès overhears bits and pieces of their conversations and fills in the blanks with her paranoid ideas. She therefore proceeds with Phase 2 of her plan to break up her son's relationship. Unexplained pizza deliveries and a book of « positions » do nothing but complicate matters.
In addition to the regular cast members, guest fiddler Janelle Arsenault (from the group 112 Accords) will help the audience kick up their heels during the musical portion of the three-act show.
This production is made possible thanks to a contribution from Tourism PEI.
Tickets, at a price of $34.70 plus tax for adults and $15.55 plus tax for children aged 12 years and under, must be reserved in advance by calling 902-854-3300.
-30-
CUTLINE 1: Even after two years together, the relationship between the frustrated Stéphanie (Anne-Marie Poulin, seated) and the nerdy Melvin (Ryan Rix, seated) is going nowhere fast. So Stéphanie's eye begins to wander towards super-cool ex-boyfriend Brad (Stéphane Bouchard). Of course, she's egged on by her friend Soleil (Paula Arsenault, centre). Meanwhile, Melvin's overprotective and overbearing mother Agnès (Nicole Richard) tries everything in her power to break up the couple. This whole fiasco is featured in this summer's French « V'nez veiller » dinner-theatre show, « Pi la mère marmotte », playing all summer long at the Acadian Musical Village in Abram-Village.
CUTLINE 2: Playwright and director Raymond J. Arsenault
For more information:
Raymond J. Arsenault
Playwright-director
(902) 960-1285
raymondja@eastlink.ca