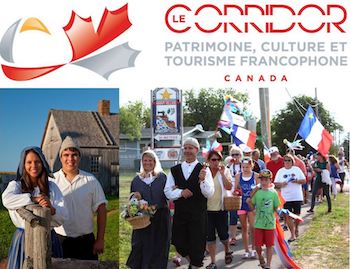 WELLINGTON – Feb. 20, 2018 – For the moment, five PEI heritage sites and five Island tourist attractions are part of the brand-new national Francophone Heritage, Cultural and Tourism Corridor that was officially launched in Ottawa today. Other attractions will be added over time since the Island currently has 12 but is allowed up to 20.
To become a member of this national francophone Corridor, a site or attraction must of course be able to deliver quality service in French at all times.
The included heritage sites from PEI are:
The Doucet House and the Farmers Bank of Rustico;
The Port-La-Joye-Fort Amherst National Park in Rocky Point;
The Acadian Museum of PEI in Miscouche;
Province House in Charlottetown;
Roma at Three Rivers in Montague.
The tourist attractions included in the Corridor are:
The Acadian Musical Village (and the National Acadian Holiday) in Abram-Village;
Island Artisan Cheesehouse in Mont-Carmel;
The Atlantic Fiddlers' Jamboree in Mont-Carmel;
The Bottle Houses in Cape Egmont;
The Rendez-Vous Rustico;
The Acadian Community of Abram-Village (with its various festivals);
The Coopérative de développement culturel et patrimonial de Mont-Carmel.
« We are extremely pleased to see that a major portion of the Island's francophone tourism industry has already been accepted as an integral part of the Corridor, » says Gilles Arsenault, tourism development officer with RDÉE Prince Edward Island. « We still have spots for eight other tourist attractions, so we'll add them as soon as we're able to confirm that they meet all the required criteria. »
The Corridor is a national network established by RDÉE Canada and its provincial and territorial organization-members, including RDÉE PEI, obviously. In all, the Corridor includes about 130 heritage sites, about 160 tourism products, 32 videos, eight oral archives and 85 panoramic photo displays. Three of the videos feature Island sites; these were professionally filmed and produced last summer.
Descriptions and photos of each attraction, in addition to the above-noted promotional material, are compiled on an attractive, bilingual web site at http://corridorcanada.ca.
Visitors from other countries and provinces just have to visit the site to plan their entire vacation if their intent is to discover the provincial and Canadian « francophonie ».
The corridor offers users an innovative classification system for the level of French-language services they can expect to receive.
AT OFFICIAL LAUNCH
« The Corridor is a major Canada 150 project developed to promote the Canadian Francophonie, and it will leave a major legacy for our country's Francophones and Francophiles. This project acknowledges and celebrates our Francophone heritage, and offers unique experiences and local products. It presents an innovative showcase of Canada's Francophonie to the rest of the world, » said the Honourable Mélanie Joly, Minister of Canadian Heritage, during the launch ceremonies.
« Many countries around the world offer tourist circuits that are popular with travellers. This corridor adds an experience like nothing else in the world by showcasing a major element of Canada's character internationally. The Canadian Francophonie, in addition to being a source of pride, will be a tourist attraction that visitors will love. As we celebrate Canada's best year ever for international tourism, I hope this project will inspire more visitors to come and experience everything our country has to offer, » added the Honourable Bardish Chagger, Minister of Small Business and Tourism.
Jean Guy Bigeau, President and CEO of RDÉE Canada, noted that « The project design phase will continue until March 31, 2018, as scheduled. Given the enthusiastic and eager response of the partners to whom we presented the Corridor, we will be launching the project this year. In so doing, we hope to capitalize on the potential of the 2018 tourism season and provide a tangible benefit to partners interested in participating in the project. The adventure is just beginning. »
-30-
CUTLINE 1: In the first photo are two Rustico area youth, dressed in period costumes, in front of the Doucet House. In the second photo are the traditional Acadian characters of Evangeline and Gabriel leading a tintamarre or « noise parade » through Abram-Village on National Acadian Day. Both are part of the new national Francophone Heritage, Cultural and Tourism Corridor that was officially launched in Ottawa Feb. 20.
CUTLINE 2: Gilles Arsenault, tourism development officer with RDÉE PEI.
CUTLINE 3: Mélanie Joly, Minister of Canadian Heritage.
For more information:
Gilles Arsenault
Tourism Development Officer
RDÉE Prince Edward Island
(902) 393-2376
gilles@rdeeipe.org
Simon Ross
Press Secretary
Canadian Heritage
819-997-7788
pch.media-media.pch@canada.ca