CHARLOTTETOWN – July 18, 2018 – Nineteen young francophones from the West Prince, Evangeline and Charlottetown areas have just formed 14 small businesses, thanks to the Jeunes millionnaires (Young Millionaires) program, to sell a wide variety of interesting products this summer.
This program was conceived to promote entrepreneurship among youth aged 8 to 16 years and, of course, to give them an opportunity to earn a bit of money. This summer, participants are selling treats and food, handcrafts, clothing, jewelry, laundry soap and skin-care products.
At the start of the summer, the youth had the opportunity to attend three workshops to learn the basics of entrepreneurship, including business plans, market studies, customer service, quality control, budgets and other related topics. They then had to present their business plan to program leaders during an individual interview.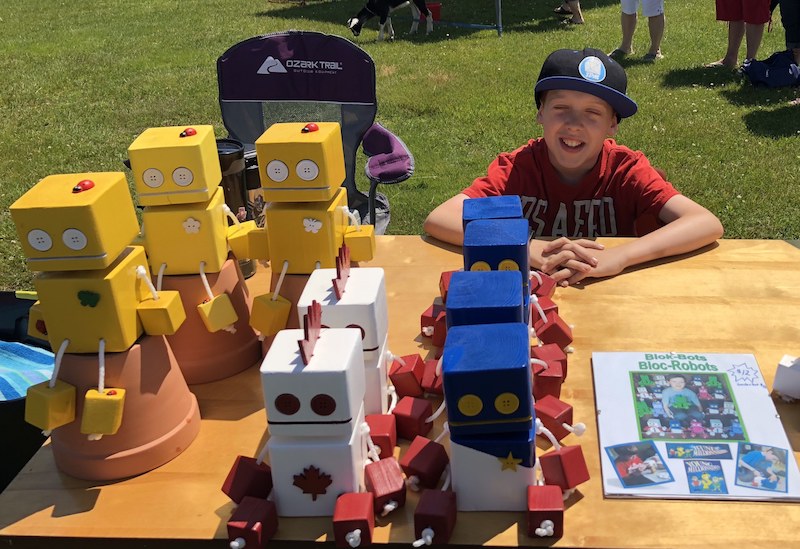 Each participant then received a grant (up to $100 for individuals and $150 for partnerships) to help establish his or her business and to purchase production materials. In late June and early July, the youth started producing and selling their products, sometimes with the help of their parents.
The program's coordination team prepared a list of activities, events and festivals where the participating youth can go to sell their products. In addition, the participants also identify supplementary sales locations, often in their own home, neighborhood or community.
Again this year, RDÉE Prince Edward Island is delivering the provincial Jeunes millionnaires program, which is the French version of the Young Millionaires Program, managed provincially by the Central Development Corporation. The program is funded through the Atlantic Canada Opportunities Agency and Innovation PEI.
"This year, we've welcomed a number of new young entrepreneurs, but some of our participants are back for a second, third or even fourth time," says Stéphane Blanchard, youth economic development officer with RDÉE PEI. "One of our former participants, who had been in a partnership business for a few years, even sold the shares of his business to his partner's sister. And then this year, the company has expanded its product selection."
"We are wishing great luck to all of our Young Millionaires and we are encouraging people from the public to do their part to encourage our budding entrepreneurs by purchasing their products," concludes Blanchard.
Here is a list of this summer's businesses, along with their owners and products.
CHARLOTTETOWN REGION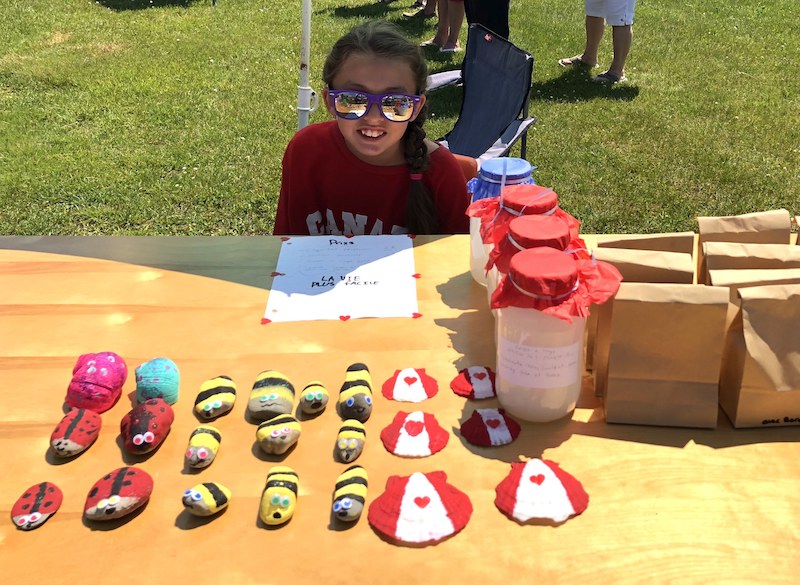 • Claire Victor – Victory Slime: Sale of « slime ».
• Ellen and Elliott Fraser – Simply Sno-Cones/Simply Squeez'd: Sale of flavored snow cones and lemonade.
• Delphine Corney – I crafts / J' bricoler: Sale of craft-making kits with instructions and of photos of herself making crafts.
• Blanche and Gabrielle Etkin-Blake – Light My Fire: Sale of sea-glass jewelry, sea-glass-decorated frames and campfire starters.
• Harmony Needham – Harmony's Magic Touch: Sale of skin cream and lip balm.
• Will MacLean – Cantine à Will (Will's Canteen): Sale of hotdogs and iced tea.
• Kayce Midgley – PEI Beachbum: Sale of sea-glass-decorated frames and dream catchers.
• Rémi Stevula – Les Petits trésors de la mer (Little Treasures from the Sea): Sale of keychains and magnets made with beach wood and lobster traps.
• Chloe Willis and Sarah-Jane Acet – Fashion Frenzy: Sale of tie-dyed clothing and hats as well as of bracelets.
WEST PRINCE REGION
• Kendra Martin and Abby Green – Pop With Us: Sale of "slime", pop, bottles of water, chips and candies.
EVANGELINE REGION
• Taylor Hardy and Lydia Arsenault – Summer Girls: Sale of frames decorated with sea glass, shells and painted rocks as well as of treat bags.
• Brady Arsenault – Candy's R Us: Sale of various treats.
• Ella Jane Adams – La vie plus facile (An Easier Life): Sale of laundry soap (in both liquid and « pod » forms) and painted rocks.
• Colby Arsenault – Blox Bots: Sale of wooden, painted robots.
-30-
CUTLINE 1: Through their business, Summer Girls, Taylor Hardy, left, and Lydia Arsenault sell treat bags and frames decorated with sea glass, shells and painted rocks. They learned their entrepreneurial skills through the Jeunes millionnaires / Young Millionaires Program.
CUTLINE 2: A proud participant of the Jeunes millionnaires / Young Millionaires Program, Colby Arsenault established Blox Bots to build and sell wooden robots.
CUTLINE 3: Ella Jane Adams took advantage of the Jeunes millionnaires / Young Millionaires Program to learn how to establish her business, "La vie plus facile" (An Easier Life), so that she could sell her laundry soap in liquid and pod form as well as painted rocks.

For more information:
Stéphane Blanchard
Youth Development Officer
RDÉE Prince Edward Island
902-370-7333, ext. 402
stephane@rdeeipe.org