Patricia Richard first performer to confirm participation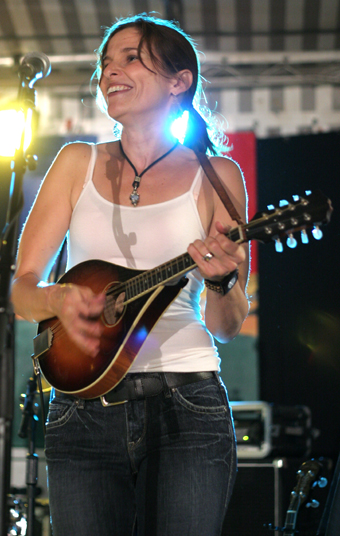 ABRAM-VILLAGE, PEI – Oct. 11, 2012 – A 12-hour mega-concert, similar to the one held two years ago for the reconstruction of Evangeline Recreation Centre, is being organized to raise funds for the Village des Sources l'Étoile Filante at the Centre Expo-Festival in Abram-Village Nov. 17-18.
This new event will also carry the name "2 to 2" since it will run from 2 p.m. Nov. 17 to 2 a.m. Nov. 18.
"We hope a very large number of people from all over the Island will drop in for a few hours to watch our 2 to 2 show and to contribute to our benefit since the Village des Sources' youth personal development camps will soon be offered to youth from all the Acadian and francophone communities of PEI," said Jeannette Gallant, president of the Village des Sources. "We are therefore urging everyone to immediately reserve these dates on their calendar."
RDÉE Prince Edward Island, the provincial francophone economic development council, will coordinate the organization and promotion of the concert. Members of the Village board and other volunteers will take care of lotteries, a 50-50 draw and food sales during the event.
Christian Gallant, the RDÉE development officer in charge of the concert, said the « 2 to 2 » show will feature a wide variety of music, singing, dancing and comedy that should suit all tastes and ages.  Well-known local personalities will serve as masters of ceremonies.
Professional singer Patricia Richard was the first artist to confirm her volunteer participation in the show. She immediately answered the invitation since she truly appreciates everything these Village des Sources camps do to help equip youth with the tools they need to face today's many challenges.
Richard began her artistic journey while still a teenager as lead singer of the band Panou, which toured all over Eastern Canada. She was then a featured singer and musician in the local bands Brador, Machia and Acadilac, before joining the "Ode à l'Acadie" ensemble. This fantastic musical troupe, which recorded two albums, has toured internationally to showcase Acadian music to the world.
Patricia has also often performed with her sister, well-known country artist Marcella Richard, her parents Clarence and Leonie Richard, and her aunt Angèle Arsenault, the internationally renowned artist.
The names of other confirmed artists will be announced over the coming weeks.
-30-
For more information
Jeannette Gallant
President
Le Village des Sources l'Étoile Filante
(902) 854-7435
jeuxacadie@gov.pe.ca
Christian Gallant
« 2 to 2 » Concert Coordinator
RDÉE Prince Edward Island
(902) 370-7333
christian@rdeeipe.org