Special guest: John Catucci from You Gotta Eat Here!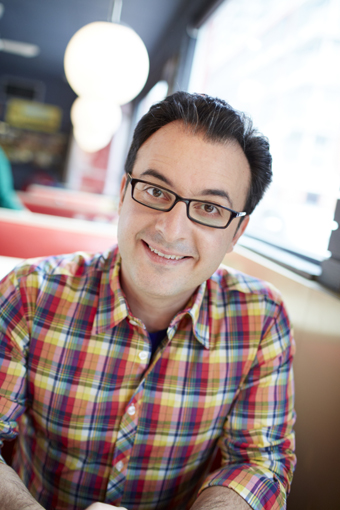 ABRAM-VILLAGE – July 10, 2013 – Those who love lobster, Acadian dishes, Acadian music as well as comedy will have ample opportunity to feast on an extremely special culinary and cultural event Friday, Aug. 30, at 5 p.m. at the Centre Expo-Festival in Abram-Village.
The 2013 edition of the Festin acadien avec homard (Acadian Feast With Lobster), a Fall Flavours Festival preview event, will give people the opportunity to savor homemade vegetable soup, râpure, meatpie, potato salad and, of course, the king of crustaceans –lobster. Participants at the evening will also be entertained by local musicians Anastasia DesRoches and Zakk Cormier along with stepdancers Alex Arsenault, Janelle Arsenault and Mélanie Arsenault.
However, the one who will without a doubt capture most of the attention will be the special guest of this succulent event, comedian John Catucci, who hosts the popular Food Network TV show You Gotta Eat Here! While he isn't a chef, he greatly appreciates a wide variety of foods and dishes. That's why he travels all over Canada searching for the most savory meals. He can be seen each week visiting restaurants of all levels, exploring their kitchens and discussing with their chefs and cooks about their favorite recipes. He also injects plenty of his zany sense of humour.
Catucci is a talented actor-singer-comedian. His love for the stage began at York University where he and fellow Italian David Mesiano formed the musical comedy duo The Doo Wops. They won the prestigious Homegrown Comedy Competition at the Just For Laughs Festival in 2001, which earned them the opportunity to do a 25-city tour across North America. From then on, Catucci has been a member of various comedy troupes and has been featured on both film (including First Time Caller, Kiss My Act and The Tuxedo) and television (including Train 48 and The Doodlebops)
ACADIAN FESTIVAL EVENT
Again this year, the Festin acadien avec homard is an integral part of l'Exposition agricole et le Festival acadien de la région Évangéline (Evangeline Area Agricultural Exhibition and Acadian Festival).
President Eric Richard notes that this Feast has become, in just a few years, a much-appreciated and much-anticipated event. "People tell us they're always eager to discover who the Feast's special guest will be and how we will have decorated the dining room in the colors of the Acadian flag," he said.
"For those who have never attended our Feast, we promise you a unique culinary and cultural event spotlighting our hospitality, our traditional music and our typical Acadian dishes. You can also expect surprises since we never know what our special guest, Mr. Catucci, will do to entertain us."
Tickets for the Festin acadien avec homard, being sold for $35 each, taxes included, must be obtained in advance by telephone at (902) 854-3517, online at www.fallflavours.ca or in person at the Acadian Festival office.
The Fall Flavours Festival, which runs the entire month of September, will focus on the authentic flavours of PEI's autumn harvest as well as on the local traditions of various Island communities.
-30-
CUTLINE: John Catucci, who hosts the popular Food Network TV show You Gotta Eat Here!, will be the special guest at the Festin acadien avec homard in Abram-Village Friday, Aug. 30, at 5 p.m.
For more information:
Jeannette Blaquière
Board member
L'Exposition agricole et le Festival acadien de la région Évangéline
(902) 854-3256