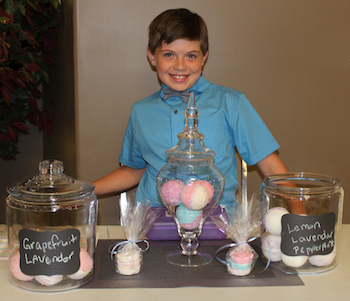 CHARLOTTETOWN – July 11, 20167 – Thanks to the francophone edition of the Young Millionaires Program, 26 Island youth from the Charlottetown (14), Summerside (2), Evangeline (8) and West Prince (2) areas have just establish summer businesses.
Their 19 businesses offer tourists and Islanders a wide variety of products: treats and snacks, toys, arts and crafts, scented "bath bombs", bar clams, tie-dyed T-shirts, fire starters, dog clothing and accessories, herbs, lipstick, stress balls, hotdogs and hamburgers, pastries, plaques for hanging medals, decorations and chickens.
Again this year, RDÉE Prince Edward Island is delivering the provincial Jeunes millionnaires program, which is the French version of the Young Millionaires Program, managed provincially by the Central Development Corporation. The program is funded through the Atlantic Canada Opportunities Agency and Innovation PEI.
The participating bilingual youth attend three workshops to learn the basics of entrepreneurship, including business plans, market studies, customer service, quality control, budgets and other related topics. They then have to present their business plan during an individual interview.
Each participant then receives a grant (up to $100 for individuals and $150 for partnerships) to help establish his or her business and to purchase production materials. In late June and early July, the youth start producing and selling their products or services, sometimes with the help of their parents.
SALES OPPORTUNITIES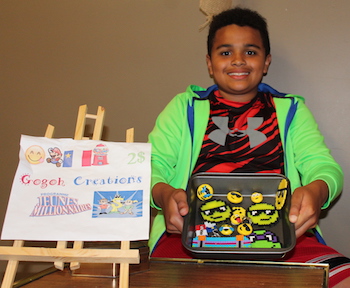 The program's coordination team had prepared a list of events where the participating youth can go to sell their products: Canada Day festivities in Rustico and Abram-Village, the Rollo Bay Fiddle Festival, Montague Summer Days, Evangeline Bluegrass Festival, PEI Potato Blossom Festival in O'Leary, Summerside Lobster Carnival, Prince County Exhibition in Alberton, Crapaud Exhibition, Rendez-Vous Rustico, Pride Week in Charlottetown, Island Fringe Festival in Charlottetown, Old Home Week in Charlottetown, Kensington Harvest Festival, Evangeline Area Agricultural Exhibition and Acadian Festival in Abram-Village and National Acadian Holiday in Abram-Village. Some of the youth will also go to the Acadian Musical Village and at the Bottle Houses over the course of the summer.
In addition, the young participants also identify supplementary sales locations, often in their own neighborhood or community.
"Last year, our 26 Young Millionaires attained record sales of $15,000 and record profits of $8,000. We're hoping this year's participants will have as much, if not more, success," says Stéphane Blanchard, youth economic development officer with RDÉE PEI. "We're welcoming several new young entrepreneurs into the fold this summer, but quite a few of our participants are back for a second, third or even fourth year."
"We're encouraging everyone to support our budding entrepreneurs as they develop their entrepreneurial skills," concludes Blanchard.
-30-
CUTLINE: Ramsay Gallant (Ramsay's BathBombs) and Jonah Gogoh (Gogoh Creations) are among the 26 francophone youth who have launched a summer business through the Young Millionaires Program to sell a variety of products.
For more information:
Stéphane Blanchard
Youth Development Officer
RDÉE Prince Edward Island
902-370-7333, ext. 402
stephane@rdeeipe.org