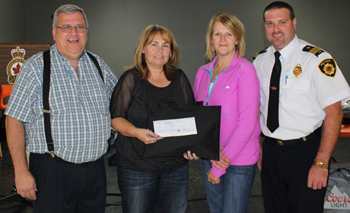 WELLINGTON – Oct. 17, 2016 – It appears that the « Casino Bucks » coupons, distributed through contests and businesses throughout the community over the past few weeks, greatly helped with the promotion and success of the benefit casino for the Summerside Savlation Army Food Bank held in Summerside, Saturday, Oct. 15.
Organizers were extremely pleased that more than 125 attended their benefit and contributed the tidy sum of $2,640 to the cause.
Seen from left are event coordinator Raymond J. Arsenault, representing the Acadian and Francophone Chamber of Commerce of PEI, presenting the bag of money to Karen Mallett from the Food Bank, with help from Corinne Arsenault from Mike Bradley Insurance Services (The Co-operators) and James Ryan, chief of the Wellington Fire Department. The firefighters, who had just received a $500 donation from event organizers for serving as casino dealers and hosts, contributed the donation to the Food Bank.
Participants at the casino got to share about $5,750 worth of prizes of all kinds, including an iPad Mini, a TV, infrared heaters, household appliances, power tools, concert tickets, gas cards and much more.