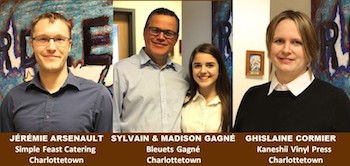 SUMMERSIDE – March 5, 2017 – Blueberry producers, a caterer who manages a meal club and a vinyl record presser will battle it out for $10,000 and various other prizes March 18 during the finals of the 2017 Dragons' Contest.
During the championship evening, at the Centre Belle-Alliance in Summerside at 5 p.m., the public will get to see and hear, in a style similar to that seen on the TV show « Dragons' Den », presentations by Jérémie Arsenault of Simple Feast Catering, Sylvain and Madison Gagné of Gagné Blueberries and Ghislaine Cormier from Kaneshii Vinyl Press. These three competitors, all from Charlottetown, will give their pitch to a national panel of judges.
On Saturday, March 4, a provincial panel of experienced entrepreneurs (Patrick Villeneuve, Jeannette Arsenault and Mike Bradley) heard the presentations of the five remaining contestants. They were greatly impressed by what they heard and found that the presentations were considerably more solid that last year's, especially from a financial perspective. Using a pre-established scoring system, they were however able to select the three projects that were most sound and had the best potential to succeed.
The contest, organized by RDÉE Prince Edward Island, will offer the winner, in addition to a $10,000 investment into his project, several other prizes to help support his business project: a free consultation on setting up or improving a website, free memberships to two chambers of commerce, college business courses and a $200 gift certificate at a university bookstore.
Organisational and prize sponsors of the contest are RDÉE PEI, the Atlantic Canada Opportunities Agency, Innovation PEI, PEI Credit Unions, The Co-operators, The Cassidy Group, HMS Office Supplies, LP Electronics, PEI Agents Realty, les Francofolies de Charlottetown, Mermaid Marine Products, the Acadian and Francophone Chamber of Commerce of PEI, the Greater Charlottetown Chamber of Commerce, the Collège de l'Île and the University of Prince Edward Island.
THREE FINALISTS
Here is a brief overview of the business projects planned by the three finalists:
JÉRÉMIE ARSENAULT – After working several years in the restaurant and events-planning industry, Jérémie Arsenault (who has a business degree) decided to turn his dream of establishing a restaurant and bakery into reality. But he wanted to give his business a special edge – to make it a catering service and to offer a healthy meal club for busy people who don't necessarily have the time to prepare quality meals. Simple Feast Catering, based in Charlottetown, benefits from the services of red-seal chef Brian Stanton, who studied at the Culinary Institute of Canada. He previously served as sous-chef at the Big Orange Lunchbox and then as chef de partie and banquet team member at the Lucy Maud Dining Room in Charlottetown. He also worked in the field while in Alberta before returning to PEI to work with Simple Feast. Primarily using local products as a base, the business can provide catering for all types of corporate, community or family gatherings. Its meal club offers delicious meals with a delivery service. The business is looking to buy new equipment, to promote itself further and to improve its cash flow.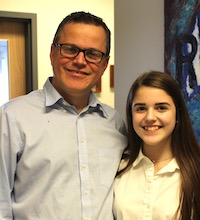 SYLVAIN AND MADISON GAGNÉ – A producer of wild PEI blueberries since 2000, Gagné Blueberries is seeking to increase its production and to considerably expand its market. To be able to do that, Sylvain and his daughter Madison primarily want to establish and maintain extremely high quality standards for the picking, packing and delivery of their product. Last fall, Gagné participated in a sales mission to Montreal. He was scheduled to meet with seven potential buyers, but the first three offered to buy his entire production. He is now setting up his business to be able to deliver the merchandise to the fresh berry market in Montreal grocery stores next summer. Blueberries are extremely popular for their antioxidant properties; they're known to help fight heart disease, cancer, diabetes and Alzheimer's. But these berries are extremely fragile. Gagné's priority will be to hire a person to control the quality of his product at all stages; Madison will take on this role since she has a very meticulous eye. With more than 40 years of experience in this industry, Gagné produced 60,000 pounds of blueberries last summer; he continues to expand his production by about 10-15 per cent per year.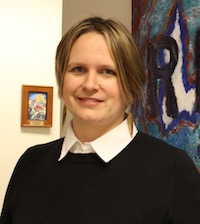 GHISLAINE CORMIER – Kaneshii Vinyl Press (KVP) produces high-quality vinyl records and offers all related services to provide clients with a complete final product, including labels, packaging and downloading codes. KVP's full service includes four steps: production of the master disc, pressing of the master onto vinyl, packaging and assembling. KVP is one of only two record-pressing businesses in Canada and the only one east of Toronto. It offers services in both of Canada's official languages, which is a distinctive advantage in markets such as Quebec, Atlantic Canada and other French-speaking communities throughout Canada. The business collaborates with Viral Technologies, a Canadian company that has developed a new technology for producing vinyl records that drastically reduces production time, maintenance delays and production costs. Vinyl records represent a quickly growing market. Kaneshii is looking to implement is marketing and promotion plans, to purchase equipment to make its operation more efficient, to get advanced training and to better furnish its office.
-30-
CUTLINE: Jérémie Arsenault from Simple Feast Catering, Sylvain and Madison Gagné from Gagné Blueberries and Ghislaine Cormier from Kaneishii Vinyl Press will compete for $10,000 March 18 during the finals of the Dragons' Contest.
For more information:
Nicole Allain
Coordinator
Dragons' Contest
(902) 370-7333, poste 401
dragons@rdeeipe.org