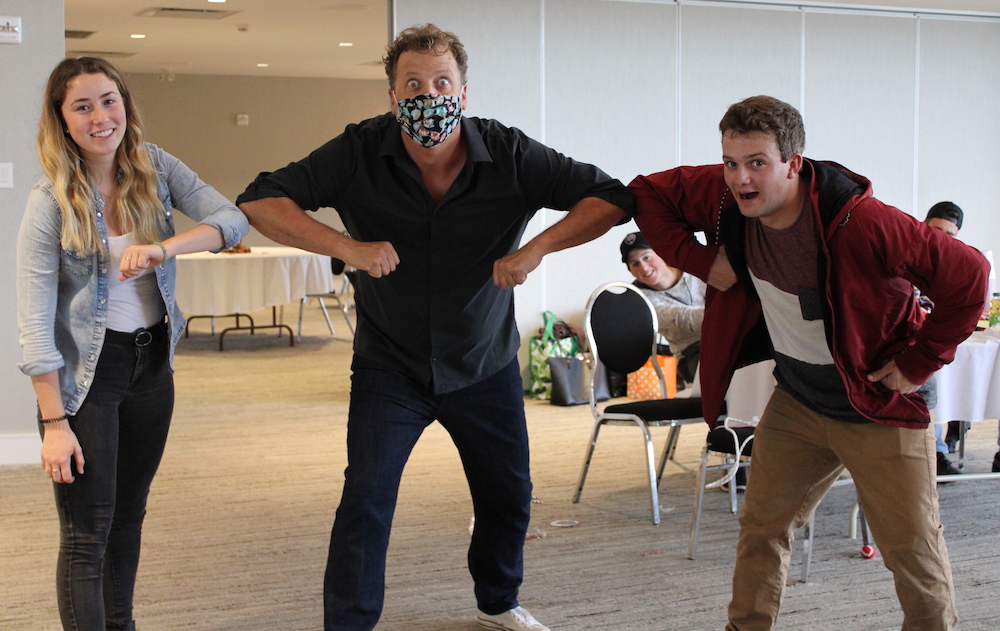 WELLINGTON – May 4, 2020 – The first two editions of its youth leadership program « Faut que ça grouille ! » (FQCG) were so successful that RDÉE Prince Edward Island has decided to offer it a third time. It is therefore looking for 30 other young francophone Islanders, between the ages of 15 and 30, to participate in the program, at no cost, over the next year. The registration deadline is May 31!
In the first edition of this citizen engagement program, 22 youth from across the province participated in a series of workshops, training sessions, games, tours and recreational activities to develop their skills and confidence. Speakers included such well-known people as Brian Gallant (former premier of New Brunswick), Rémi Boudreau (New Brunswick illusionist and magician) and Tyler Hayden (Nova Scotian motivational speaker). In the second edition, 17 young people signed up for a slightly modified version of the program due to the pandemic, but it was just as effective. Some of the same speakers offered their presentations while some new ones were recruited: Marcel Leblanc (financial planning), Sylvie Desjardins (professional networking) and Annick McIntosh (personal branding).
The objective of the program remains to equip young people so that they can develop their own community projects and get involved in community volunteering in their region. All projects were prepared but the implementation of some of them has been slowed down or affected by health restrictions on gatherings.
Projects completed (or in progress) in the first two years addressed themes from sports, nutrition, cooking, mental and physical health, to education, LBGTQ awareness, judo, dog parks, dance and music.
THIRD EDITION
The third edition of the FQCG program will include the most successful elements of the first two editions as well as new and relevant activities. Themes such as leadership, citizen participation, board of directors and financial management will be addressed during the five sessions.
New participants can also expect to discover the advantages, benefits and rewards of volunteering, develop new skills, become more « employable » and be able to add this great experience to their resume. They will also have the opportunity to participate in « Insights Discovery » sessions to learn more about themselves.
Weekend workshops will again be held in various communities across the province and will feature motivational speakers and interesting guests. Accommodations, meals and transportation will be paid. Please note that organizers will be following the recommendations of the Chief Medical Officer to protect participants in these pandemic times
Any questions about the program can be directed to assistant coordinator Imelda Arsenault at fqcg@rdeeipe.org. To register, interested parties need only send their name, age, region, email and phone number to her, either by email or text to 902-439-2933 by May 31.
The "Faut que ça grouille !" initiative is funded by the Government of Canada through the Canada Service Corps. More information about the program can be found at www.rdeeipe.org.
-30-
PHOTO: Speaker Tyler Hayden, center, inspired young adults like Marie Dubé and Patrick Bernard with his motivational exercises during one of the second-year sessions of "Faut que ça grouille !"
For more information:
Imelda Arsenault
Assistant coordinator
Faut que ça grouille ! program
902-439-2933
fqcg@rdeeipe.org