For development of Island economy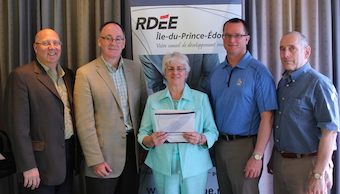 SUMMERSIDE – June 23, 2016 – « During this 16th year of operation that we've just completed, we have attempted to broaden our services and activities to contribute more to the development of our provincial economy. A quick glance at our accomplishments report will prove that our mission was accomplished! » said Jeannette Arsenault, president of RDÉE Prince Edward Island, during the organization's annual general meeting June 22 in Summerside.
The 40 people at the provincial francophone economic development council's annual meeting learned that the RDÉE generated financial spinoffs worth $1.5 million for the Island economy this past year. This total represents three times the amount invested into the RDÉE's operations by the Government of Canada's Enabling Fund for Official Language Minority Communities (via Employment and Social Development Canada).
In addition, the RDÉE's numerous activities have generated in-kind spinoffs worth almost $3.2 million, for a grand total of $4.7 million.
Executive director Bonnie Gallant noted that, « We've just completed a very busy but very satisfying year since we've been able to attain terrific, tangible results that have contributed to the economic development of the Acadian and francophone community of PEI and to the province as a whole. »
DRAGONS AND MISSION
She noted for example that the RDÉE organized the Dragons' Contest, which greatly encouraged entrepreneurial development, and conducted a sales mission to Quebec, which generated sales of about $250,000.
« As well, our programs, initiatives and supports have ensured that a substantial number of youth have been able to stay on PEI to make a life and to start a career, that a number of businesses have been established, that a number of newcomers have anchored themselves into the Island community by finding jobs or establishing businesses, etc., » said Gallant. « There's still a lot of work to do, but we're really to roll up our sleeves and keep hacking away. »
The president Jeannette Arsenault also noted that last summer, the RDÉE took the time to celebrate its 15th anniversary. « Looking at the list of projects and initiatives we either developed or supported, how could we not be proud of everything we've been able to accomplish? »
« We have certainly contributed to the economic development of our communities and our province. We have without a doubt helped people – especially our youth – become more 'employable'. Thanks to our Acadian Chamber of Commerce and our Rural Action Centre, we have been able to support entrepreneurs on their journey, their training and their search for new markets. Our youth programs have helped develop an entrepreneurial culture in the minds of our young people. We're also helping to repatriate our postsecondary students back to PEI. Our LIENS project is helping us integrate immigrants into the local workforce and into the world of entrepreneurship. »
Throughout the 2015-2016 year, the RDÉE continued to lead various projects under the economic immigration, youth and community economic development (including tourism) sectors. From an entrepreneurial support standpoint, it continued to manage the Wellington Rural Action Centre and the Acadian and Francophone Chamber of Commerce of PEI.
All of these sectors produced successful projects. The number of clients for each initiative is being maintained or improved.
-30-

CUTLINE: RDÉE Prince Edward Island's executive for the 2016-2017 year will be made up, from left, of new councillor Christian Lacroix, re-elected secretary treasurer Donald DesRoches, re-elected president Jeannette Arsenault, re-elected councillor Martin Marcoux (who will also serve a second year as spokesperson for the Acadian and Francophone Chamber of Commerce of PEI) and re-elected vice-president Hubert Lihrmann.
For more information:
Bonnie Gallant
Executive director
RDÉE Prince Edward Island Inc.
(902) 854-3439, Ext. 232
bonnie@rdeeipe.org