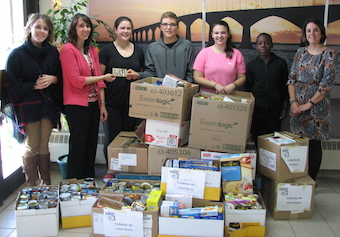 ABRAM-VILLAGE – Oct. 22, 2015 – Students and adults from the Evangeline region have just donated more than 850 pounds of non-perishable food to the Summerside Salvation Army Food Bank. The Evangeline-Central Credit Union and the Wellington Co-op, in collaboration with other community partners, organized this food drive on the occasion of Co-op and Small Business Weeks.
At Evangeline School, the 8th Grade class won a $100 cash prize for bringing in the most food. In the photo,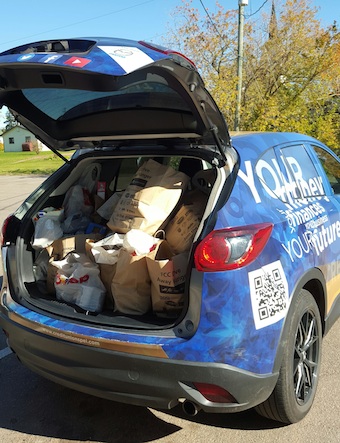 from left, Kate Ryan, marketing co-ordinator for PEI credit unions, helps Diane McInnis, marketing officer from Evangeline-Central Credit Union, present the prize to several representatives of the winning class: Karine Arsenault, André Arsenault, Marissa Gallant and Samson Masarabakiza. School principal Paulette LeBlanc came along to congratulate the group.
Ryan also drove the little YuMob car, which belongs to the Island credit unions, to Wellington earlier in the day so that it could be loaded up with groceries donated by the community at the credit union and co-op.
Sadie Gallant of Wellington, one of the numerous people who contributed to the community food drive, won a random draw for a $100 gift certificate.