Fund-raising event slated for Saturday, Sept. 13, at 2 p.m.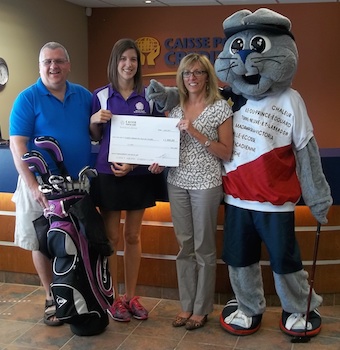 MILL RIVER, PEI – Aug. 14, 2014 – « The participants of our Acadian Golf Tournament of PEI enjoyed playing at the fantastic Mill River course so much last year that we decided right away to return there in 2014, » says Carole Gallant, president of the Jeux de l'Acadie PEI Regional Committee. « We are therefore launching the call to all golfers to register immediately to participate in this year's tournament, which will be held Saturday, Sept. 13, starting at 2 p.m.
Gallant explains that the move to Mill River in 2013 helped triple participation in the event; in fact, 110 golfers signed up. The tournament raised a sizeable profit of $7,000, which greatly helped the Jeux de l'Acadie Regional Committee hold its regular activities and bring the Island delegation of more than 100 youth athletes to the 2014 Finals last June.
« This year, we are hoping for a few more golfers as well as a slighter larger profit to help support our young athletes, » says the president. « Even if our tournament supports a Francophone organization, our golfing event will be bilingual so we're inviting both Francophone and Anglophone golfers to sign up. »
Again this year, organizers are primarily focusing their efforts on recruiting four-person corporate teams from all over the province (although individuals and teams of friends are always welcomed). Each team gets two golf carts.
Golfers are asked to arrive at the Mill River Golf Course by 1:30 p.m. to confirm their registration. The tournament begins at 2 p.m. with a shotgun start. The event will be played in the best-ball Mulligan format. Little games situated here and there on the course will also give participants an opportunity to win additional prizes.
BUFFET AND SNACKS
After playing their 18 holes, the golfers will get a chance to eat at a delicious cold buffet. A few snack booths will also be located here and there along the course.
Then, at the end of the tournament, all players will be asked to convene at the club house for the presentation of awards and prizes. Evangeline-Central Credit Union, returning as the event's main sponsor, will present the first-place plaque to the champions. Prizes will also be presented to second and third-place finishers. Male and female longest drive prizes will be handed out. Closest-to-the-whole prizes will also be presented. Many door prizes will also be drawn.
For the third consecutive year, the event is being organized by the Regional Committee in collaboration with the Acadian and Francophone Chamber of Commerce of PEI (CCAFLIPE). In addition, an organizing committee will help finalize details of the event, recruit teams, solicit sponsorships, find suppliers and find prizes.
REGISTRATION
The registration fee this year will be 80 $ per person or $320 per team. Participants must register in advance, by Sept. 8, by contacting Jeannette Gallant at (902) 854-7250 or at jeuxacadie@gov.pe.ca. It is also recommended to pay the registration fee in advance, either in cash or by cheque payable to Comité régional des Jeux de l'Acadie de l'Î.-P.-É. Players also have the option of paying upon arrival at the tournament.
It should be noted that Rodd Mill River Resort is also offering special overnight room rates to tournament participants for that night only.
Organizers are currently seeking businesses and organizations that would want to sponsor a hole for $100. All those interested are asked to contact Jeannette Gallant to discuss the promotional opportunities of such as sponsorship.
The funds raised this year will help ensure the participation of about 200 youth in the Jeux de l'Acadie programs. With the introduction of new sports and cultural activities at the 2015 Finals in Charlottetown, PEI – such as Ultimate Frisbee, mountain biking, para-athletics, improvisation and a sport chosen by the host region, our Regional Committee will have to purchase new uniforms and equipment so that our delegation can participate.
-30-
CUTLINE: Acajoux, the Jeux de l'Acadie mascot, proudly launches the invitation to Island golfers to sign up for the 9th Acadian Golf Tournament of PEI, to be held Saturday, Sept. 13, at Mill River Golf Course. The mascot is seen with, from left, Raymond J. Arsenault, coordinator of the Acadian and Francophone Chamber of Commerce of PEI, and Carole Gallant, president of the PEI Regional Committee of Les Jeux de l'Acadie, who is seen accepting a $1,000 sponsorship cheque from Angèle Gallant, manager of the Wellington branch of Evangeline-Central Credit Union.
For more information:
Jeannette Gallant
Coordinator
Comité régional des Jeux de l'Acadie de l'Î.-P.-É.
(902) 854-7250
Jeuxacadie@gov.pe.ca