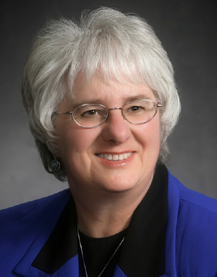 SUMMERSIDE – June 26, 2015 – Five years after it was resurrected, the Acadian and Francophone Chamber of Commerce of PEI feels it is taking its rightful place on the provincial scene and that it is being fully accepted in the business world.
« Everywhere I go, I feel that we are extremely respected and that we are recognized as equals, as peers, by the other chambers, » noted the Acadian Chamber's outgoing spokesperson Jeannette Arsenault during the organization's annual meeting in Summerside June 25. « More and more, the English-speaking population of PEI is realizing that we have an additional skill – a second language – that can be extremely advantageous in the business world. They know it's an added value. That really warms our hearts. »
Arsenault feels the Chamber's first five years of reactivation have sped by very quickly. "But when we look back at the list of activities we've organized in that period, we can easily see that we've come a long way, that we've touched a lot of people and that we've helped spread a lot of information! Nobody could say that we haven't reached our objectives of learning, networking and sharing."
Over the past financial year, the Chamber organized 27 activities that attracted 771 participants. The vast majority of these activities were organized in partnership with the Wellington Rural Action Centre. Among the other major partners were CBDC Central PEI, the Conseil de développement coopératif, the Summerside and Charlottetown Chambers of Commerce, the Carrefour de l'Isle-Saint-Jen and the Centre Belle-Alliance.
This past year, the Acadian Chamber helped organize, among other things:
the Entrepreneurs' Gala
the Entrepreneurs' and Co-operators' Luncheon
A casino night
A collection of non-perishable foods
The Acadian Golf Tournament
Five lunch-and-learns and information sessions
3 workshops
3 business mixers
2 members' luncheons
a deep-sea fishing expedition
and a Christmas social.
-30-
CUTLINE: Jeannette Arsenault, outgoing spokesperson for the Acadian and Francophone Chamber of Commerce of PEI.
For more information:
Raymond J. Arsenault
Acadian Chamber coordinator
(902) 854-3439, Ext. 231
raymond@rdeeipe.org