CCAFLIPE and Collège Acadie ÎPÉ to network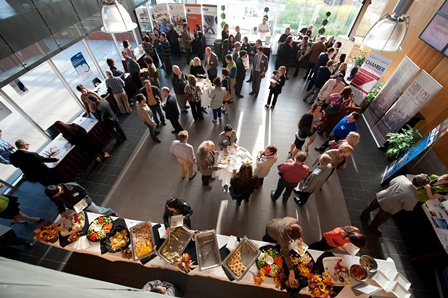 CHARLOTTETOWN, PEI – March 14, 2014 – The Acadian and Francophone Chamber of Commerce of PEI and the Collège Acadie ÎPÉ are joining forces to host a business mixer for the Greater Charlottetown Area Chamber of Commerce to provide an opportunity for Anglophone retailers and business people from the city to learn more about their services and how they could benefit from them.
The mixer is slated for Wednesday, March 26, from 4:30-6:30 p.m. at the Carrefour de l'Isle-Saint-Jean at 5 Acadian Dr., Charlottetown, allowing the centre to increase its visibility among city entrepreneurs. The PEI Association of Newcomers to Canada will join in the event, providing live multicultural music.
All members of both Chambers, as well as any other interested individuals, are welcomed to attend. In addition to meeting and discussing business with the more than 100 people who usually attend these gatherings, participants will also get the opportunity to visit booths hosted by various members of the Charlottetown Chamber, including those manned by the College, RDÉE Prince Edward Island/CCAFLIPE and the title sponsor McInnes Cooper.
Hors d'oeuvres will be served. A cash bar service will be available. Admission is free.
« Charlottetown's most effective networking tool, the Chamber's monthly business mixers provide members with a unique opportunity to develop their business contacts and their products and services, » says a note on the Charlottetown Chamber's web site.
-30-
For more information:
Raymond J. Arsenault
Coordinator
Acadian and Francophone Chamber of Commerce of PEI
(902) 854-3439, Ext. 231
raymond@rdeeipe.org