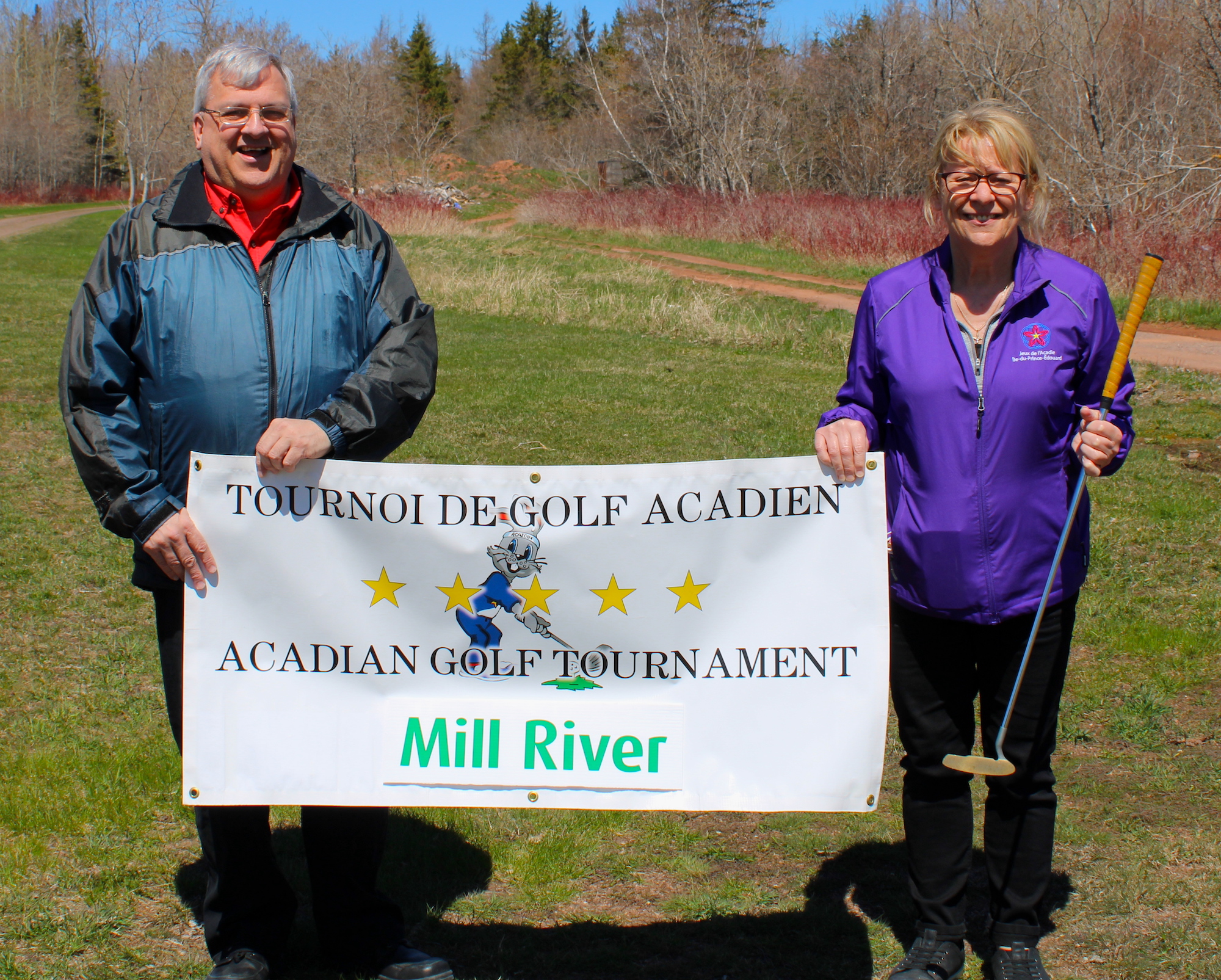 WOODSTOCK – May 4, 2021 – The popular Acadian Golf Tournament, which took a break last year due to the pandemic, will return this year to celebrate its 15th edition. This friendly sporting competition, which is a fundraiser for the PEI Regional Committee of Les Jeux de l'Acadie, is scheduled for Sunday, Sept. 12, at 12 p.m. at Mill River Golf Course in Woodstock. The number of spots is limited so interested golfers are urged to sign up as soon as possible.
As always, the tournament will wrap up with a delicious supper as well as the presentation of various prizes, including rewards for the best scores. Several small games will be offered on the course and in the banquet room, again for a chance to win prizes. And following its tradition, the Acadian and Francophone Chamber of Commerce of PEI (CCAFLIPE) will be offering a special little contest with prizes for 15 randomly selected golfers as this year marks the 15th anniversary of the tournament.
« This year, in order to respect the province's health restrictions, we will have to divide the group into two cohorts when we are inside for supper, so we are limited in the number of golfers we can accept, » explains tournament coordinator Jeannette Gallant. « Entries will be reserved exclusively for teams of four."
SUPPORTING YOUTH
« The Chamber of Commerce, which is collaborating in the organization and promotion of the event, strongly encourages businesses and corporations to sponsor the tournament to support our young Island athletes in their participation in the upcoming Jeux de l'Acadie Finals in Quispamsis and Saint John, New Brunswick, » said Raymond J. Arsenault, CCAFLIPE event coordinator. « We are also encouraging businesses, employers, groups of friends and family groups to register teams to participate in what is always a fun day. »
Organizers note that the day is open to both novice and experienced golfers. Each team will have access to two carts. Everyone will also receive free golf balls, snacks and beverages. All participants need to bring is their own clubs.
This year's registration fee is $400 per team ($100 per team member). Interested parties are asked to register as soon as possible to secure their spot. Contact Jeannette Gallant by phone at 902 439-2791 or by email at jeannettegallant@gov.pe.ca.
The Mill River Resort has also reserved a block of 10 rooms for golfers who would like to stay overnight in this beautiful part of the province. Interested parties should reserve their room immediately, mentioning their participation in the Acadian Golf Tournament to take advantage of the special rate.
-30-
PHOTO: Jeannette Gallant of the PEI Regional Committee of Les Jeux de l'Acadie and Raymond J. Arsenault of the Acadia and Francophone Chamber of Commerce of PEI are busy organizing the 15th Acadian Golf Tournament, which will be held at the Mill River Golf Course Sunday, Sept. 12.
For more information, please contact
Jeannette Gallant
Coordinator
PEI Regional Committee of Les Jeux de l'Acadie
902-439-2791
jeannettegallant@gov.pe.ca