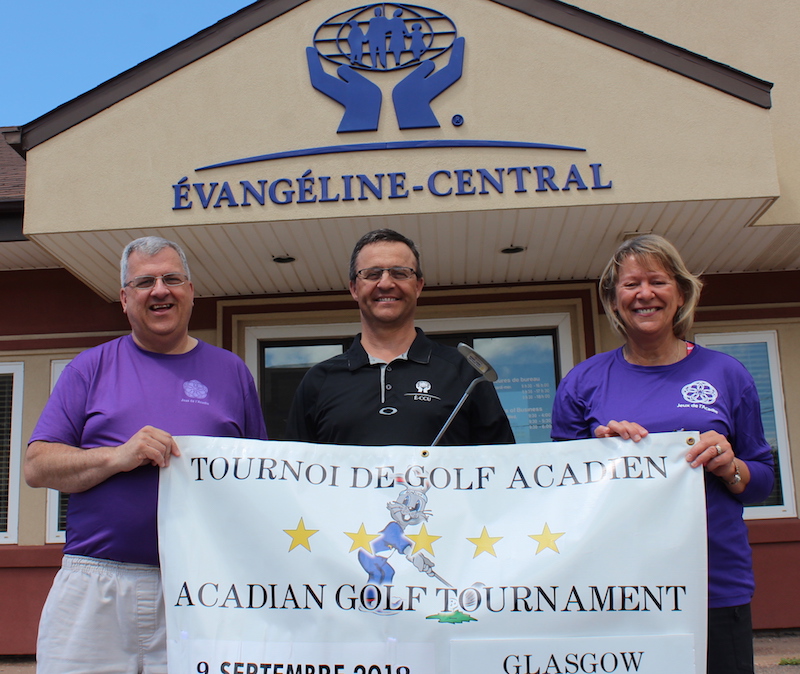 NEW GLASGOW – July 19, 2018 – Some people consider the number 13 to be unlucky, but the organizers of the 13th annual Acadian Golf Tournament of PEI believe this edition will bring nothing but good luck to its golfers. They are also fearlessly organizing a special activity at Hole 13 and will be giving out 13 prizes during a particular contest.
"But to wrap up our tournament a little bit earlier this year and to avoid any risk of bad luck, we're starting our 2018 tournament at 12:30, rather than at 1 p.m. – or 13:00 as it is expressed in French and in military talk," says event coordinator Jeannette Gallant. "We'll also attempt to reduce the length of our early evening banquet."
This "Lucky 13" edition of the tournament is slated for Sunday, Sept. 9, at the highly ranked Glasgow Hills Resort & Golf Club in New Glasgow. The event is being organized to raise funds to ensure that more than 100 francophone youth from PEI can participate in the 2019 Finals of the Jeux de l'Acadie (Acadian Games).
Last year, this popular tournament raised a record of $7,500. Organizers are hoping to surpass that amount since expenses to attend the Games keep rising. As well, the next finals will be held in Grand Falls, N.B., which is practically twice as far as this year's finals in Miramichi.
Again this year, the PEI Regional Committee of the Jeux de l'Acadie is organizing the event in collaboration with the Acadian and Francophone Chamber of Commerce of PEI (CCAFLIPE). The two organizations are hoping that sponsors and participants of this year's tournament will be extra generous.
"We hope that a large number of players – and especially corporate teams – will register to once again play in this magnificent tournament to enjoy a great afternoon of recreation but especially to support our youth," said CCAFLIPE spokesperson Pierre Gallant. "Our PEI athletes shone brightly during this year's finals. We want to give them a chance to shine even brighter in Grand Falls next June."
"The success of the tournament will depend not only on the golfers but also on the hole sponsors. In fact, organizations and businesses are being invited to sponsor holes for $100 each in exchange for various promotional rewards," adds Julie Gilman, president of the PEI Regional Committee.
Gilman and Gallant are therefore officially launching the registration campaign, which will extend until Sept. 4.
THE TOURNAMENT
Golfers are asked to arrive at the club between 11:30 a.m. and 12 noon to sign in. Each team will have access to two golf carts. The tournament begins at 12:30 p.m. with a shotgun start. The event will be played in the best-ball Mulligan format. Stations located along the course will provide snacks, little games and various surprises.
After playing their 18 holes, the golfers will gather at the clubhouse for a good supper (mussels, hamburgers, salad, beverage).
Then, Evangeline-Central Credit Union, returning yet again as the event's main sponsor, will present the plaque to the champions. Prizes will also be given to teams having finished in second and third place. Male and female longest drive prizes will be handed out. Closest-to-the-whole prizes will also be presented. Many door prizes will also be drawn.
The registration fee for this year's tournament will again be $90 per person or $360 per foursome. To register, contact Jeannette Gallant at (902) 439-2791 or at jeannettegallant@gov.pe.ca. It is also recommended to pay the registration fee in advance, either in cash or by cheque payable to Comité régional des Jeux de l'Acadie de l'Î.-P.-É. Players also have the option of paying upon arrival at the tournament. (Credit and debit cards will not be accepted.)
All those interested in sponsoring a hole are asked to contact Gallant to discuss promotional opportunities for such a sponsorship.
-30-
CUTLINE: Organizers of the 13th Annual Acadian Golf Tournament of PEI are inviting everyone to register for the Sept. 9 event. Raymond J. Arsenault, left, coordinator of the Acadian and Francophone Chamber of Commerce of PEI, and Jeannette Gallant, coordinator of the PEI Regional Committee of Les Jeux de l'Acadie, are seen chatting with the event's main sponsor, Alfred Arsenault, general manager of the Evangeline-Central Credit Union.

For more information:
Jeannette Gallant
Coordinator
Comité régional des Jeux de l'Acadie de l'Î.-P.-É.
(902) 439-2791
jeannettegallant@gov.pe.ca