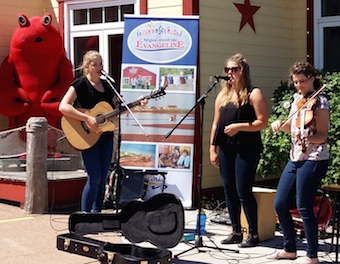 BORDEN-CARLETON – July 7, 2016 – It is said that music inspires and attracts. The Evangeline Tourism Association is hoping that saying is true since one of its summer projects is relying on that assumption.
Every Monday and Tuesday in July and August, the Association is bringing three Acadian musicians from the Evangeline region – Britney, Kaylee and Janelle Arsenault – to Borden-Carleton and sets them up in front of Jeannette Arsenault's "Ship & Play" gift shop (formerly Cavendish Figurines) to sing and play music for visitors. They also do a bit of bilingual crowd animation, speaking about their home community.
The young ladies then distribute to the tourists a package of promotional material, including a new map that identifies the major attractions of their region and a list of summer festivals and events. As well, they hand out coupons offering 20% discounts to the Resto-Bar La Trappe at the Acadian Musical Village in Abram-Village.
"This project aims to encourage visitors, upon their arrival on Prince Edward Island, to head towards the Western region of PEI, along the North Cape Coastal Drive, and obviously to the Evangeline region to discover our tourist attractions," explains Albert Arsenault, the association's vice-president. "This initiative fits in very well with our overall promotional campaign identifying our community as the 'Acadian Musical Region'."
He adds that the association has specifically targeted Mondays and Tuesdays for the presentation of these mini-concerts since these are apparently the days of greatest tourist traffic because visitors are arriving on the Island for their week of vacation. The numbered coupons returned to the restaurant will serve as a way of measuring the impact of the project.
This initiative is being undertaken thanks to a contribution from the provincial Department of Tourism and Culture, in partnership with the Acadian Musical Village, the North Cape Coastal Drive and Shop & Play.
-30-
CUTLINE: Acadian musicians (from left) Britney, Kaylee and Janelle Arsenault present mini-concerts in Borden-Carleton every Monday and Tuesday for the Evangeline Tourism Association to encourage visitors to head West and to the Evangeline region.
For more information:
Albert Arsenault
Vice-president
Evangeline Tourism Association
(902) 888-9503
axarsenault@gmail.com