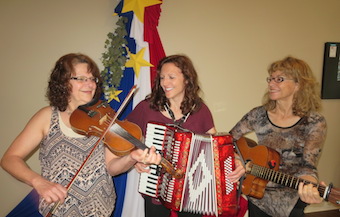 ABRAM-VILLAGE – July 9, 2015 – Visitors at the Acadian Musical Village in Abram-Village this summer will get to participate in a wide variety of fun and interesting activities as they discover the charm of the Evangeline region's Acadian culture, promises the attraction's board of directors.
Co-chairs Dick Arsenault and Jean-Guy Arsenault note that the summer of 2014 was a first season of learning as the team put the final touches to the site's new facilities and programming. It was being transformed into the Acadian Musical Village, after having served at the Centre Expo-Festival since 1998.
For the summer of 2015, several adjustments were made. A new program of activities, rich in talent and culture, was developed to interest both tourists and locals alike, note the co-chairs. "So come and visit our attraction for an authentic down-home experience!"
MAGNIFICENT MUSICIANS
First of all, admission to the Acadian Musical Village – the primary cultural destination in the Evangeline region – is completely free! Several times in the afternoon, from Tuesday to Saturday, and in various locations on the site (including Ti-Manuel's Barn), visitors will get to hear the marvellous musical talents of Louise Arsenault, Helen Bergeron and Caroline Bernard, performers of international calibre. In fact, these three ladies previously played together as part of the group Les Girls; as well, Louise and Helen were band-mates in the group Barachois, which circled the globe several times. They will also provide dance and percussion workshops twice a day.
Visitors will also get to see, in the new buildings in the Village, the Galerie La Palette, displaying the magnificent works of various local artists and offering painting workshops twice a day. Also located on site is the Evangeline Region's Musical Hall of Fame, where tourists can discover local performers who've left their mark on the world.
Every Friday night, from 9 p.m. to midnight, adults can participate in a down-home kitchen party in the restaurant-bar. Local and invited guest performers will provide musical entertainment.
HILARIOUS DINNER-THEATRE
As usual, the "V'nez veiller" dinner-theatre promises an evening of lively music and crazy comedy, accompanied by a four-course meal. This year, the Village is presenting two different shows, from July 15 to the end of August. Both were written and directed by the well-known Wayne Robichaud.
The French show, "Partons, ma mère est là", will be staged every Wednesday and Thursday. It will feature actors-musicians Debbie Rousselle-Montgomery, Zakk Cormier, Gérald Arsenault, Julie Arsenault, Ryan Arsenault and Kaylee Arsenault.
The English show, "Pop's Little Shop", starring actors-musicians Julie Arsenault, Zakk Cormier, Mario "Fayo" LeBlanc, Janine Gallant, Tom DesRoches and Christina Gallant MacLean, will be presented Tuesday nights. It is in fact an English version of last year's French show.
RESTAURANT AND BAKERY
"La Trappe" restaurant-bar is under the direction of chef Sean Mears this summer. Seafood and Acadian dishes are its specialties, but other typical PEI fare can also be found on the menu.
"La Galette Blanche" bakery offers rapure, meatpie, bread, "galettes blanches" (French buns), cookies, cinnamon rolls and other tasty treats every day of the week.
Upon reservation, the kitchen staff will also offer an Acadian culinary experience for groups: the "Frolics, Fricot and Fiddles" workshop. Participants will learn how to make fricot, "poutines à trou" and cinnamon rolls, accompanied by the sounds of fiddles.
When the center's large hall is not being used for dinner-theatres, it is still available for family gatherings, weddings, conferences and meetings.
Those who wish can also spend one or more nights in the Terre Rouge Camp Ground, located behind the Village. Sites are available with or without electrical, water and sewage services.
For more information on all facets of the Village, visitors are encouraged to consult the website www.villagemusical.com. Its activities are also being promoted on its Facebook and Twitter pages.
-30-
CUTLINE: Renowned musicians Louise Arsenault, Caroline Bernard and Helen Bergeron entertain crowds with free traditional music every Tuesday to Saturday afternoon at the Acadian Musical Village in Abram-Village.
For more information:
Raymond Bernard
Manager
Acadian Musical Village
(902) 854-3300
info@villagemusical.com