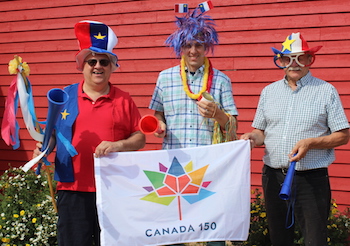 ABRAM-VILLAGE – July 19, 2017 – A multicolored "tintamarre" (noise parade), a great outdoor folk music concert and lots of Acadian food will all come together to help the Evangeline region jointly celebrate the Acadian National Holiday and the 150th anniversary of Canada on Tuesday, August 15, from 6-9 p.m.
This lively party, for people of all ages, will take place at the Acadian Musical Village in Abram-Village. The energetic music of the Quebec band É-T-É, the local youth band Palou'des and the traditional band of Gary, Peter, Albert & Hélène will give a great boost to the celebration.
For a first time, the Acadian and Francophone Chamber of Commerce of PEI and the Wellington Rural Action Centre will join regular organizers, the Conseil scolaire-communautaire Évangéline and the Acadian Musical Village, in the organization and hosting of this beautiful event. Admission will be free.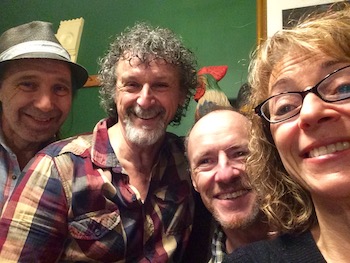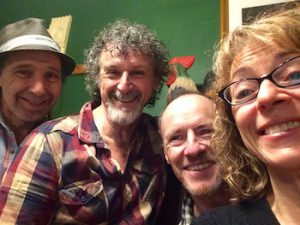 The organizers say this joint party gives people from the region and visitors alike an opportunity to celebrate both their Acadian and Canadian roots.
The evening will begin with a "tintamarre" noise parade, which will go around the neighboring Evangeline Recreation Centre and back to the terrace. Everyone is invited to dress up in Acadian or Canadian colors to participate; everyone is invited to bring along various noisemakers to make noise all along the parade route. Then, everyone will attend a flag-raising ceremony, hear a few words of welcome and be entertained during the three-part concert.
THE SHOW
The very dynamic band É-T-É was born following the meeting of three young musicians from classical, jazz and traditional Quebecois backgrounds. The two-year-old group performs a repertoire of traditional Québec and French air as well as original, unique, young-sounding compositions blending fiddle, cello, bouzouki, voices, feet and stepdances. Élisabeth Moquin, Thierry Clouette and Élisabeth Giroux make up the popular group. The trio is much appreciated for its overflowing energy, its on-stage complicity and its new music. The three musicians are bringing a new resonance to traditional Québec music, a new breath of fresh air, a true discovery for many people.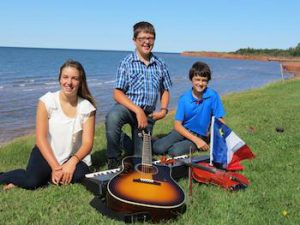 Even though the group Palou'des is made up of three young teens (Gilbert Arsenault, Tianna Gallant and Dawson Arsenault), it has already attained great levels of professionalism and popularity. Playing magnificent Acadian songs and traditional instrumentals, the fantastic trio has already won a number of prizes during provincial and Atlantic Canadian talent shows. People greatly appreciate their music, their sense of humor and their showmanship.
Finally, the popular fiddler Peter Arsenault knows exactly how to get people tapping their toes, when he lets loose. And when you throw into the mix his brother Albert Arsenault and sister Hélène Bergeron (both of international Barachois fame) as well as their friend Gary Gallant, you can be assured a heck of a great time.
CHILDREN'S ACTIVITIES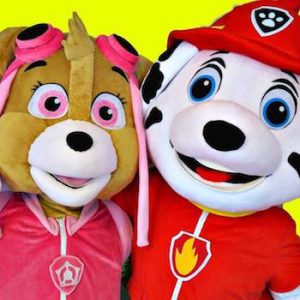 For children, there will be arts and crafts, face painting and a visit from TV characters Paw Patrol. Children will get an opportunity to dance with the characters and to get their pictures taken with them.
Everyone will get a chance to win a variety of Canadian or Acadian door prizes and to enjoy a celebration cookie. A barbecue will offer hotdogs and hamburgers for sale; the Village musical acadien will also be selling a variety of Acadian dishes as well as clams and oysters. A few salespeople from the Young Millionaires Program will also be on hand to sell their wares.
In addition to the organizations already mentioned, the other event partners are Evangeline Tourism Association, Canada 150, Canadian Heritage and the Province of PEI.
-30-
CUTLINE 1: Raymond J. Arsenault, left, coordinator of the Acadian and Francophone Chamber of Commerce of PEI, Nick Arsenault, center, executive director of the Conseil scolaire-communautaire Évangéline, and Marcel Bernard, president of the Acadian Musical Village, invite everyone to participate in their joint celebrations of the Acadian National Holiday and Canada 150 in Abram-Village August 15th from 6-9 p.m.
CUTLINE 2: Gary Gallant,  Peter Arsenault, Albert Arsenault and Helen Bergeron will whip up a batch of lively Acadian music for the Aug. 15th National Acadian Holiday.
CUTLINE 3: The Quebec folk group É-T-É will entertain the crowd at the joint celebration of the Acadian National Holiday and Canada's 150th birthday on August 15th.
CUTLINE 4: Palou'de – made up of Tianna Gallant, Dawson Arsenault and Gilbert Arsenault – will be one of the featured Acadian acts in Abram-Village.
CUTLINE 5: Two Paw Patrol characters will be on hand to entertain children at the August 15th celebrations in Abram-Village.

For more information:
Annette Richard
Cultural Activity Coordinator
Conseil scolaire-communautaire Évangéline
(Evangeline School-Community Council)
902-854-2166
agente@cscevangeline.ca