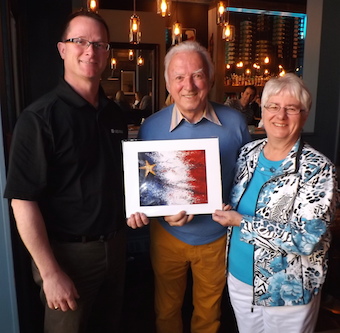 CHARLOTTETOWN – June 8, 2015 – "Adapt or die" was the powerful message author-entrepreneur Gaétan Frigon delivered to 35 entrepreneurs, economic development workers and interns during a breakfast conference in Charlottetown June 5. The event, hosted by the Acadian and Francophone Chamber of Commerce of PEI and the Wellington Rural Action Centre, was held in conjunction with the Salon du livre de l'Î.-P.-É. (francophone book fair of PEI).
A former panellist on the French version of "The Dragon's Den" TV show, the guest speaker gave countless examples of major companies that failed to keep up with the needs and desires of their clientele and had no choice but to close shop. He believes the Internet holds unlimited potential for businesses.
To thank Frigon (centre) for his talk, RDÉE PEI president Martin Marcoux and Acadian Chamber spokesperson Jeannette Arsenault presented him with a lovely Noella Richard print.