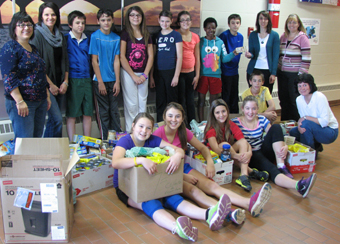 WELLINGTON, PEI – Oct. 30, 2013 – People from the Evangeline area contributed nearly 1,000 pounds of non-perishable food to the Summerside Salvation Army Food Bank during Co-op and Small Business Weeks.
This volume can be added to the $1,600 in cash that was raised for the same cause during the recent Let's Make a Deal games night.
From Oct. 14-24, the public had been invited to drop off food donations to Évangéline-Central Credit Union or Wellington Co-op. Everyone who contributed to the cause received a ballot for a draw for a $100 gift card from Wellington Co-op. Aline Murray was the contributor who won the prize.
In addition, a similar contest had been organized at Evangeline School, offering each class the opportunity to collect food. Under the supervision of teacher Josée Babineau, the school collected 630 items; from this total the winning class – Denise Millette-Caissie's Grade 7 class – gathered 145. For its efforts, the class received a brand new $100 bill.
The students decided to buy pizza and popcorn and watch a movie together. They also decided to give $10 back to a charity.
Karen Mallett, the representative of the Salvation Army who picked up all the contributions, said she was extremely pleased with the 990 pounds of food collected. She mentioned that numerous local families will now be able to enjoy good meals thanks to these donations.
The local collection was conducted in collaboration with a campaign carried out by Farm Credit Canada. Nationally, some 6.5 million pounds of food were collected for local people in need.
-30-
CUTLINE: On the far right, students from the Grade 7 class at Evangeline School in Abram-Village are shown accepting their $100 cash prize from Diane McInnis from Évangéline-Central Credit Union. Next to her is Karen Mallett from the Summerside Salvation Army Food Bank. Crouched in front of them is class teacher Denise Millette-Caissie.
For more information:
Diane McInnis
Marketing officer
Évangéline-Central Credit Union
(902) 854-2595
dmcinnis@eccu.ca