With networking, learning and sharing events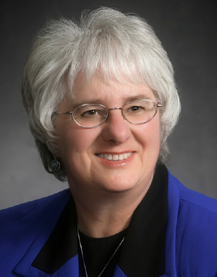 SUMMERSIDE, PEI – June 26, 2013 – During the past financial year, the Acadian and Francophone Chamber of Commerce of PEI hosted a total of 29 events that were attended by more than 500 people, reported Chamber spokesperson Jeannette Arsenault to the joint annual meeting of the Chamber and RDÉE Prince Edward Island June 25 in Summerside.
All of these activities fell under the scope of the Chamber's three slogan themes of Networking, Learning and Sharing. Some had been planned well in advance but others « essentially fell out of the sky for us », added Arsenault.
She explained that the vast majority of these events were organized and held in collaboration with the Wellington Rural Action Centre, while others were with partners such as the Conseil de développement coopératif, CBDC Central PEI, other Island chambers, various organizations and several private entrepreneurs. The RDÉE is always considered a partner since its employees are the ones who coordinate the events.
She thanked the collaborators, the course and workshop trainers and the session presenters but she especially praised those who attended the numerous activities. « It's always fun to see our regular participants but it's even more interesting when we see new faces. »

« Regrettably, there are several of our members whom we rarely see at our activities. That is particularly true in the Charlottetown are; we've offered several activities in the capital city but we've had to cancel at least three of them this year, specifically because of lack of registrations, » she noted. « We hope the fact that the RDÉE and the Chamber have moved into the Carrefour de l'Isle-Saint-Jean in Charlottetown will encourage a greater participation among entrepreneurs and other people from the city. »
She said as long as people participate in Chamber events, it will continue organizing them. « But don't forget that it's your Chamber so if you don't participate in its activities, you're missing out on really great opportunities to meet potential partners and to learn new ways of doing things. »
In these tough economic times, Arsenault considers it more and more important to collaborate among entrepreneurs to learn from one another. « In a market as small as Prince Edward Island, we can almost not consider any other business to be our competition; we have to instead consider them as allies. It is with that spirit of collaboration and co-operation that your Chamber operates, » she said.
The CCAFLIPE will launch its calendar of activities for the coming year in October during Small Business Week.
HIGHLIGHT
The spokesperson noted that once again, the highlight of the year for the Chamber was its Entrepreneurs' Gala in mid-March. « This year, we received a record of 21 nominations for our five regular awards and we were able to present the brand new Young Millionaires Award. » She then congratulated all the finalists and winners.
« As far as the Gala itself is concerned, we try every year to make it more and more professional. Thanks to the collaboration of Radio-Canada this year, the biographies of all finalists were recorded ahead of time by Denis Duchesne, host of Le Réveil morning show. This added a very special touch to our evening. So thanks to Radio-Canada as well as to all our other sponsors. »
Over the year, the Chamber organized several lunch-and-learns, information sessions and courses related to themes of interest to entrepreneurs and community developers.
The CCAFLIPE also intervened politically on behalf of its members, asking the province not to increase business taxes and to allow shop owners to open their stores at the hours of their choice on Sundays. The federal government was also asked to allow seasonal businesses a greater flexibility in the timelines for remitting their taxes.
-30-
CUTLINE: Jeannette Arsenault, spokesperson for the Acadian and Francophone Chamber of Commerce of PEI.
For more information:
Jeannette Arsenault
Spokesperson
Acadian and Francophone Chamber of Commerce of PEI
(902) 437-2663
Raymond J. Arsenault
Coordinator
Acadian and Francophone Chamber of Commerce of PEI
(902) 854-3439, Ext. 231