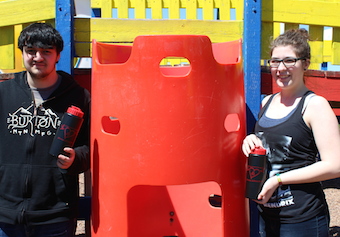 ABRAM-VILLAGE – May 19, 2016 – As they learn how to establish and manage a business, the 11 students of the Grade 11 Entrepreneurship class at Evangeline School are aiming to help quench people's thirst and to raise funds to reduce the suffering of those living with cancer.
Starting at the beginning of the second semester, Josée Babineau's class learned the basics of entrepreneurship. Then, as a practical exercise, they had to set up and operate a small business. This year, the group chose to sell plastic water bottles bearing a French slogan that translates to "Small Community, Big Difference". They then chose an appropriate name for their business: As-tu soif? (Are You Thirsty?)
After they'll have sold their bottles, paid their expenses and reimbursed their investors' shares, what would they do with the proceeds?
"This year, we decided to contribute our profits to the Canadian Cancer Society because several of us have had to deal with this disease in our families over the past few years," says company president Nathalie Richard. "It is very important that we contribute to a cause that touches us all."
Right now, the class is concentrating on promotions and sales. Students are going to various locations to sell their wares – at a cost of $10 a bottle.
They'll be seen at the Acadian Musical Village in Abram-Village during the evening of Friday, May 27, before the show "La Chicane dans la cabane" as well as at the Mini-Relay for Life Saturday, June 4, at Evangeline Recreation Centre from 2-10 p.m. These water bottles will come in quite handy at the Mini-Relay since participants will be continuously going around the track and will need to rehydrate themselves often.
The owner-managers of the "As-tu-soif?" business each have their responsibilities:
•    president – Nathalie Richard
•    human resources – Luc Arsenault
•    marketing and sales – Skylar Arsenault, Dylan Arsenault and Kyle Cormier
•    finance – Marc-André Gallant and Robert Richard
•    information technology – Jordan Gallant, Kaitlyn Ford and Daniel Gallant
•    production – Austin Stewart.
For the past several years, the school entrepreneurship class is offered in collaboration with Junior Achievement's Company Program: A Student Venture. Through this program, the class benefits from the services of Velma Robichaud, client information officer with the Wellington Rural Action Centre; she meets the class on a regular basis to help the students with various facets of their project and their learning.
To learn more about the "As-tu soif?" business, check out its website http://astusoif.wix.com/astusoif or the group's Facebook page at https://www.facebook.com/Astusoif/. Bottles can be ordered by email at as.tu.soif@gmail.com.
-30-
CUTLINE: Daniel Gallant and Kaitlyn Ford, two of the owner-managers of the « As-tu soif? » business, proudly show the water bottles they're selling to raise funds for the Canadian Cancer Society.
For more information:
Velma Robichaud
Client information officer
Wellington Rural Action Centre
(902) 854-2328, poste 228
Josée Babineau
Entrepreneurship class teacher
École Évangéline
(902) 854-2491