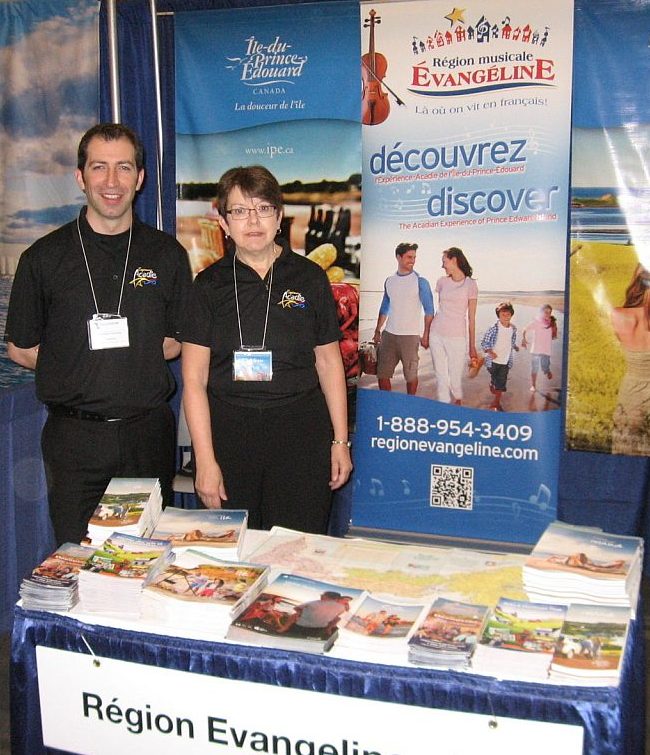 OTTAWA – April 2, 2015 – Representatives of the Evangeline Tourism Association piqued the interest of numerous potential visitors to PEI as they promoted the Island's Acadian and francophone tourism during the Travel and Vacation Show at the Ottawa Convention Centre March 28-29.
Association representatives Théodore and Claudette Thériault, accompanied by RDÉE PEI tourism officer Gregory Urier, met a large number of people who said they would be interested in visiting PEI this summer. The majority of those who chatted with the Island representatives indicated they had already been to PEI before but had never ventured into the Evangeline region.
When they heard about the region's activities and attractions, several said they would be quite interested in visiting Evangeline since they tend to seek authentic experiences and are interested in the Acadian culture, including its music, its cuisine, its dances and its dinner-theatres.
Some 300 people said they had already visited the Evangeline region and were anxious to return there since they had greatly appreciated the warm hospitality of its Acadian community and wanted to discover, among other things, the activities offered at the new Musical Village.
The tourism association's display was part of the PEI Department of Tourism booth. Every year, the Travel and Vacation Show offers the opportunity for some 200 tourism regions of the world to promote themselves. About 17,000 people visited the show. The association's participation in this fair was funded by La Commission du tourisme acadien du Canada atlantique.
-30-
CUTLINE: Gregory Urier, tourism development officer with RDÉE PEI, and Claudette Thériault, a volunteer with the Evangeline Tourism Association, welcomed many visitors to the PEI booth at the Travel and Vacation Show in Ottawa March 28-29.
For more information:
Gregory Urier
Tourism Development Officer
RDÉE Prince Edward Island
(902) 370-7333, Ext. 223
gregory@rdeeipe.org