Votes wanted to win $25,000 for Laurinda Gallant Park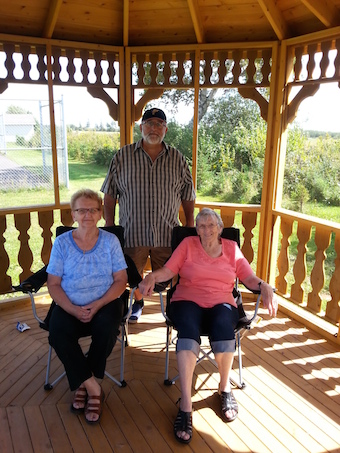 WELLINGTON, PEI – Sept. 4, 2014 – It's official: Le Bel âge Residential Co-op in Wellington has been named one of the finalists in The National Co-op Challenge, a national social media contest created by The Co-operators to support the growth of small and emerging co-operatives. Le Bel âge is one of 16 co-ops – four from each of four regions across Canada – competing for their share of $200,000 in prize money.
Canadians can vote between Sept. 3 and Oct. 1 at http://bit.ly/1xg7wKa to help determine the two top finalists in each of the four regions that will each take home $25,000. People may only vote once a day.
"La Coopérative d'hébergement Le Bel âge hopes that members of our community will use their vote to support our project, which seeks to add the final touches to our Laurinda Gallant Community Park," explains co-op president Albert Arsenault. "We expect to be able to add a water well, lighting, flowers, bushes, trees and various other elements."
It should be noted that the park is located on the co-op's grounds and will be open to the entire community. It is especially hoped that senior residents of the area, including those who live in Le Chez-nous Co-op's community care facility and in the apartments operated by Le Bel âge, will be its primary users. The park was named in honour of the late Laurinda Gallant, who had sold the land that the park and apartments are located on for a very low price.
Small and emerging Canadian co-ops were invited to apply for a chance to win $25,000 while raising awareness of their enterprise and educating Canadians about the co-operative business model. Co-operators employees reviewed applications from across the country; the 16 finalists chosen have each created a 90-second video.
It is now up to Canadians to watch the videos and decide which two finalists in each of the Atlantic, Quebec, Ontario and West regions will win $25,000 apiece.
It should be noted that Roger "Co-op" Arsenault volunteered his services as narrator for the video for Le Bel âge. Marcel Caissie filmed and produced the clip. Meanwhile, RDÉE Prince Edward Island produced the script and proposed a scenario.
"Empowering Canadians to vote mirrors the principle of democratic member control on which all co-ops are based," said Kathy Bardswick, president and CEO of The Co-operators. "Once again this year, we have a great group of finalists that reflect the diversity of the co-op sector in this country. Best of luck to all the finalists!"
"We're inviting everyone to help spread the word, vote and support our project," concluded Arsenault.
– 30 –
CUTLINE: Albert Arsenault, president of La Coopérative Le Bel âge ltée., visits a gazebo similar to the one that will be built in the Laurinda Gallant Community Park. He is seen with residents Évangéline Gallant, left, and Eva Richard, also on the board of directors, who are also encouraging people to vote for the park project.
For further information, please contact:
Carmella Richard
Activities Coordinator
La Coopérative Le Bel âge ltée
902-315-2821
Leonard Sharman
The Co-operators
519-767-3937