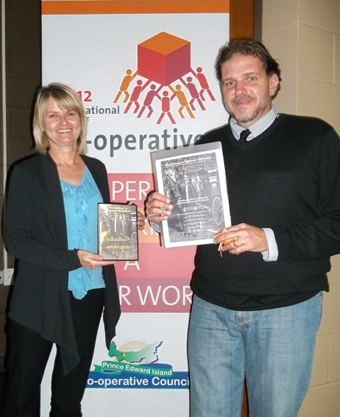 ABRAM-VILLAGE, PEI – Oct. 18, 2012 – The 40 people or so who attended the official launch of the new documentary film "Building a Better World: A Co-operative History of PEI" Oct. 17 in Abram-Village said they were quite impressed with the information and stories contained in the film.
They truly appreciated the fact that the 82-minute film often mentioned the contribution of Evangeline area co-ops and co-operators to the provincial co-op movement.
The film, produced by the PEI Co-operative Council (PEICC) in collaboration with the le Conseil de développement coopératif de l'Î.-P.-É. (CDC), is now on sale in DVD format for $10.
Seen during the Abram-Village launch are CDC development officer Velma Robichaud with PEICC development officer Todd MacEwen.