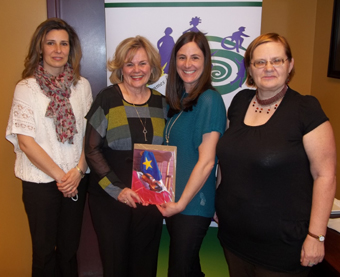 WELLINGTON, PEI – March 8, 2013 – A dozen women attended a lunch-and-learn entitled « Entrepreneurship – Feminine Style » in Wellington March 8 to learn more about the services offered by two major provincial organizations.
Organized on the occasion of International Women's Day, this activity first gave the opportunity to Actions Femmes Î.-P.-É. to provide an overview of its mission and activities.
Next, the PEI Business Women's Association explained to the female entrepreneurs the types of services it offers to help them set up and promote their business. The association offered a few helpful suggestions and tips.
From left are Nathalie Malo, co-chair of Actions Femmes Î.-P.-É., Elizabeth Noonan, western PEI community outreach facilitator for the PEI Business Women's Association, shown accepting a thank-you gift from Jeannine Arsenault, client information officer with the Wellington Rural Action Centre; and Cynthia Poirier, a new jewelry-making entrepreneur.
The lunch-and-learn was organized by the Wellington RAC in collaboration with the Acadian and Francophone Chamber of Commerce of PEI.