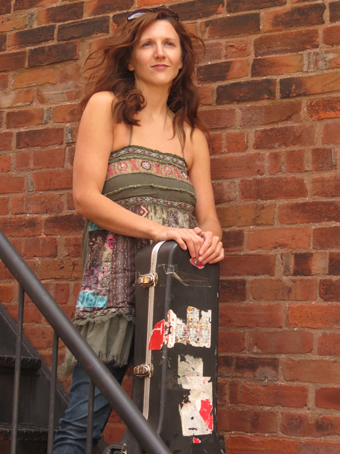 ABRAM-VILLAGE, PEI – Oct. 26, 2012 – Thousands of people had the privilege to see and hear the extremely popular singer-musician Caroline Bernard over the past two summers as she performed in the musical show Come All Ye at the Confederation Centre of the Arts in Charlottetown. Hundreds of people also saw her when she was an actress-musician in the dinner-theatres at the Centre Expo-Festival in Abram-Village. As well, people from the Evangeline adore hearing her angelic voice, especially when she performs her beautiful Christmas concerts.
And now, everyone will get a chance to hear her as she performs several fabulous songs during the 12-hour "2 to 2" benefit show, slated for Nov. 17-18 at Centre Expo-Festival in Abram-Village. A number of performers will provide their talents on a volunteer basis to help raise funds that will allow the Village des Sources l'Étoile Filante to deliver personal and spiritual development camps to youth from Acadian and Francophone communities all over PEI.
Caroline, who truly believes in the objectives of the Village des Sources, says it is a pleasure to do her fair share to help the cause.  "It will therefore be quite an honor and privilege for all of us to welcome an artist of such incredible reputation," says Christian Gallant, the RDÉE PEI development officer who is coordinating the show.
Fans will remember that Caroline has performed in many locations throughout Canada and Europe, several times during tours with the group Gadelle. Throughout the years, she has also been a member of the bands DBS, Chiquésa and Les Girls.
Now, as a solo artist, she presents French folk songs that are tinged with blues, country and rock influences. She accompanies her smoky, seductive voice with her guitar, her piano and her accordion. Caroline is currently working on her first album.
During the "2 to 2" show, Caroline will be sharing the stage with her mother, the well-known songstress Jeannita Bernard. This renowned artist has participated in several recordings during her musical career, including "Jeannita Bernard à La Cuisine à Mémé" and her extremely popular Christmas album, and has also performed in various provinces and countries.
OTHER PERFORMERS
Gallant announced that several other well-known performers have also volunteered to entertain the crowd at the "2 to 2" show, which will extend from 2 p.m. Saturday, Nov. 17, to 2 a.m. Sunday, Nov. 18.
Two of Caroline Bernard's former musical colleagues from the groups Gadelle and Les Girls, Louise Arsenault and Helen Bergeron, will perform several upbeat fiddle tunes. The two ladies were also both members of the famous globe-trotting Barachois.
A while back, it had been confirmed that Patricia Richard of Panou and Ode à l'Acadie fame would be participating in the show. Today, organizers are announcing that her sister, country music sensation Marcella Richard, will join her for a series of duets. Marcella, who is well known throughout Atlantic Canada, has recorded three albums and garnered tons of airplay, especially with the hit "Les gars de Mont-Carmel".
Big River, the local group that pays tribute to the traditional country music of singers like Johnny Cash, will also perform. The group is made up of singer Nick Arsenault, bass player Pierre Poirier, guitar player Alan Gallant and drummer Peter Arsenault.
And speaking of Peter, he will also appear as a solo fiddler. His fiddling cousin Norman Arsenault will also perform, accompanied by his singer-musician wife Paula Arsenault and other family members.
The country-bluegrass outfit The Docksiders, composed of Albert, Mona and Louise Arsenault and Carl Proud, will also sing several songs.
"Almost every day, other names are being added to our list of performers," says the coordinator. "It's great to see these artists wanting to give their time to help such a precious and worthy cause."
Gallant said there are still a number of spots on the show agenda so all performers wishing to volunteer their time are asked to contact him at 902-370-7333 or at christian@rdeeipe.org.
-30-
CUTLINE: Caroline Bernard, the well-known and angel-voiced singer from the Evangeline region, will perform several songs during the "2 to 2" benefit show for the Village des Sources l'Étoile Filante Nov. 17-18 in Abram-Village.
For more information:
Christian Gallant
2 to 2 Co-ordinator
RDÉE Prince Edward Island
(902) 370-7333
christian@rdeeipe.org