"Casino Bucks" helping with promotion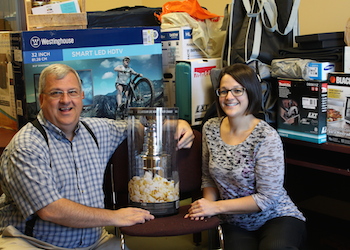 WELLINGTON – Oct. 12, 2016 – Local gamblers will get to share $5,650 worth of prizes – ranging from an iPad Mini, infrared heaters, a flat-screen TV and household appliances to power tools, hotel accommodations and concert tickets – this Saturday night (Oct. 15, starting at 8 p.m.) at Wellington Legion during the benefit casino for the Summerside Salvation Army Food Bank.
Event coordinator Raymond J. Arsenault can't get over the generosity of businesses, co-ops and organizations that have donated so many valuable gifts, which will be divided into 15 lots of prizes worth $300-$600 each.
"We're therefore hoping, from the bottom of our hearts, that those who participate at our benefit will also be extremely generous towards the cause, which is to help people from our communities who are unable to feed their families. Winter and Christmas are both approaching, so people are feeling the crunch even more this time of year."
He added that organizers are expecting a larger crowd this year, if one judges by the chatter being heard about the casino throughout the community. It is mostly because of the $1,000 "Casino Bucks" that are being distributed to customers by various businesses.
Customers can get these free "Casino Bucks" when they make purchases in the Evangeline region from Wellington Co-op, Wellington Esso, Wellington Legion and Evangeline Recreation Centre. These coupons are also available in the Summerside-Miscouche area from HMS Office Supplies, Arsenault's Fish Mart, Salvation Army Thrift Store, Cooks Corner Convenience and Brothers 2.
The Acadian and Francophone Chamber of Commerce of PEI is also organizing contests offering prizes of $5,000-$25,000 in Casino Bucks from www.facebook.com/rdeeipe.
Among the other prizes to be won: work by a contractor, a Blu-ray player, gas cards, a clock, seafood, camping chairs, travel bags, a laser printer, an hour of ice time at a local rink, books, gift certificates and various promotional items.
All these prizes were generously donated by businesses and organizations such as Mike Bradley Insurance Services, AJL Contractors, RDÉE Prince Edward Island, Mermaid Marine, Wellington Construction, Shop & Play, OMD Construction and Consulting, Arsenault's Fish Mart, Wellington Esso, Deva Forestry and The Branch Manager, HMS Office Supplies, Quality Inn and Feast Dinner Theatres, the Acadian Musical Village, J.C. Drilling, Confederation Centre of the Arts, Harbourfront Theatre, Evangeline Recreation Centre, Wellington Legion, the Acadian and Francophone Chamber of Commerce of PEI, Chez Char, Mini Acres Farm, Evangeline-Central Credit Union, CBDC Central PEI, La Belle Alliance, Acadian Supreme, La Voix acadienne and the Coopérative d'intégration francophone de l'Î.-P.-É.
SIMPLE CONCEPT
The concept of the evening will be quite simple. As they arrive, guests will be invited to make a monetary donation, in the amount of their choice, to the food bank. In exchange for their donation, they will receive a $1,000 Casino Bucks coupon and a packet of $2,500 in play money that they can then spend at a variety of gambling games. Those wishing to buy more packets of play money can do so throughout the event.
Wellington fire fighters and members of the department's auxiliary have again volunteered to host the various gambling games, including Texas Hold'em, Blackjack, roulette, crown & anchor and horserace from 8-11 p.m.
At the end of the evening, with the play money they still have or that they have won, participants will be able to buy additional Casino Bucks, which will then serve as lottery tickets. Each of the prize lots will have its own little lottery, so people will be able to choose which lottery or lotteries they would like to participate in. The draws will then be made.
The casino is being organized by various partners from the co-op and economic development sector: Evangeline-Central Credit Union, Wellington Co-op, The Co-operators, the Acadian and Francophone Chamber of Commerce of PEI, the Wellington Rural Action Centre and RDÉE Prince Edward Island. Wellington Legion is a major sponsor.
The event will be open to adults only since a bar service will be available.
-30-
CUTLINE: Raymond J. Arsenault and Amy Richard, representing the Acadian and Francophone Chamber of Commerce of PEI and RDÉE PEI, are absolutely amazed by the quantity of prizes that will be won during the benefit casino for the Summerside Salvation Army Food Bank Oct. 15 at the Wellington Legion. They are even offering as a prize the Stanley Cup (actually a popcorn machine).
For more information:
Raymond J. Arsenault
Coordinator
Acadian and Francophone Chamber of Commerce of PEI
(902) 854-3439, Ext. 231
raymond@rdeeipe.org