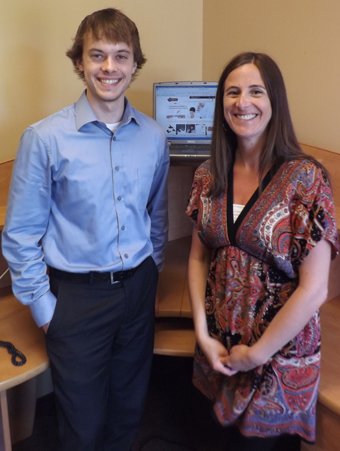 WELLINGTON, PEI – June 20, 2013 – In an effort to get closer to his potential clients in the Evangeline area, bilingual loan officer Paul Gillespie from CBDC Central PEI in Summerside will be putting in regular business hours at the Wellington Rural Action Centre every second Tuesday morning from 9 a.m. to 12 noon.
In fact, the officer will be there July 2, 16 and 30 as well as Aug. 13 and 27, and so on into the fall. Gillespie can also be available at the Wellington office between those dates by special appointment.
"I'm really looking forward to meeting and chatting with people who are thinking of establishing a new business or who want to expand or modernize their existing business since we offer a series of loan programs to satisfy a wide array of clients, such as young entrepreneurs, new entrepreneurs, general businesses, innovators and social enterprises," says Gillespie.
"As well, we offer business counseling to entrepreneurs and we facilitate their acquisition of skills training in such areas as market development, bookkeeping, feasibility studies and business analysis," he added.
Gillespie explained the CDBC – the Community Business Development Corporation – is a not-for-profit organization run by volunteers from the local business community, who firmly believe in improving the economic viability of their region. There are in fact 41 CBDCs in Atlantic Canada alone, all of them dedicated to the development of small business and assisting entrepreneurs in accessing financing and other business training and resources. They also aim to help create jobs.
Jeannine Arsenault, client information officer at the Wellington RAC, is extremely pleased to welcome Gillespie to Wellington on a regular basis since she often consults with the CBDC to help her own clients. "It is extremely important to present to our clients all of the options that are available to them so that they can make well-informed decisions," she added.
Those who would like to meet with Gillespie in Wellington are asked to make an appointment several days in advance to that he can prepare and bring along the correct information being sought during the meeting with the client. To make an appointment, call Arsenault at (902) 854-2328, Ext. 228.
The CBDC is a long-time partner of the Wellington RAC as well as with the two other francophone community economic development organizations, RDÉE Prince Edward Island and the Acadian and Francophone Chamber of Commerce. In fact, the CBDC is an annual sponsor of both the Entrepreneur's Gala and the Kick-off Breakfast to Small Business Week.
-30-
CUTLINE: Jeannine Arsenault, client information officer at the Wellington Rural Action Centre, gladly welcomes bilingual loan officer Paul Gillespie from CBDC Central PEI. From now on, he will spend every second Tuesday morning at the Wellington office to meet with clients.
For more information:
Paul Gillespie
Loan officer
CBDC Central PEI
(902) 888-3793
Jeannine Arsenault
Client information officer
Wellington Rural Action Centre
(902) 854-2328, Ext. 228