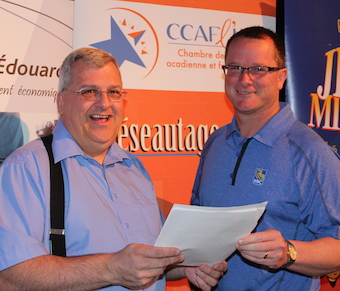 SUMMERSIDE – June 23, 2016 – The Acadian and Francophone Chamber of Commerce of PEI (CCAFLIPE) helped organize 31 events that attracted 1,133 participants over the course of the 2015-2016 year.
« Even if the Chamber has expected to reduce its number of events for the year, it ended up organizing four more than the previous year, » said spokesperson Martin Marcoux during the joint annual general meeting of the CCAFLIPE and RDÉE Prince Edward Island, in Summerside June 22. « In fact, the past year has been one of the busiest years in the Chamber's history. »
« Even if our Chamber if considerably small, with only 75-some members, the quality of its events compare very favorably with those organized by the Island's bigger chambers, » he said.
The CCAFLIPE continues to organize events under its three regular themes of Networking, Sharing and Learning to reinforce the entrepreneurial or business capacity of its members.
The majority of events were co-organized by various partners, such as the RDÉE, the Wellington Rural Action Centre, the CBDC Central PEI, the Collège Acadie Î.-P.-É., other Chambers of Commerce, the PEI Regional Committee of Les Jeux de l'Acadie, various co-op movement stakeholders and various government departments.
The highlight of the year is always the annual Entrepreneurs' Gala in March. This year, a record of 26 nominations had been received for the seven awards up for grabs. A nice crowd of 136 people – definitely of the best turnouts ever – attended the evening of entrepreneurial recognition. The celebration was held jointly with the finals of the Dragons' Contest; both events benefitted from crowds gathered for the other.
Last year, the Chamber celebrated the fifth anniversary of its « resurrection » during a joint birthday bash with the RDÉE (15 years) and The Bottle Houses (35 years).
On the list of learning and sharing events, this past year, there were sessions on the Coaching Program, yoga and Etsy, a motivational conference with author Gaétan Frigon, the annual meeting and announcement about the joint anniversary, a workshop on the preparation of job offers, a conference of demystifying numbers with Ron Robichaud, a workshop on employment standards, meetings on hosting refugees, an information session on the Pre-Departure Program, the annual Members' Luncheon and workshops on evaluating job applicants and interpreting financial reports.
Networking events included two business mixers hosted for the Charlottetown and Summerside Chambers. Recreational activities included a deep-sea fishing excursion, the Acadian Golf Tournament, a benefit casino and the Christmas party.
-30-
CUTLINE: Raymond J. Arsenault, left, coordinator of the Acadian and Francophone Chamber of Commerce of PEI, looks over the past year's events with Chamber spokesman Martin Marcoux, following their annual meeting June 22.
For more information:
Raymond J. Arsenault
Coordinator
Acadian and Francophone Chamber of Commerce of PEI
(902) 854-3439, Ext. 231
raymond@rdeeipe.org