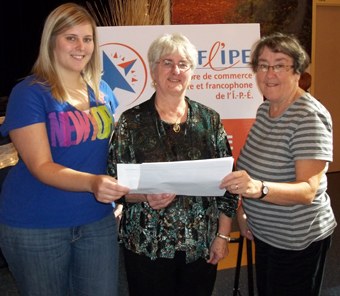 SUMMERSIDE, PEI – Oct. 18, 2012 – Wanting to pursue its mission of supporting entrepreneurs in the areas of networking, sharing and learning, the Acadian and Francophone Chamber of Commerce of PEI (CCAFLIPE) has just launched its calendar of events extending from October 2012 to September 2013. At present, the Chamber has 29 events on its calendar but more could be added as the year progresses.
CCAFLIPE spokesperson Jeannette Arsenault officially launched this busy calendar of events during the second annual Entrepreneurs' Luncheon at the Centre Belle-Alliance in Summerside Oct. 18. It was one of the many activities held in conjunction with the centre's Pumpkin Festival.
The Chamber's list of events includes several lunch-and-learns, in both Wellington and Charlottetown, on themes including support programs for entrepreneurs considering hiring immigrants, fraud prevention, stress prevention and reduction, energy conservation, preparation of business plans, entrepreneurial support services for women, and cash flow and accounts receivable. Workshops on business succession and free technological web tools and social media are also planned.
The calendar also features business mixers with the Charlottetown and Summerside chambers, a breakfast for entrepreneurs and co-operators, the Entrepreneurs' Luncheon, a mixer and guided tour of the newly renovated Carrefour de l'Isle-Saint-Jean building in Charlottetown, the annual meeting and, of course, the highlight of the year, the fabulous Entrepreneurs' Gala.
RECREATIONAL ACTIVITIES
During the summer months, three recreational and social events will be held: a guided tour of Charlottetown about the Harbour Hippo followed by a supper; another deep-sea fishing excursion out of Rustico, followed by a potluck supper; and a partnership participation in the Acadian Golf Tournament for a second year in a row.
"It is important for us to have opportunities to meet that have nothing to do with business since it gives us a chance to get to know entrepreneurs from other communities. And when we know each other on a personal level, we're more liable to want to work together and collaborate professionally," noted the spokesperson.
Arsenault said the majority of events – especially the lunch-and-learns – will be organized jointly with the Wellington Rural Action Centre. Some of the events will be organized jointly with partners such as RDÉE Prince Edward Island, other chambers of commerce, CBDC Central PEI, the Conseil de développement coopératif de l'Î.-P.-É., the governments, private businesses, the Jeux de l'Acadie Regional Committee of PEI, Actions Femmes Î.-P.-É., PEI Women in Business and many others.
"We will again this year try to offer as many of our events free of charge. However, whenever we'll have real expenses, we'll have to charge a minimal admission. Generally, we'll provide a discount to chamber members," said the spokesperson.
"We put a lot of time and energy into organizing these events so we really hope that members will participate actively over the coming year," Arsenault said.
GOOD ATTENDANCE
She mentioned that in the past year, the chamber's first full year of events since it was rebooted, generally, the participation at most of the chamber's 22 events was fairly good. "However, we did have to cancel a few workshops that had been planned for Charlottetown because of lack of registrations. Again this year, if we need to make adjustments of this type, we'll make them. But that would certainly have an impact on the organization of future events of those types."
As Small Business Week was coming to a close, Arsenault suggested that the business people present take a few moments to congratulate themselves for the great work they do.
"My dear entrepreneurs, you are really the heart and soul of our community and provincial economy. Without our small businesses and small co-ops, our Acadian communities would really be in a pitiful shape. So congratulations to each and every one of you."
-30-
CUTLINE: Jeannette Arsenault, centre, spokesperson for the Acadian and Francophone Chamber of Commerce of PEI, launched the chamber's program of events for the year extending from October 2012 to September 2013 during the Entrepreneurs' Luncheon at the Centre Belle-Alliance in Summerside Oct. 18. Kathleen Smallman, left, a business student at the Collège Acadie Î.-P.-É., and Zita Gallant, board member with the Coopérative de développement cultural et patrimonial de Mont-Carmel, discuss with Arsenault the 29 events lined up for the coming year.
For more information:
Jeannette Arsenault
Spokesperson
Acadian and Francophone Chamber of Commerce of PEI
(902) 437-2663
Raymond J. Arsenault
Coordinator
Acadian and Francophone Chamber of Commerce of PEI
(902) 854-3665
raymond@rdeeipe.org