Seeking nominations by Nov. 30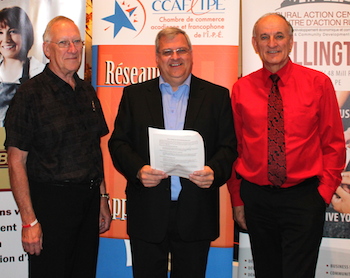 SUMMERSIDE – Oct. 19, 2016 – To broaden its number of potential candidates, the Acadian and Francophone Chamber of Commerce of PEI has replaced two of the categories of its entrepreneurial awards competition.
During the Entrepreneurs' and Co-operators' Breakfast Oct. 18, Chamber coordinator Raymond J.  Arsenault unveiled details about the awards that will be presented at the 2017 Entrepreneurs' Gala next March. The deadline for submitting nominations is however Nov. 30, 2016.
« Last year, we received 25 nominations for our awards; this year, we're hoping to get as many, if not more, because we've opened up a couple of our categories, » noted Arsenault, as he officially launched the contest before 28 people, including several entrepreneurs.
He noted that the new 2017 Social Economy Business of the Year Award (which replaces the Co-op of the Year Award) seeks to honor a business, co-op or organization that has an economic vocation and that has stood out because of its accomplishments and successes, including its impact on its community, especially in the past year.
The new 2017 Business Personality of the Year Award (which replaces the Business Woman of the Year Award) seeks to honor a personality from the business world, either an entrepreneur, a manager or an employee of a business, organization or co-op, who has stood out because of his or her accomplishments and leadership in the business world especially in the past year.
OTHER AWARDS
Other regular awards categories are:
2017 Enterprising Youth of the Year Award, which is destined to honor a person aged 25 years or younger, as of March 11, 2016, who has shown impressive entrepreneurial and/or community involvement, especially during the past year;
2017 Immigrant Entrepreneur of the Year Award, which seeks to recognize an immigrant entrepreneur who has at least two years of entrepreneurial experience on PEI as of March 11, 2017, and who is recognized for his notable accomplishments and business spirit, especially during the past year;
2017 Distinguished Entrepreneur Award, for a person who has at least 25 years of entrepreneurial experience since this award aims to honor an entrepreneur who has distinguished himself/herself for efforts and accomplishments throughout his/her career; it's essentially a lifetime achievement award. The nominated person can be retired or still working;
2017 President's Award of Excellence, for a business that has stood out by showing excellence, especially over the past year, in one or more of the following categories: innovation, quality of service, job creation, greening effort and community impact.
Arsenault said at least one of the owners, co-owners or managers of the business, organization or co-operative must be capable of speaking in French. The person, business, organization or co-op cannot have received an award in the same category at the Entrepreneurs' Gala for the past three years.
A jury will choose winners according to the established criteria. It reserves the right to reject any incomplete nomination or any nomination that does not meet the criteria. If no suitable candidates are found, it can also decide to not present awards in certain categories. A maximum of three finalists will be retained in each category.
Anyone can submit a nomination by filling out the nomination form, after having obtained permission from the candidate. Potential candidates can also nominate themselves.
The nomination forms, available in French only, can be downloaded in Word format at www.rdeeipe.net/concours-prix-entrepreneuriaux/ .
The completed form must then be sent to Selection Committee, RDÉE PEI Inc., 48 Mill Road, P.O. Box 7, Wellington, PE, C0B 2E0, or by email at raymond@rdeeipe.org.
-30-
CUTLINE: Raymond J. Arsenault, centre, coordinator of the entrepreneurial awards competition for the 2017 Entrepreneurs' Gala, discusses the new award categories with two former award recipients, Edmond Gallant, left, past president of the Coopérative de développement culturel et patrimonial de Mont-Carmel, and Henri Gallant, owner of HMS Office Supplies Ltd.
For more information:
Raymond J. Arsenault
Coordinator
Acadian and Francophone Chamber of Commerce of PEI
(902) 854-3439, ext. 231
raymond@rdeeipe.org