CHARLOTTETOWN – Oct. 30, 2017 – An Island chef born in Lebanon, who is extremely generous with his time and considered a "perfect ambassador" for cultural diversity on PEI, has just been named the 2017 Diversity Champion.
It was announced Monday, Oct. 30, during official opening ceremonies for the 2017 National Francophone Immigration Week, that the fourth winner of this distinction would be Pierre El Hajjar of Charlottetown, who is currently the head chef at the Carrefour de l'Isle-Saint-Jean. He will receive his award Friday, Nov. 3, during a multicultural reception running from 5 to 8 p.m.
The Diversity Champion Award congratulates and thanks the commitment, effort and actions of a deserving person for his or her community involvement and for helping to integrate newcomers into the community. This recognition is presented annually by RDÉE Prince Edward Island's LIENS project (Linking economic immigration to our successes) and the Coopérative d'intégration francophone de l'Î.-P.-É., partners in the new Centre d'aide aux nouveaux arrivants (CANA).
El Hajjar and his family arrived on Prince Edward Island six years ago. His wife Rita works at the early childhood center L'Île Enchantée and his children, an eight-year-old boy and twin seven-year-old girls, go to l'École François-Buote. They all have the status of permanent resident and are hoping to soon receive their Canadian citizenship.
HEALTHY MEALS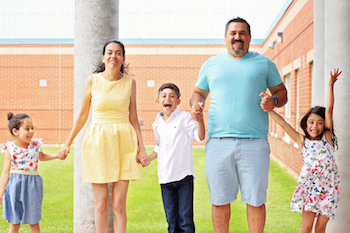 Pierre worked for a while as a chef at Byblos Authentic Lebanese Restaurant and then as head chef at the Prince Edward Home Senior Care Facility. After undertaking arduous measures, he finally obtained his Red Seal Chef Certification. For the past four and a half years, he has been the head chef at the Carrefour, where he operates both the school cafeteria and a community catering service. He is renowned in the local community as a chef who is extremely devoted to healthy nutrition for children and who always prepares succulent meals.
Thanks to his exceptional nutritional education initiatives, the Healthy Eating Alliance awarded the Carrefour de l'Isle-Saint-Jean the 2015 Pear Award for outstanding nutritional education and healthy eating initiatives. Community organizations and businesses that use the Carrefour's banquet and catering services are always pleased with Chef Pierre's generosity; he never hesitates to prepare special menus according to the needs of the event and to clients' food restrictions.
When he's not working, El Hajjar is always ready to volunteer his time to help with community causes, especially those related to the well-being of children. Firstly, he cooks voluntarily for fund-raising events for children that are organized by the Club Richelieu Port-la-Joye of Charlottetown as well as for various community celebrations, such as the Christmas brunch and the Saint-John-the-Baptist holiday.
The three first Champions were Gregory Urier, who was at the time the assistant executive director of the Carrefour, Edgar Arsenault, manager of the community care center Le Chez-Nous Co-op in Wellington, and Isabelle Dasylva-Gill, employee with the Acadian and Francophone Affairs Secretariat of Charlottetown.
-30-
CUTLINE 1: Chef Pierre El Hajjar was a bit overwhelmed Monday as he was interviewed, photographed and filmed by several media when it was announced that he was the 2017 Diversity Champion. He is seen with Jacinthe Lemire, left, director of the Coopérative d'intégration francophone de l'Î.-P.-É., and Chérine Stévula, coordinator of RDÉE PEI's LIENS project.
CUTLINE 2 : Pierre El Hajjar with his wife Rita and their three children.
For more information:
Chérine Stévula
Coordinator
LIENS project
(902) 370-7333, Ext. 404
cherine@rdeeipe.org
Élise Boudreau
Settlement services coordinator
Coopérative d'intégration francophone de l'Î.-P.-É.
(902) 370-7333, Ext. 405
coordest@cifipe.ca