Profits for Arc-en-ciel early childhood centre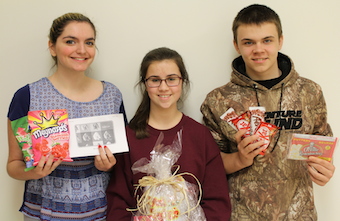 DEBLOIS – May 9, 2016 – The Grade 10-12 entrepreneurship class at Pierre-Chiasson School in Deblois has just established a business called CinéMaison to sell baskets filled with treats and an on-line movie to provide a nice movie-night at home for family or friends. Its goal: to sell 100 baskets before mid-June.
To be able to acquire the raw products for its sales, the class' six students gave themselves the objective of each selling 10 shares of $5. They therefore rounded up $300 to kickstart their business. Then, at the end of the project, they'll reimburse the shares to shareholders and will donate the profits to the Arc-en-ciel early childhood centre, located in the Centre Acadien de Prince-Ouest, to help improve its playground.
CinéMaison president Holly Perry explains that each basket includes four chocolate bars, a family-sized bag of candies (185 g), a big bag of chips, an envelope of Kool-Aid drink mix, a bag of popcorn and a gift card from CinePlex to watch an online movie. The entire package is being sol for $25.
Orders can be placed directly with the student-owners of the business or by sending an email to cinemaison6@gmail.com. The group also has a Facebook page. Orders can be paid by e-transfer, cash or cheque payable to École Pierre-Chaisson.
The students from Janelle Chaisson's entrepreneurship class are passing their semester learning how businesses operate. A good portion of the work is of course on putting into practice the concepts they've learned – such as incorporation, distribution of responsibilities, identification of product to be sold, production, sales, promotion and accounting.
The various responsibilities have been distributed among the six students: president – Holly Perry; marketing and promotion – Hannah Williams and T.J. Gallant; production – Riley Richard; IT programming and data entry – Félix Delarosbil; and secretary-treasurer – Jaylynn Shields.
This project is being conducted in collaboration with the Junior Achievement Program.
-30-
CUTLINE 1: The CinéMaison business, founded by the Grade 10-12 entrepreneurship class at Pierre-Chiasson School in Deblois, has a goal of selling 100 treat-and-movie baskets by mid-June. President Holly Perry is showing one of the wrapped baskets while the two in charge of marketing and promotion, Hannah Williams and T.J. Gallant, show the specific products contained in the baskets.
CUTLINE 2: This nice popcorn logo was developed to promote the CinéMaison project.
For more information:
Janelle Chaisson, teacher
Entrepreneurship class
Pierre-Chiasson School
(902) 882-0475
jzchaisson@edu.pe.ca
Holly Perry, president
CinéMaison
Pierre-Chiasson School
(902) 882-0475
cinemaison6@gmail.com