Games night added to schedule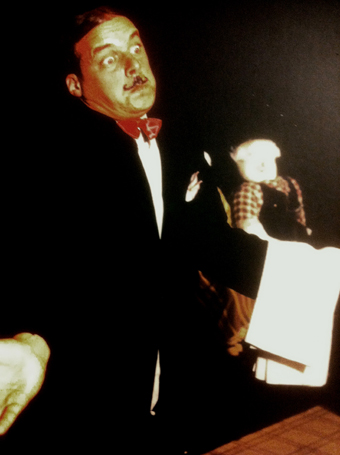 ABRAM-VILLAGE, PEI – Oct. 1, 2012 – Former actor Daniel Bourgeois will retransform himself into "Jean-Guillaume de la Bouillabaisse" while actor-playwright-director Raymond J. Arsenault will once more become "Paul-le-Police" Saturday, Nov. 17, as they host the "2 to 2" benefit show for the Village des Sources l'Étoile Filante.
Show organizers are extremely pleased that these two well-known actors have accepted to entertain the crowds during the show, which will be held at Centre Expo-Festival in Abram-Village. Both actors accepted the invitation without hesitation since they know the benefit will help fund personal and spiritual development camps for PEI's young Francophones.
Locals will certainly remember that Daniel Bourgeois was one of the actors who helped make La Cuisine à Mémé dinner-theatre so popular in Mont-Carmel back in the 1980s. Originally from New Brunswick, Daniel lived on PEI for a few years while he acted in the show. Since those years of popularity, he occasionally returns to PEI to perform his hilarious characters, including Jean-Guillaume, the sophisticated and arrogant maître d'.
Raymond J. Arsenault is primarily known as a playwright and director (having written more than 55 plays), but he has also performed a number of characters in dinner-theatres, plays and comedy shows. For some reason, people seem to have latched onto "Paul-le-Police", his inept, donut-devouring cop, who first appeared in the dinner-theatre show Café au laid at the Centre Expo-Festival. Audiences can expect that several of his other characters will also make guest appearances.
Other local personalities will help with the hosting duties throughout the concert portion of the day, which will run from 2-9 p.m.
The list of musical performers keeps growing longer as singers and musicians confirm their participation.
GAMES AND DRAWS
Event organizers have decided to transform the final five hours of the "2 to 2" event into a games night for adults only. There will be an Evangeline area trivia contest, poker and Pass the Ace card games, etc. People will also get the opportunity to sing along with a karaoke machine. A bar service will be available starting at 9 p.m.
People attending the event will be invited to make a donation to the cause at the door. They are also being invited to collect as many pennies as possible between now and Nov. 17 so that they can contribute them to the cause. In exchange for donations, people will receive a ballot for a door prize: an overnight stay at the Centre Goéland (the home of the Village des Sources) in Cape Egmont for a maximum of 25 people during the summer of 2013.
In addition, throughout the day, tickets will be sold on a 50-50 draw as well as for a Co-op Tree Lottery. Several co-ops from the area have donated merchandise, gift certificates, sums of money, show tickets, etc., so that they can be attached to the branches of a tree that will be offered  as a draw prize. The tree will be valued at several hundred dollars.
-30-
CUTLINE 1: Daniel Bourgeois will take on his hilarious Jean-Guillaume de la Bouillabaisse character during the Nov. 17 benefit show called "2 to 2".
CUTLINE 2: Raymond J. Arsenault, aka Paul-le-Police, will be in charge of security and crowd control as he hosts a portion of the « 2 to 2 » show Nov. 17.
For more information:
Christian Gallant
Coordinator of the « 2 to 2 » show
(902) 370-7333
Sylvain Gallant
Coordinator
Village des Sources l'Étoile Filante
(902) 854-2546