Pole climber Jerry Arsenault returns for two mini-shows
ABRAM-VILLAGE – July 20, 2022 – The Evangeline Area Agricultural Exhibition and Acadian Festival will offer all kinds of friendly competitions and contests on the weekend of Sept. 2-4 in Abram-Village. Some competitions will invite the public to participate while others will be organized for entertainment purposes.
One of the regular and most popular competitions of the weekend, the woodsmen competition, will be held Saturday, Sept. 3, at 2 p.m. and Sunday, Sept. 4 at 2:30 p.m. This competition is for people who work in the field and are used to using the tools in question. Competitions such as axe throwing, splitting blocks of wood with axes, cutting logs with mechanical and manual saws, lighting fires to boil water, etc., can be expected. Participants' times will be tabulated; the woodsmen who complete their runs in the fastest times over the two days will win prizes.
During a break between the competitions on Saturday and Sunday, visitors will be happy to see beloved pole climber Jerry Arsenault. This renowned woodsman and tree topper has agreed to come out of retirement for a very brief time to do two solo mini-shows. He will climb the 100-foot pole, dance on top to the sounds of « Cotton-Eye Joe » and slide down the wire over the heads of the crowd.
Sunday afternoon's firefighters' competition will feature a relay race. Wellington firefighters will be racing to dress in heavy vests, pants, helmets and fire boots; rolling, unrolling and carrying long fire hoses; rescuing « victims »; going through walls and tunnels, and other such activities. Once again, prizes will be awarded to those who complete the race in the least amount of time.
The Sunday afternoon lobster fishers' competition will again include a timed race with several components. For example, professional fishers may have to pull a lobster trap attached to a long rope, transfer by hand a long rope from one tub to another, catch buoys with a gaff, and put rubber pegs on wooden lobster claws. The fishers who complete the race in the least amount of time will win prizes.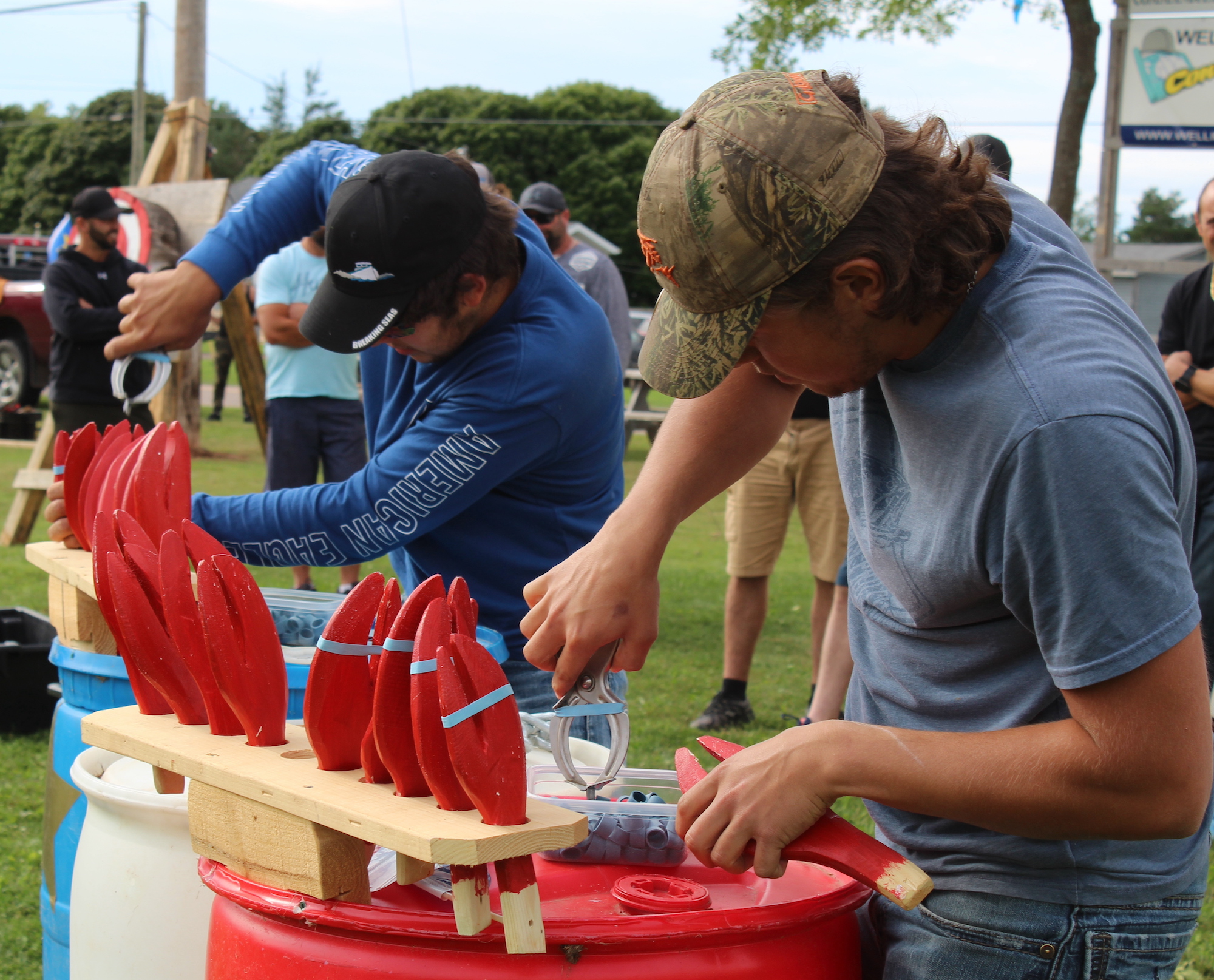 Here is a brief overview of the other contests, most of which are open to anyone who would like to enter. Each offers a series of prizes to be won.
Friday
• Provincial Youth Boot Throwing Championship (4 p.m.)
Saturday
• Acadian Festival Run at École Évangéline (9 a.m.). Participants will have the option of running (or walking) either 5 km, 10 km or 21.1 km (a half marathon).
• Potato peeling contest (1 p.m.)
• Lobster eating contest (1:30 p.m.)
• Knitting contest (2 p.m.)
• Provincial Adult Boot Throwing Championship (4 p.m.)
Sunday
• Axe Throwing in a special cage (11 a.m. to 1 p.m. and 2-6 p.m.)
• Lobster eating competition (3:30 p.m.)
• All-terrain vehicle pulling competition at the back of the fairgrounds, organized by the Evangeline ATV Club (3:30 p.m.)
• Fish line casting contest (5:30 p.m.)
• Turnip bowling contest (6:00 p.m.)
• Golf putting contest (6:30 p.m.)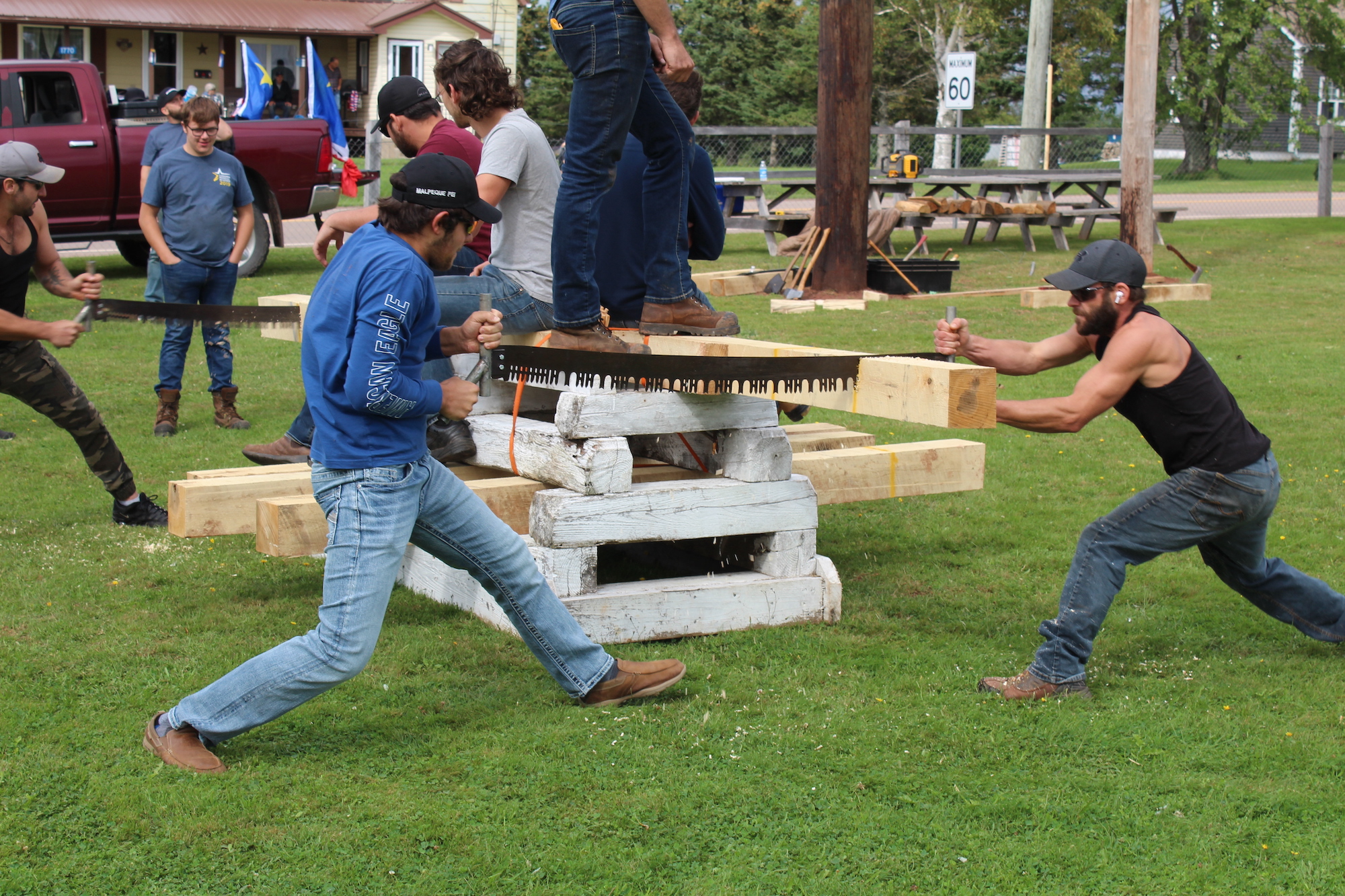 -30-
PHOTO 1: Two Wellington firefighters drag a rescued « victim » during the 2021 firefighters' relay race. The firefighter competition will return to the Festival this year.
PHOTO 2: Jerry Arsenault will come out of retirement to perform two solo pole climber mini-shows at the 2022 Festival during the woodsmen competition Saturday and Sunday, Sept. 3 and 4.
PHOTO 3: The Acadian Festival Run will take place at École Évangéline Saturday, Sept. 3, at 9 am. Participants will have the option to run or walk 5, 10 or 21.1 km.
PHOTO 4: Two young fishermen's helpers were competing against each other as they tried to put rubber pegs on wooden lobster claws during the 2021 contest.
PHOTO 5: Two teams of young woodsmen attempt to saw « the old-fashioned way » on large wooden beams during the 2021 Acadian Festival contest.
For more information, please contact
Jeanne Gallant
President
Evangeline Area Agricultural Exhibition and Acadian Festival
Residence: 902-854-3287
Cell: 902-432-0809
E-mail: expositionfestival@gmail.com or gallant.jeanne22@gmail.com