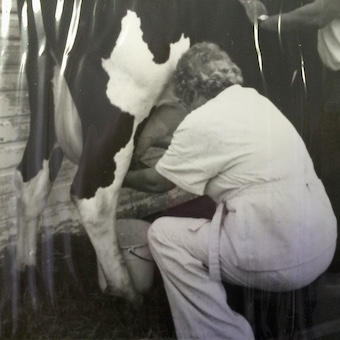 ABRAM-VILLAGE – Aug. 16, 2016 – Those who attend this year's edition of the Evangeline Area Agricultural Exhibition and Acadian Festival will have the opportunity to watch or participate in a series of contests and competitions throughout the weekend of Sept. 1-4 in Abram-Village. Numerous cash and merchandise prizes, as well as other rewards, will be offered to winners of these friendly matches.
"This year, we're bringing back a contest that had been quite popular in the past – the cow milking contest – Sunday, Sept. 4, at 3:15 p.m.," says president Alcide Bernard. "It will be interesting to see people attempting a traditional farmer skill in an era when machines usually do all the milking of cattle."
The rubber boot-throwing contest is back this year. Qualifying rounds will be held Friday, Sept. 2, and Saturday, Sept. 3, before the provincial finals Sunday at 3:30 p.m.
Saturday, the Strong Woman Competition will be held at 11 a.m. A Clammin 'N' Jammin culinary competition will follow at 2 p.m. A knitting contest takes place at 1:30 p.m. and a lobster-eating contest is slated for 2:30 p.m. Finally, a horse-pulling contest is planned for 3:30 p.m.
On Sunday, a second lobster-eating contest will be staged at 3:15 p.m. A four-wheeler pull follows at 3:30 p.m.
TELEVISED COW PATTY BINGO
A final "contest" is the cow patty bingo at 4:30 p.m. Throughout the weekend, people will have had the opportunity to buy squares on a small lot of land. The cow will then be released on the lot; the person who owns the square of land that the cow "chooses" wins the contest.
"This year, we'll have the opportunity to host a filming crew for a TV show from France – and they want to film our Cow Bingo, among other things," said Bernard. "Among the filming equipment they will use is a drone, that will be able to record the action from every angle, including an overhead perspective."
He adds that every year, the Agricultural Exhibition evaluates all sorts of categories of animals and products. This year, after an absence of several years, organizers are bringing back the beef show class Sunday afternoon, thanks to the efforts of farmer Melvin Gallant who convinced several producers to enter their cattle.
-30-
CUTLINE: Maria Bernard tries her hand at milking this cow during a past edition of the Evangeline Area Agricultural Exhibition in Abram-Village. This traditional contest is being resurrected for 2016.
For more information:
Alcide Bernard
President
Evangeline Area Agricultural Exhibition and Acadian Festival
(902) 432-2425
expositionfestival@gmail.com