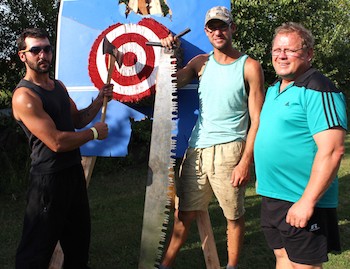 ABRAM-VILLAGE – Aug. 11, 2017 – Several new fun races, contests and competitions have been added to the already full slate of events taking place during the Evangeline Area Agricultural and Acadian Festival. These will all take place from Sept. 1-3 on the exhibition grounds in Abram-Village.
"We're always looking to entertain our crowds and to satisfy the tastes of people of all ages and interests," explains event president Alcide Bernard. "We are however looking to organize contests that are related to traditional tasks and customs. You'll see that we are presenting this year all of your favorite contests, that we're bringing back a few that had been set aside for a while – including the woodsmen competition – and that we are introducing a batch of brand-new contests, such as casting a fish line."
These competitions not only give people a chance to win a variety of prizes but also to show their physical skills.
FRIDAY, SEPT. 1
• Provincial Youth Boot-Tossing Competition at 3:30 p.m.
SATURDAY, SEPT. 2
• Acadian Festival Road Race (5 km or 10 km for adults or 100-500 m for children);
• Potato peeling contest at 10:45 a.m.;
• Strong women's competition at 10:45 a.m.;
• Clammin 'N Jammin Chef's Competition at 12 noon;
• Knitting contest at 1:30 p.m.
• Lobster-eating contest at 2:30 p.m.
• Provincial boot-tossing competition for adults at 3 p.m.
• Horse pull competition at 3 p.m.
SUNDAY, SEPT. 3
• Woodsmen competition at 11:30 a.m.;
• Lobster eating contest at 3:15 a.m.;
• Provincial Boot-Tossing Championship for adults at 3:30 p.m.;
• All-terrain vehicle competition at 3:30 p.m.;
• Cow milking contest at 3:30 p.m.;
• Fish-line casting competition at 5:30 p.m.;
• Turnip bowling contest at 5:30 p.m.
-30-
CUTLINE: From left, competitors Joey and Mathieu Arsenault and organizer Edgar Arsenault are gearing up for the Woodsmen Competition, returning to the Evangeline Area Agricultural Exhibition and Acadian Festival Sunday, Sept. 3, at 11:30 a.m. Eight men will compete in five different contests to earn cash and merchandise prizes; the name of the overall winner will be inscribed on a huge trophy.
For more information:
Alcide Bernard
President
L'Exposition agricole et le Festival acadien de la région Évangéline
(Evangeline Area Agricultural Exhibition and Acadian Festival)
(902) 432-2425
expositionfestival@gmail.com