During "My French, My Future" Career Exploration Fairs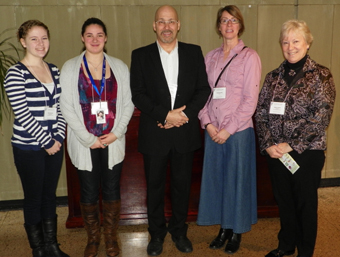 CHARLOTTETOWN, PEI – Feb. 22, 2013 – About 250 students from the Eastern half of PEI, all of them enrolled in Grade 9 French first-language and French immersion programs, had the opportunity Thursday to realize that it's quite "cool" to be able to speak French.
During a career exploration fair in Charlottetown, they were able to see with their own eyes that French is not only a school subject but also a vibrant language in which one can live, work and socialize, right here on PEI. Their level of appreciation for this language therefore surely increased, suggests Gary Doucette, the francophone spokesperson for the event.
The organizers of the "My French, My Future" fair were however extremely disappointed that Grade 9 youth from the Western half of the province weren't able to participate in an identical fair that had been organized for them. Because of a storm, their Feb. 20 fair in Summerside was pushed back to Feb. 22; but that morning, inclement weather caused a delay in the start of the school day, so the event had to be completely cancelled. For next year's fairs, organizers will consider other times of the year.
However, the Charlottetown session – organized for French for the Future, a national group promoting official bilingualism – is being considered a huge success if one were to judge by the quality of presentations and the reactions of both the youth and the workshop presenters,  added Doucette.
The day began with opening ceremonies hosted by Emmaleigh Munro and Kelly McGrath, students at Colonel Gray High School, who had previously served as PEI ambassadors for the French for the Future's National Ambassador Youth Forum last summer in Edmonton, Alberta.
GUEST SPEAKERS
They presented the two special guests, Helen Coltrinari, French for the Future's national president, and Aubrey Cormier, assistant deputy minister of Acadian and Francophone Affairs. Both had nothing but praises for the event and encouragement for the youth.
The students then had to participate in four blocks of workshops, including one to visit booths by postsecondary institutions, government agencies and various services. During the other blocks, they could attend session on a variety of career sectors: health, education, tourism, the co-op movement, justice, public services, information technology, aerospace and biosciences. All these sessions were delivered by sector professionals that were giving their time to promote their industry.
Doucette said the sessions that most caught the students' attention were obviously interactive and visual workshops that integrated games, videos and images. Most of the youth were quite enthusiastic about learning all kinds of new things about various career options as well as about their French language. Some even discovered that there exists a French-language postsecondary institution on PEI, namely the Collège Acadie Î.-P.-É.
OLYMPIAN MOTIVATION
To wrap up the day, the ambassador-hostesses presented special guest Kara Grant, a modern pentathlon Olympian and bronze medalist from the 2008 World Cup. For a second consecutive year, the famous athlete shared with you how her second language, French, had opened all kinds of doors for her, both at the career and personal/social levels.
One of the primary objectives of these career fairs is to encourage youth to continue their high school and postsecondary studies in French so that they could eventually get hired on to a bilingual position on PEI.  Organizers believe the kids were given a good little push in that direction.
The Charlottetown fair, considered a local forum by French for the Future, was organized jointly by Canadian Parents for French PEI, the two provincial school boards, the Department of Education and Early Childhood Development, the University of Prince Edward Island and RDÉE Prince Edward Island.
-30-
CUTLINE: Chatting following the official opening of the "My French, My Future" Career Exploration Fair in Charlottetown Thursday are, from left, student-ambassador-hostesses Kelly McGrath and Emmaleigh Munro; guest speaker Aubrey Cormier, assistant deputy minister of Acadian and Francophone Affairs; Pamela Kennedy from UPEI, a member of the fair's organizing committee; and Helen Coltrinari, French for the Future's national president.
For more information:
Sylvie De Sousa
Coordinator, Prince Edward Island
"My French, My Future: Career Exploration Fairs"
(902) 659 2783
sdesousa@french-future.org
www.francais-avenir.org
Gary Doucette
French media relations
"My French, My Future: Career Exploration Fairs"
(902) 370-7333
gary@rdeeipe.org