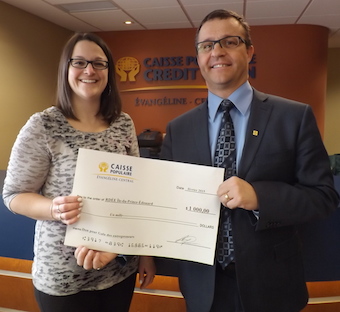 WELLINGTON – Feb. 4, 2015 – Again proving its continued commitment to entrepreneurial development, Evangeline-Central Credit Union is returning as a major sponsor of the 2015 Acadian Entrepreneurs' Gala, hosted by the Acadian and Francophone Chamber of Commerce of PEI.
General manager Alfred Arsenault presents the credit union's $1,000 sponsorship cheque to Gala co-coordinator Amy Richard. This year, the credit union is sponsoring the Distinguished Entrepreneur Award, presented to an entrepreneur who has at least 25 years of experience (retired or not) and who has distinguished himself or herself by his or her efforts and accomplishments. This year, 12 finalists are in the running for the Chamber's five awards.
The Gala will be held at the Centre Belle-Alliance in Summerside Saturday, March 14, at 5:30 p.m. Tickets are now on sale at the Wellington Rural Action Centre, at the Centre Belle-Alliance and at the RDÉE PEI offices at the Carrefour in Charlottetown.