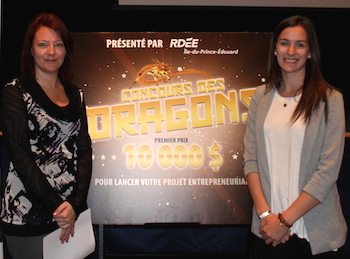 CHARLOTTETOWN – Feb. 3, 2017 – RDÉE Prince Edward Island has just pushed back the deadline date for registering for its Dragons' Contest, which offers a magnificent $10,000 prize to its winner. The new date is Feb. 10.
"We have received several entries for the contest, but several other people have told us they would also sign up if they could have just a little more time to get ready," explains contest coordinator Nicole Allain. "We therefore decided to give everyone another week to get ready."
The contest is open to any Islander who speaks French and who is looking to establish or expand a business or to launch a new commercial product or service.
Contestants will participate in an obligatory training day Feb. 18 with trainers Ron and Connie Robichaud of Nova Scotia to prepare them to effectively pitch their entrepreneurial project to a panel of judges. On March 4, they will give their first pitch during pre-selection interviews; a first jury formed of experienced entrepreneurs will select the three projects that have the most potential for success.
These three contestants will then get to participate in the contest finals Saturday, March 18, at 5 p.m. at the Centre Belle-Alliance in Summerside, just before the Entrepreneurs Gala, before a national panel of judges. The winner will be announced at the end of the Gala.
PRESENTS
The champion will receive $10,000 to invest in his project as well as…
•    free memberships to the Acadian and Francophone Chamber of Commerce and to the Greater Charlottetown Chamber of Commerce;
•    a personal consultation on how to improve or create a company web site;
•    a $200 gift certificate at the UPEI bookstore;
•    businesses courses at the Collège de l'Île.
Main sponsors of the contest are the Atlantic Canada Opportunities Agency, Innovation PEI, PEI Credit Unions, The Co-operators, The Cassidy Group, HMS Office Supplies, LP Electronics, PEI Agents Realty, Les Francofolies de Charlottetown, the Acadian and Francophone Chamber of Commerce of PEI, the Greater Charlottetown Chamber of Commerce, the Collège de l'Île and UPEI.
To participate in the contest, go to www.rdeeeipe.net/dragons and fill out the participants' form. Any question can be addressed to coordinator Nicole Allain at (902) 370-7333, Ext. 401, or dragons@rdeeipe.org.
-30-
CUTLINE: Bonnie Gallant, executive director of RDÉE PEI, left, and coordinator Nicole Allain invite all those who have a good entrepreneurial idea to participate in the Dragons' Contest. The new registration deadline is Feb. 10.
For more information:
Nicole Allain
Dragons' Contest coordinator
902-370-733, Ext. 401
dragons@rdeeipe.org