Champions to establish Productions Piroune malthouse
SUMMERSIDE – March 13, 2016 – A panel of three « dragons » – or judges – have selected Karine Gallant and Iain MacInnis as winners of the grand $10,000 prize to help them establish a malthouse, named Productions Piroune.
During the final competition of RDÉE PEI's francophone Dragons' Contest, Saturday, March 12, in Summerside, Gallant and MacInnes, along with other finalists Jérémie Arsenault (Simple Feast Catering) and Charlene Doherty (Mini Acres), presented their entrepreneurial projects before a panel of judges and the public. Then, at the end of the 2016 Acadian Entrepreneurs' Gala, at the same location and on the same evening, the name of the champion business was announced.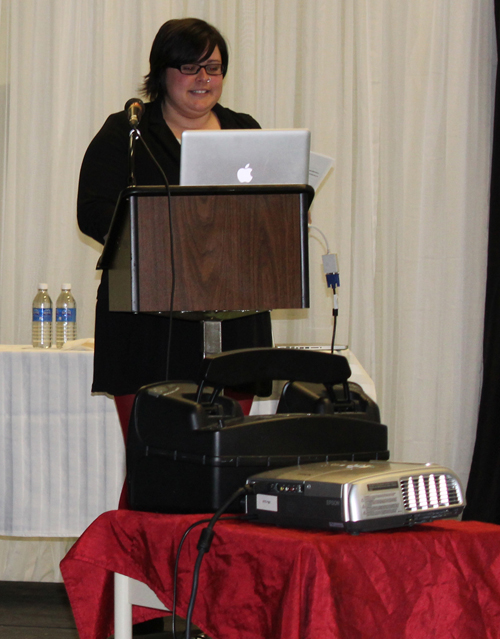 The winning duo explained, during its presentation, that the Maritime craft beer industry has to import the malt that it uses to produce its beer since there are no malthouses currently in operation in the region. Productions Piroune, which is installing its factory in Mont-Carmel, will be able to fill a sizeable portion of the current demand by producing 60 tonnes of three different types of malt per year, starting this coming summer. This volume will fulfill the needs of three or four average-sized microbreweries; some have already expressed an interest in buying Productions Piroune's product. With time, they're hoping to increase production to 80 tonnes.
MacInness, a professional malt maker, will take care of production while Gallant will manage the business. The money they've just won will be used to purchase some of the equipment they need.
When he heard that the malthouse project would generate a profit of 27 per cent, one of the « dragons », long-time banker Gilles Lanteigne asked, with a smile, how he could become an investor in the project.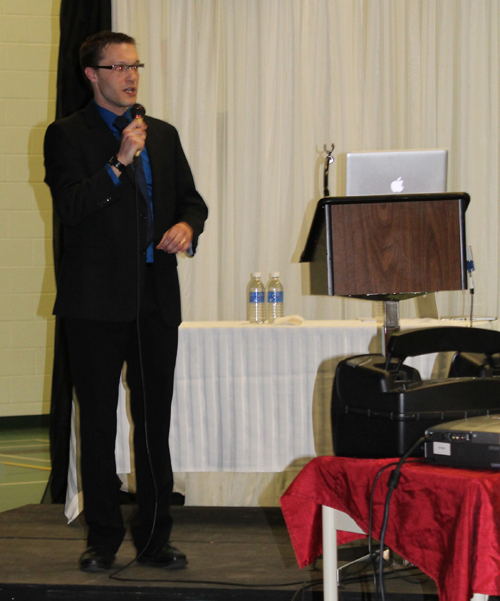 Lanteigne is in fact vice-president of out-of-network sales for the Fédération des caisses populaires acadiennes and president of RDÉE Canada. The other two « dragons » were Dr. Caroline Leblanc, psychologist and owner of Serene View Ranch, and Pauline Roy, president of YEMBA Consulting. All said they were impressed by the three projects presented during the finals, but especially by the malthouse.
The $10,000 prize comes from financial contributions from RDÉE Prince Edward Island, Innovation PEI, RDÉE Canada and The Co-operators.
In addition to the cash prize, Productions Piroune also wins a free one-year membership to both Summerside and Charlottetown Chambers of Commerce as well as a $200 gift certificate to the UPEI bookstore.
In addition, all three finalists will receive free business courses from the Collège Acadie Î.-P.-É. and a free membership to the Acadian and Francophone Chamber of Commerce of PEI.
The 2016 Dragons' Contest was organized and coordinated thanks to a financial contribution from the Atlantic Canada Opportunities Agency.
PHOTO 1: Rachel Chappell, left, coordinator of the Dragons' Contest, and Jeannette Arsenault, right, president of RDÉE PEI, present a huge $10,000 cheque to contest champions Iain MacInnes and Karine Gallant, who are establishing a malthouse named Productions Piroune in Mont-Carmel. The prize was award followed the contest's grand finale, at the Acadian Entrepreneurs' Gala, Saturday, March 12, in Summerside.
PHOTO 2: Finalist Charlene Doherty presents her ecological family farm project Mini Acres.
PHOTO 3: Finalist Jérémie Arsenault presents his Simple Feast Catering project.
PHOTO 4: The « dragons » hard at work: Gilles Lanteigne, Dr. Caroline LeBlanc and Pauline Roy.
For more information:
Rachel Chappell
Coordinator
Dragons' Contest
(902) 370-7333, ext. 401
rachel@rdeeipe.org