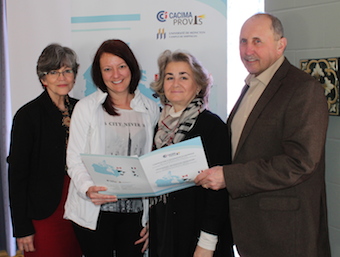 SUMMERSIDE – April 28, 2016 – A dozen business people interested in economic development and exchanges attended an April 26 luncheon to learn more about publications distributed by the Economic Information Observatory for Regional Cooperation between Atlantic Canada and Saint-Pierre-et-Miquelon.
The Observatory, active since 2013 out of the University of Moncton (Shippagan campus), publishes a monthly bulletin called Intell-Echo that presents profiles of various sectors of the economy for both regions.
The global objective of this publication is to inform business people to encourage them to use the French islands of Saint-Pierre-et-Miquelon, located south of Newfoundland, as an entryway for exporting to France and the European Union.
Pictured are, from left, Louise Fiset, international business development officer with the Atlantic Canada Opportunities Agency; Bonnie Gallant, executive director of RDÉE Prince Edward Island; Monica Mallowan, director of the Observatory; and Greg Campbell, councillor with the City of Summerside. A similar information meeting, in the form of a mixer, was held in Charlottetown April 25.