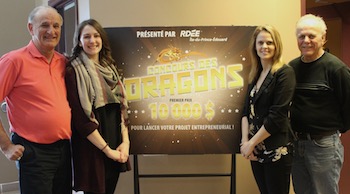 SUMMERSIDE – Feb. 16, 2017 – Eight great business projects are officially in the running for the championship – and the $10,000 first prize – of RDÉE Prince Edward Island's 2017 Dragons' Contest.
Coordinator Nicole Allain is extremely pleased with the variety of contestants who have signed up for this third edition of the contest. « We've got producers, processors, retailers and servers of food products as well as manufacturers of musical products, » she notes with enthusiasm. « These contestants, including individuals and partnerships, are from the Evangeline, Summerside, Rustico and Greater Charlottetown areas. Some were born here on PEI while others are originally from other Canadian provinces and a few are immigrants. »
This contest is obviously aimed at French-speaking Islanders wanting to establish a new business, expand an existing business or launch a new product or service.
TRAINING DAY
This Saturday, Feb. 18, the contestants will attend a full day of training in Summerside with entrepreneurial experts Ron and Connie Robichaud from C&R Care and Consulting from Nova Scotia, who are back for a second year. The trainers will teach them how to solidify their numbers as well as their presentation – their level of conviction, the words they will use to describe their project and their body language. They'll get an opportunity to practice their sales pitch.
They'll also get to hear presentations from two of the contest sponsors, the Collège de l'Île and Mike Bradley Insurance Services (The Co-operators).
Those who want a private consultation with the trainers will get one-on-one time on Sunday, Feb. 19.
On March 4, the contestants will be required to participate in a pre-selection interview with a panel of local entrepreneurial judges; they'll get seven minutes to present their project. The judges will pick the three projects that are most ready for launch or have the most potential for success.
GRAND FINALE
These three will then get to compete in the grand finale of the Dragons' Contest in front of an audience and a national panel of judges March 18 at the Centre Belle-Alliance in Summerside. The name of the winner will be revealed later on that evening during the Acadian Entrepreneurs' Gala. The champion will win not only $10,000 in cash to help get his or her business project off the ground but also several other beneficial prizes: college business courses, memberships to two Chambers of Commerce, a consultation on the establishment or modernization of a website and a gift certificate to a bookstore. The winner will also get lots of media exposure.
The Dragons' Contest sponsors are the Atlantic Canada Opportunities Agency, Innovation PEI, PEI Credit Unions, The Co-operators, The Cassidy Group, HMS Office Supplies, LP Electronics, PEI Agents Realty, Les Francofolies de Charlottetown, Mermaid Marine Products, the Acadian and Francophone Chamber of Commerce of PEI, the Greater Charlottetown Chamber of Commerce, the Collège de l'Île and UPEI.
-30-

CUTLINE: RDÉE Prince Edward Island has just confirmed three more sponsors for its Dragons' Contest. Coordinator Nicole Allain, second left, is seen accepting sponsorships from Henri Gallant from HMS Office Supplies, left, and Léo-Paul Arsenault from LP Electronics, who are each contributing $250 towards the $10,000 championship prize. The Collège de l'Île, represented here by Réjeanne Arsenault, is providing business courses.
For more information:
Nicole Allain
Coordinator
2017 Dragons' Contest
9092-370-7333, Ext. 401
dragons@rdeeipe.org