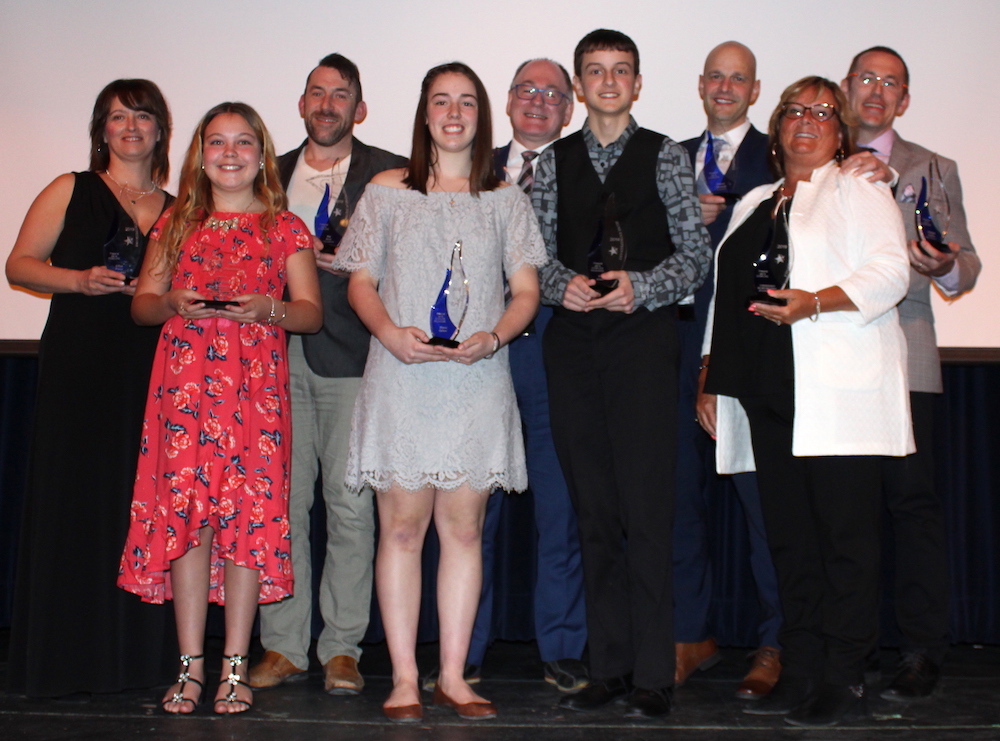 SUMMERSIDE – March 17, 2019 – A community college, a pioneer in seniors care and lodging, a trucking business, a community rink, a real estate agent, a snow-cone salesman, a young Acadian band and a "slime" producer have just earned the Acadian and Francophone Chamber of Commerce's 2019 entrepreneurial awards.
The winners received trophies and much praise for their vast contributions to the Island economy and community during the 2019 Acadian Entrepreneurs' Gala at the Centre Belle-Alliance in Summerside Saturday, March 17. This popular event, brimming with color and ceremony, rightly earned its nickname of "the biggest entrepreneurial recognition evening of the year" of the Island's francophone community. It attracted a record crowd of 170 people this year.
The award winners and sponsors of this 18th edition of the Gala, are:
• 2019 President's Award of Excellence – Le Collège de l'Île, Wellington and Charlottetown (sponsored by Mike Bradley Insurance Services Ltd. – The Co-operators);
• 2019 Distinguished Entrepreneur Award – Ray Brow, formerly with Britannia Corporation and now with Überloo International, Georgetown Royalty (sponsored by the Atlantic Canada Opportunities Agency);
• 2019 Immigrant Entrepreneur Award – Philippe Guidon, Belgo Transport, North Wiltshire (sponsored by the LIENS project);
• 2019 Social Economy Business Award – Evangeline Recreation Commission (sponsored by CBDC Central PEI);
• 2019 Business Personality Award – Francis Thériault, PEI Agents Realty and Garago Software Inc., Charlottetown (sponsored by Innovation PEI);
• 2019 Young Enterprising Person Award – Elliott Fraser, Simply Snow-Cones / Simply Squeez'd, Charlottetown, and the young band Paloudes (Gilbert and Dawson Arsenault and Tianna Gallant), Evangeline region (sponsored by Evangeline-Central Credit Union);
• 2018 Young Millionaires Award – Clair Victor, Charlottetown (sponsored by Radio-Canada Acadie).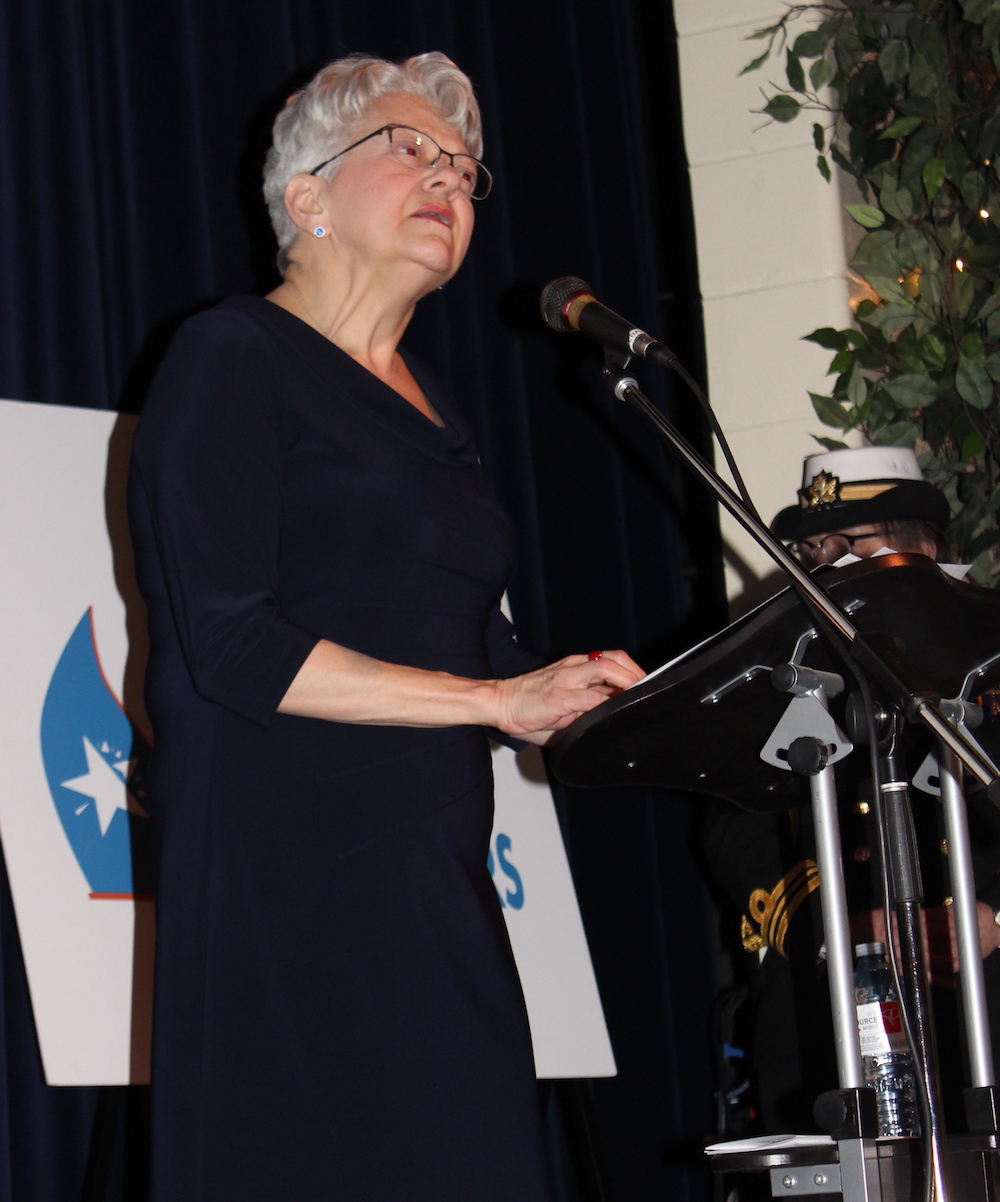 Other sponsors of the popular event were RDÉE Prince Edward Island, RDÉE Canada, the LIENS project, the Francophone Ignition Contest, RBC and Pro-Max 2000.
Lieutenant Governor Antoinette Perry and RDÉE Canada president Mike St-Onge, both attending the Gala for a first time, offered warm words of congratulations to the finalists and winners, as well as to the event's organizers.
In his welcome speech, Martin Marcoux, president of RDÉE PEI (the Chamber's parent organization), explained to the crowed that the Gala "aims to promote and celebrate francophone and Francophile entrepreneurship on Prince Edward Island. In fact, our francophone businesses contribute greatly to the Island economy as well as to the vitality, health and beauty of our communities."
He suggested, with a wink, that potatoes grown by Acadian farmers are more delicious, pens from Acadian distributors write better, houses built by Acadian construction companies are nicer and Acadian music warms the heart more.
23 NOMINATIONS
Marcoux reported that this year, the Acadian Chamber received 23 nominations for its six regular awards; 18 of the nominees were retained as finalists and seven of them were awarded (along with the winner of the Young Millionaires Award). "But to tell you the truth, we, the people of the community, are the real winners since we're the ones who benefit from your products and services."
"You'll notice again this year that more than half of our finalists are women or businesses, or organizations managed or co-managed by women. We're particularly proud of this fact," he said.
He added that this year, the nominations that were received didn't allow for the retention of the standard three finalists in all award categories. To compensate for that fact, the selection committee took the liberty of broadening the Young Enterprising Person Award category this year and retained five finalists.
"But we have to say that the quality of our finalists is extremely impressive, which makes it tough for the selection committee to pick winners – so much so that this year, the Chamber is awarding eight winners rather that the usual seven!" proclaimed the president.
This year's new co-hosts, Amy Richard and Gilles Arsenault, kept the ceremonies rolling along nicely. Recorded audio clips by Le Réveil radio show hosts Denis Duchesne and Marika Bellavance, accompanied by picture-filled PowerPoint presentations, offered quick biographical sketches of each of the finalists.
-30-
PHOTO 1: The Acadian and Francophone Chamber of Commerce of PEI handed out its annual entrepreneurial awards to eight people, businesses and organizations Saturday, March 16, during its 18th Annual Acadian Entrepreneurs' Gala in Summerside. See in the front row, from left, are Claire Victor of Victory Slime of Charlottetown (2018 Young Millionaires Award), Tianna Gallant and Gilbert Arsenault from the band Paloudes from the Evangeline region (2019 Young Enterprising Person Award) and Karen Gallant, president of the Evangeline Recreation Commission (2019 Social Economy Business Award). In the back row, in the same order, are Julie Gagnon, representing Elliott Fraser from Simply Sno-Cones / Simply Squeez'd from Charlottetown (second winner of 2019 Young Enterprising Person Award), Christian Gallant, representing Ray Brow, formerly of the Britannia Corporation and now from Überloo International in Charlottetown (2019 Distinguished Entrepreneur Award), Donald DesRoches, president of the Collège de l'Île (2019 President's Award of Excellence), Francis Thériault from PEI Agents Realty and Garago Software Inc. (2019 Business Personality Award) and Philippe Guidon from Belgo Transport of North Wiltshire (2019 Immigrant Entrepreneur Award).
PHOTO 2: Lieutenant Governor Antoinette Perry offers a word a welcome and congratulations.
PHOTO 3: Mike St-Onge, president of RDÉE Canada, brings greetings and congratulations to finalists, winners and organizers of the evening, noting that RDÉE PEI's events are the envy of other RDÉE's in the country.
---
WINNERS' BIOGRAPHIES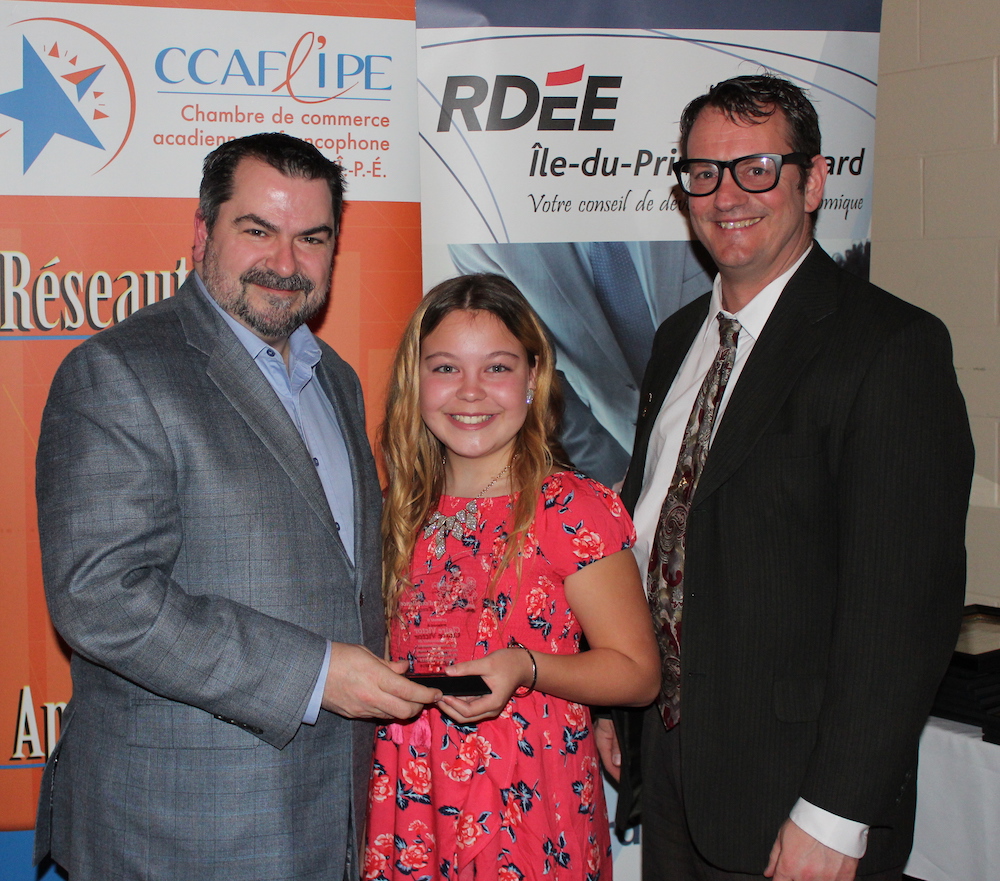 2018 YOUNG MILLIONAIRES AWARD
Claire Victor – Victory Slime, Charlottetown
When she discovered the Young Millionaires program last spring, Claire Victor of Charlottetown decided to transform her slime-making hobby into a business, which she named "Victory Slime". This enterprising 11-year-old started by doing online research, trying several different recipes before finding the right mix since her creations require a meticulous process of mixing glue with dish soap in perfect proportions. It takes her about four hours to prepare 100 containers of her slime. She produced about 20 different types and colors of slime by adding food coloring, tiny foam balls, sparkles and even shaving cream. To her great surprise, most of her customers were adults who bought some slime for their children or grandchildren. Victory Slime ended her summer of 2018 with a nifty profit of $300. Her goal for next summer is to find a healthier and more eco-friendly recipe.
In photo: Sponsor Paul Ward from Radio-Canada Acadie and Stéphane Blanchard, youth development officer with RDÉE PEI, present the award to Claire Victor.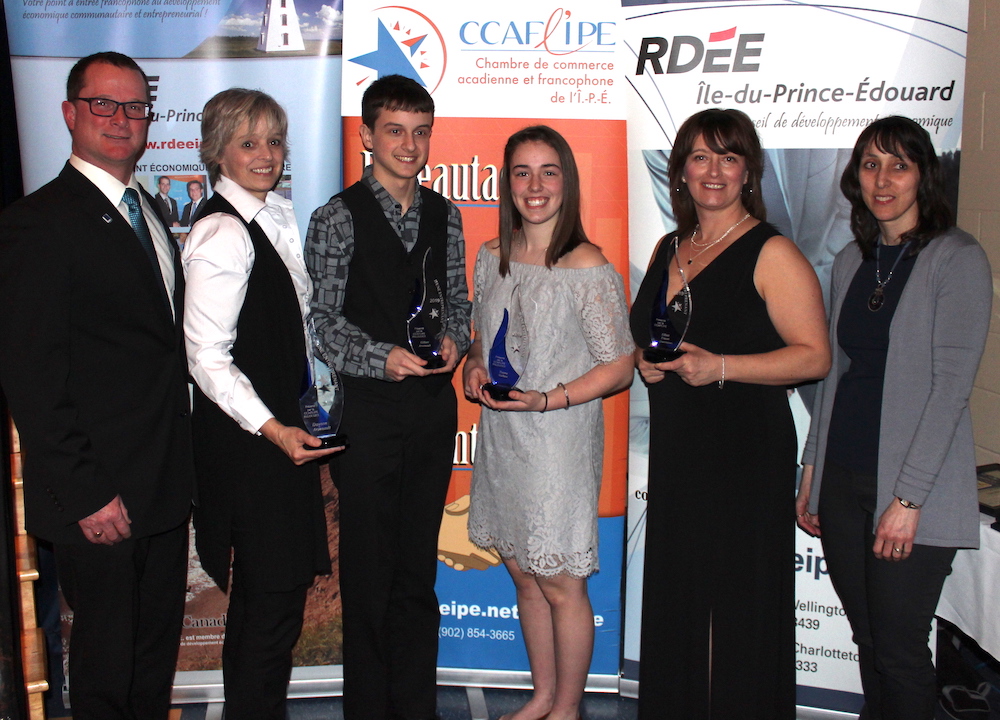 2019 YOUNG ENTERPRISING PERSON AWARD (Winner 1)
Elliott Fraser – Simply Sno-Cones / Simply Squeez'd, Charlottetown

In 2013, at the age of 11 years, Elliott Fraser and his partner Michael MacEwen kicked off their Simply Sno-Cones business. Their endeavor was a huge success for five summers. Elliott and his family bought out Michael's shares in the fall of 2017 and renamed the company Simply Sno-Cones / Simply Squeez'd, Charlottetown. It is currently managed and operated by Elliott and his sisters Ellen and Erin. At first, the business sold only multi-flavored snow cones to children. More recently, they've added the production and sale of fresh lemonade for adults. Thanks to an indepth understanding of their market, during the summer of 2018, the employees worked only 14 days but generated sales of $12,520. Since its start, the business has sold more than $36,500 of products, making it the most successful business in the francophone Young Millionaire program's history. (Other finalists in this category were Evan Gallant, Rikki Delaney and Shelaine Gallant, all from Abram-Village.)
2019 YOUNG ENTERPRISING PERSON AWARD (Winner 2)
Paloudes, Evangeline region
The young traditional music group, Paloudes, was assembled in 2015 when three young Acadians from Grade 7 who all shared a passion for music decided to participate in a musical competition. Gilbert Arsenault is the band's fiddler, while Tianna Gallant is the guitar player and singer and Dawson Arsenault is the pianist and singer. Their repertoire includes traditional numbers as well more recent covers. The band is heavily influenced by such groups as Barachois, Gadelle, Réveil, Vishtèn and 1755. From 2016 to 2018, Paloudes represented PEI at the finals of Les Jeux de l'Acadie (Acadian Games) in the Band Voices category; they won silver medals in their two first years in the competition. In 2016, the band also participated in the Acazing Talent Competition, hosted by the Acadian Festival. The trio won the championship prize as well as the public's choice prize. The band members hope to continue playing for the rest of their high school years.
In the photo: Martin Marcoux, president of RDÉE PEI, helps present the award to Paloude group members (Ruth Arsenault on behalf of Dawson Arsenault, Tianna Gallant and Gilbert Arsenault) and to Julie Gagnon, standing in for winner Elliott Fraser. The presenter was sponsor Diane McInnis from Evangeline-Central Credit Union.

2019 SOCIAL ECONOMY BUSINESS AWARD
Evangeline Recreation Commission, Abram-Village
For more than four decades, the Evangeline Recreation Commission has been managing the Evangeline Recreation Centre, which houses a beautiful rink and fitness centre. The location is a gathering place for minor hockey, figure skating, the CanSkate program and Junior B hockey. It also hosts the Evangeline Area Agricultural Exhibition and Acadian Festival every year. On April 11, 2010, the entire region fell into a state of shock as their beloved rink burned to the ground. That same evening, the community started rallying together and, only 20 months after the tragedy, a brand-new rink was opened. The new building contained an NHL-sized ice surface, a heated 400-seat space, several dressing rooms and its popular fitness centre. The construction was funded mainly by the federal and provincial governments and insurance money. But the numerous community fundraising events and donations are really what gave new life to the centre. (Other finals were Wellington Co-op and the Centre Goéland / Village des Sources l'Étoile Filante of Cape Egmont.)
In the photo: Tania Bernard, representing sponsor CBDC Central PEI, presents the award to Karen Gallant, president of Evangeline Recreation Commission. Martin Marcoux helped with the presentation.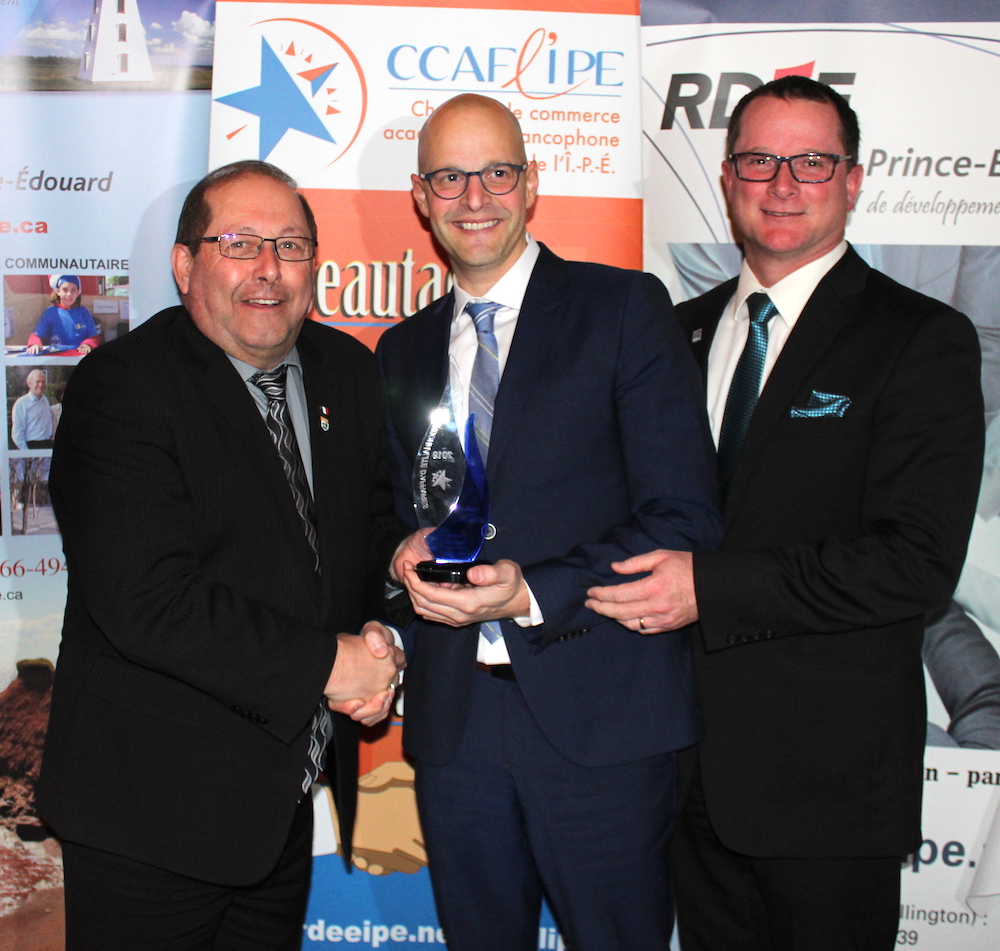 2019 BUSINESS PERSONALITY AWARD
Francis Thériault – PEI Agents Realty and Garago Software Inc., Charlottetown
Francis Thériault of Charlottetown is a true "serial entrepreneur". In 2016, he was the owner and operator of seven businesses. He built an impressive portfolio featuring more than 55 homes in PEI and Ontario and conducted more than 500 realty transactions. In 2018, he built a 12,000-square-foot, multi-use building in Stratford. His numerous businesses can be divided into two primary sectors, real estate and technology, the latter through his business, Garago Software Inc. Garago offers a web-based management platform that is used by various levels of government and municipalities throughout Canada. It allows users to manage grants, programs and the issuing of permits and licences. Garago has six employees while PEI Agents Realty has three. Thériault received a national platinum-level award for his accomplishments in real estate investments and was twice named in the Top 10 list of Canadian investors. (Other finalists were Claudette Thériault of Abram-Village, owner and CM Thériault Consultants and president of the Congrès mondial acadien 2019, and Stéphanie St-Onge, owner of Blossom Foot Care in Summerside.)
In the photo: Representing sponsor Innovation PEI, Sonny Gallant presents the award to Francis Thériault, with help from Martin Marcoux.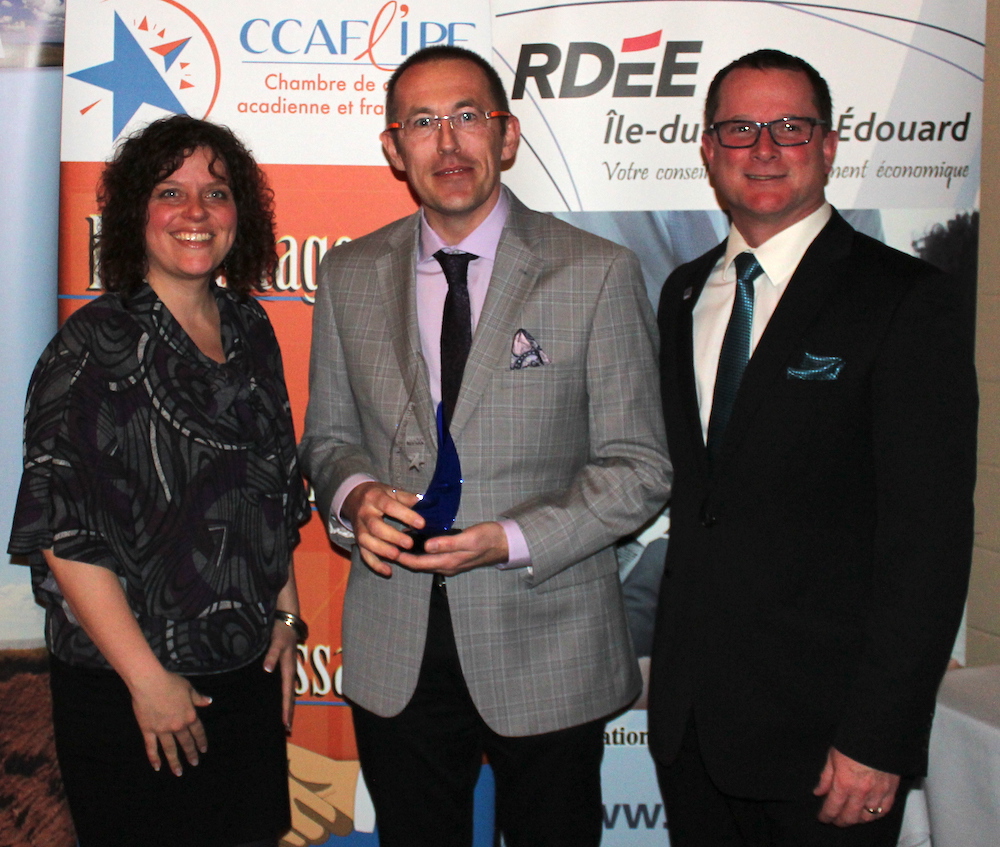 2019 IMMIGRANT ENTREPRENEUR AWARD
Philippe Guidon – Belgo Transport, North Wiltshire
Philippe Guidon, who was born in Belgium, managed a trucking business in Luxemburg from 2009 to 2013. Upon his arrival on PEI in 2014, he worked with a local trucking firm for a few months. He then worked with the Central Belle-Alliance and the Carrefour de l'Isle-Saint-Jean. After becoming a permanent resident, he returned to trucking, this time with Midland, and eventually became an independent trucker. In 2017, he established Belgo Transport; Guidon transports and delivers fries from Cavendish Farms to New York, where he loads up with Tropicana juice to be hauled to Toronto. From there, he returns to PEI with all kinds of goods. He plans to hire 10 truckers this year. The company currently operates with two trucks, but he expects to increase that number to six by year end. Belgo makes every effort to ensure its trucks are as ecologically and economically friendly and consume the least amount of fuel possible. His trucks are already among the best three trucks in Midland's entire fleet regarding fuel consumption. Improved aerodynamics, ecologically sound materials and preventative maintenance are all part and parcel of the business' philosophy. (The other finalist was Pam Arora from Pam & Joe Handcrafted of Charlottetown.)
In the photo: Chérine Stevula, representing the sponsor, the LIENS project, presents the award to Philippe Guidon with help from Martin Marcoux.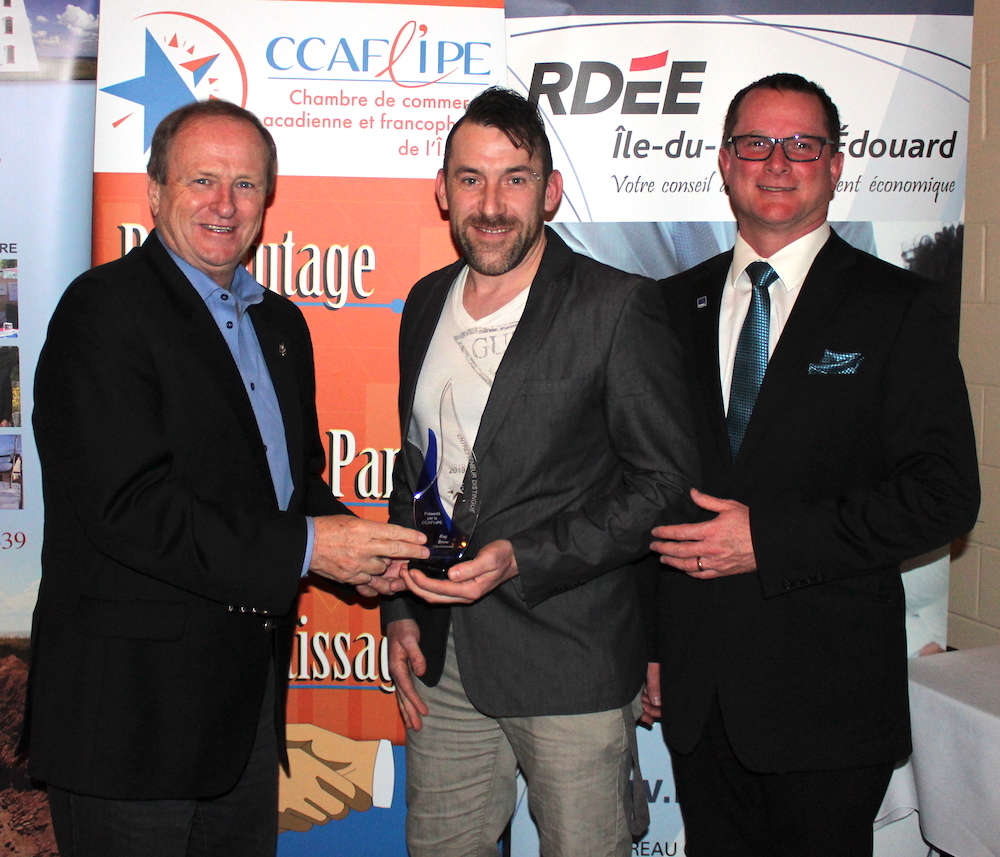 2019 DISTINGUISHED ENTREPRENEUR AWARD
RAY BROW – Britannia Corporation (formerly) and Überloo International, Georgetown Royalty

Ray Brow, who lives in Georgetown Royalty, established Britannia Corporation, a business specializing in the housing and care of seniors. At its peak, the business employed 200 people. In 1982, he organized the first private home care service on PEI and named it Good Home Care for Seniors. He was also the first Islander, in 1984, to be granted a licence to operate a private community care centre on PEI. Over the next 25 years, his business would manage Richmond Lodge, David Lodge (the first bilingual private care establishment on the Island), Lady Slipper Villa, Buchanan Lodge for Veterans, Fitzgerald Lodge, Southshore Villa, Whisperwood Villa, Lennox Nursing Home, MacMillan Lodge and Matthew Lodge. He sold Britannia in 2017 and is now owner of Überloo International, a supplier of various hands-free systems for bathrooms, including automatic doors. Brow is heavily involved within the music industry, having served as the first president of Music PEI and a founding member of both the Festival of Small Halls and the Cool Moon Festival. (The other finalist in this category was Yvette Deschênes from Chez Yvette Bed and Breakfast in Urbainville.)
In the photo: Egmont MP Robert Morrissey, representing sponsor ACOA, presents the award to Christian Gallant, accepting on behalf of Ray Brow. Martin Marcoux helped with the presentation.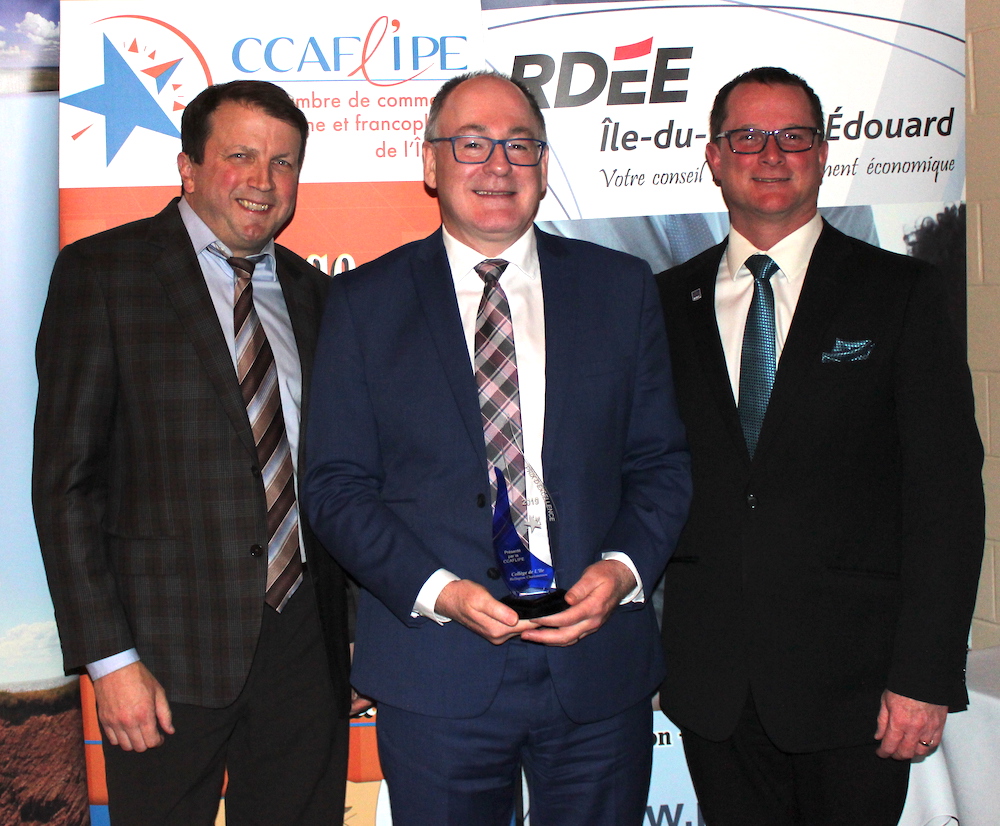 2019 PRESIDENT'S AWARD OF EXCELLENCE
Collège de l'Île, Wellington and Charlottetown
Since December 2016, PEI's only French-language college bears the name Collège de l'Île. In 2008, the postsecondary institution received an official designation from the provincial government, allowing it to grant its own diplomas. Prior to that, the college offered programs in partnership with various off-Island institutions. The Collège de l'Île, which has always been managed by La Société éducative de l'Î.-P.-É., offers nine college programs. If also provided general training for adults, upgrading programs and customized training. As well, if provide a complete range of language training programs in both English and French (night courses, online training and tutoring services). It is also designated as a language trainer for the provincial government. Since its inception, the College has given out 309 diplomas, has provided language training for 3,649 people and has provided customized training to 1,387 people. The college has two campuses, the first in Wellington and the second in Charlottetown. Great partnerships have been forged with Holland College; other such partnerships are in the works. (The other finalists were Robert Poirier's Acadian Roofing of St. Raphael and the French newspaper, La Voix acadienne, of Summerside.)
In the photo: Sponsor Mike Bradley from Mike Bradley Insurance Services presents the award to Donald DesRoches from Le Collège de l'Île. Martin Marcoux helped with the presentation.